Counties
Learning Objectives
Identify services you use every day that counties provide
Understand the role of counties as both local governments and divisions of state government
Appreciate how demographic changes affect counties throughout North Carolina
No matter where you live in North Carolina, you live in a county and have a county government. Counties provide many basic public services that are important to people wherever they live. Every part of North Carolina is in one of the state's 100 counties.
When you hear "county government," you might think about the courthouse, but county government does not stop at the courthouse steps. While the county's central offices are usually located in the courthouse, county governments provide services and operate facilities, ranging from health care clinics to jails, throughout the entire county.
HelloWorld!This is a Bumper!
HelloWorld!This is a Bumper!
Counties provide both standard and . Because the state requires them, the standard services are often called . One reason the has divided the state into counties is to ensure every resident of North Carolina has local access to these services. In this way, you might think of your county as a "branch office" of the state government.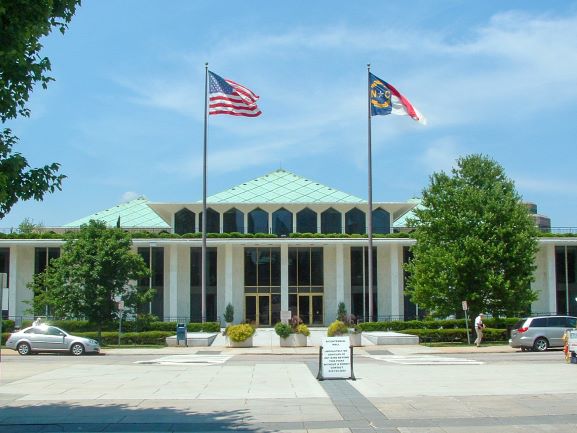 For example, the county maintains legal records of all property transactions and of all marriages, births, and deaths. The county registers voters and conducts elections. The county operates a jail for people awaiting trial and people convicted of minor crimes.
All counties must provide emergency medical services either through county departments or by supporting volunteer emergency medical service squads. Social services, public health and mental health services, and public school funding are also mandated county responsibilities.
But counties do more than carry out state requirements. As local governments, counties are a special kind of corporation, with the power to own property, to enter into , and to taxes.
HelloWorld!This is a Bumper!
HelloWorld!This is a Bumper!
County Government
Learn more about county government in the U.S by watching the video '
Counties Matter
' produced by the National Association of Counties. Scan this code with the
Metaverse App
to open an AR experience.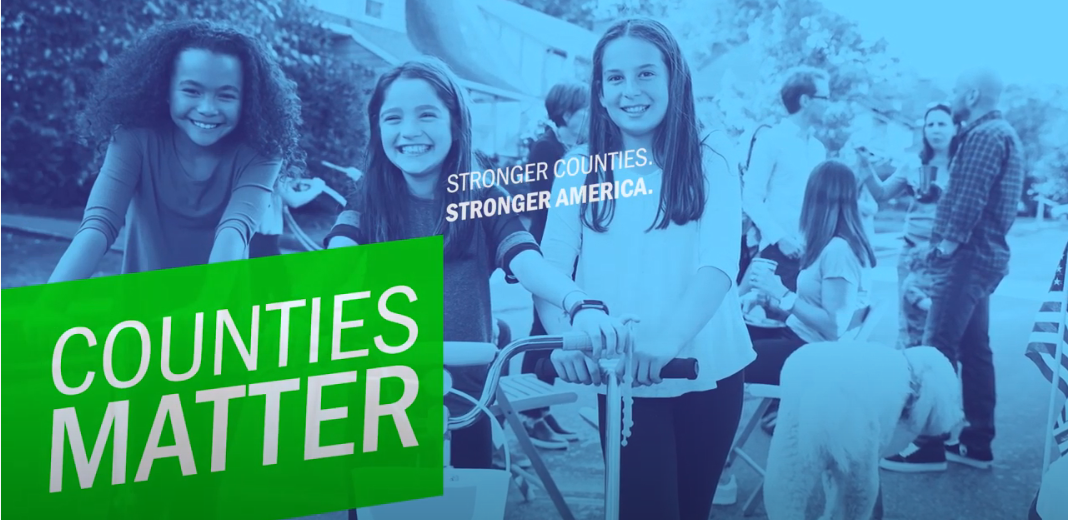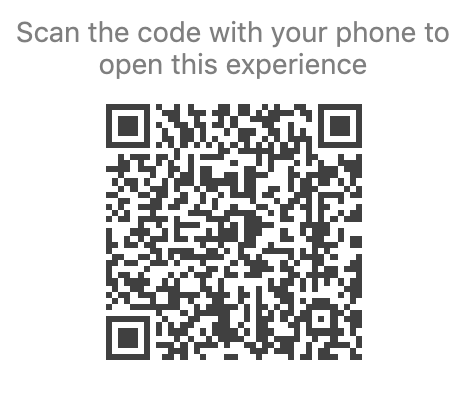 To respond to the needs of the area and the requests of local , county officials may choose to provide optional services. Counties have authority to regulate certain behavior, to encourage county improvement, and even to provide many of the same services cities and towns provide. For example, water and sewers and parks and recreation are becoming more popular services for counties to provide.
Most county services are available to all county residents, whether they live inside or outside a city or town. However, some services may be provided only to the part of the county (the area outside city or town limits). For example, because most have their own police department, the county sheriff's department usually provides police patrol and criminal investigation only in unincorporated areas.
Counties must also provide certain public facilities. Each county is required by the state to pay for building and maintaining a jail and for providing adequate office space for other mandated services. In addition, the county is responsible for providing suitable space and equipment for the state's district and superior courts.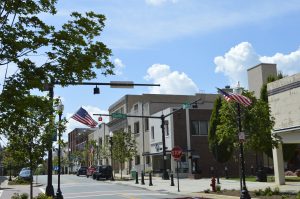 The has changed counties' service responsibilities many times over the years. For example, one early responsibility of North Carolina county governments was the construction and maintenance of rural roads and bridges. During the Great Depression of the 1930s, when many counties went bankrupt, the General Assembly transferred all responsibility for rural roads and bridges to the state highway department, now the North Carolina Department of Transportation.
Counties get new mandates, too. In the late 1980s, the General Assembly passed laws requiring all counties to provide for the safe disposal of solid waste produced in the county. This new mandate put all 100 counties in the business of solid waste management.
To learn more about a specific county, visit that county government's home page or read about it on Wikipedia.
Governing Counties
County government in North Carolina is complex. Because counties are subdivisions of state government, county officials share responsibility for county services with others. State officials and several appointed boards all help set some policies for county government and help direct some of the public employees who carry out county programs and services.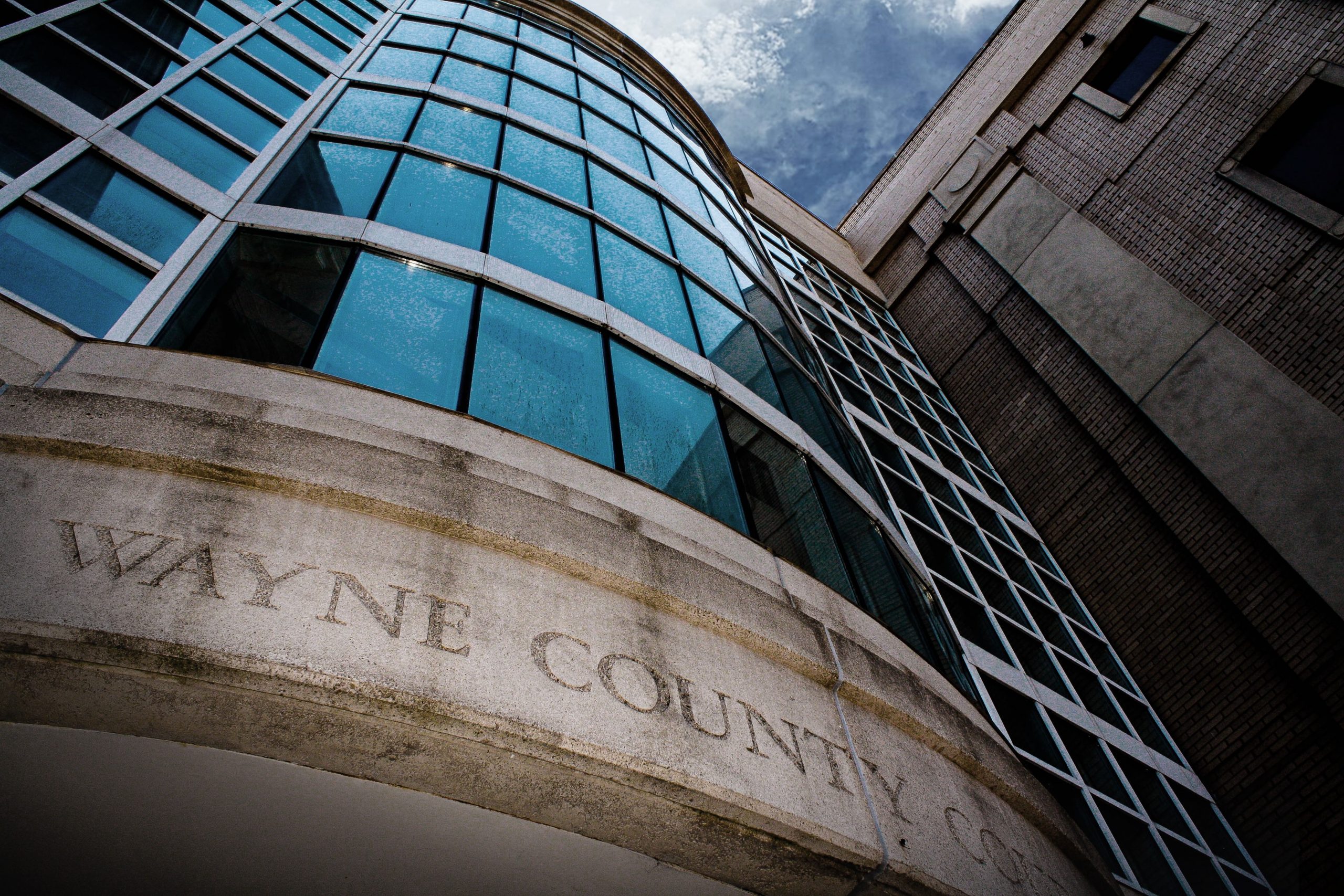 Counties have to carry out many state-created programs, but they can also create programs and policies through county government, a type of public . Like private corporations, counties can own property, form contracts, and be . The owners of a corporation give the responsibility of running the corporation to a . The board acts on behalf of the owners in deciding what the corporation should do. A county's "owners"—the citizens of the county—elect a board and other officials who are responsible for running the county.
Counties differ from private corporations in important ways. For one, citizens become the "owners" of a county simply by living there. They do not buy the corporation's stock the way owners of a private, for-profit corporation do. Counties also have different powers than private corporations. Private corporations can engage in any legal activity they choose. North Carolina counties can engage only in those activities for which the General Assembly has given its permission, and the General Assembly may change county authority as it wishes. On the other hand, counties are still governments and have the authority to make and enforce laws and taxes.
Voters in each North Carolina county elect a board of county commissioners,  a , a , and a clerk of superior court. The is no longer an office of county government, however. The General Assembly consolidated all county courts into a statewide court system, and the clerk, although elected by the county's voters, is an employee of the state court system. Judges and district attorneys are elected by judicial districts. Some judicial districts include only a single county, but in many cases they include several counties. Regardless of the size of the judicial district, however, judges and district attorneys are state officials, not county officials.
Voters also elect members of the local school board, which usually covers an entire county, but sometimes includes only part of a county. Thus, the county commissioners, sheriff, and register of deeds are the only county officials elected by voters in each of the 100 counties.
The Board of County Commissioners
The board of county commissioners has general responsibility for county government. It sets the and adopts the county . It passes , , and to establish county policies. The members of the board elect one of the commissioners as chair and another as vice-chair of the board. The chair of the board presides at board meetings and often speaks for the county as head of county government.
Each board of county commissioners appoints a county manager to be the county's chief executive to oversee the county government's day-to-day operations and advise the board. Each board also appoints a clerk to keep official records of the board's meetings and decisions, to publish notices, to conduct research, and to carry out other duties, such as providing information to citizens about their county government.
Childcare Public Forum in Transylvania County
County officials often go beyond providing standard services to proactively address critical public issues. Take, for example, the work Transylvania County has done to address the needs of its youngest residents.
In response to a report citing Transylvania County as having the sixth-highest childcare costs in North Carolina, its board of commissioners hosted a public forum to engage county residents in considering the issue. The forum held discussions about costs, availability, quality, and long-term impacts of childcare in the county. The discussions were spearheaded by commissioners Page Lemel and Mike Hawkins, two strong childcare advocates. Commissioner Lemel spoke at the forum, saying, "We must develop opportunities for our young children so that every child has the opportunity to reach his or her potential in life."
Over 100 citizens attended the forum and the response was overwhelmingly positive. Attendees noted in a survey distributed at the forum that they felt heard. The county got the desired citizen input, and the citizens felt part of the problem-solving process. The forum was part of a larger, county-wide initiative around improving early childhood resources. This initiative has grown into a county-wide partnership called "Get Set Transylvania," which in turn helped the county be selected as the first U.S. rural county in the Sesame Street in Communities program.
Transylvania County's efforts around early childhood development illustrate how county government plays an important role in addressing public problems as well as the value of community engagement and partnerships in identifying and implementing solutions.
Case Study
Boards of county commissioners share authority for setting county policy with other state officials, the sheriff, the register of deeds, and independent county boards. Various state agencies and the General Assembly often set policy for county governments through mandates that require the county to provide certain services or follow specific procedures. As locally elected officials, the sheriff and the register of deeds have authority independent of the board of county commissioners and may set policies for their departments. Furthermore, state law provides for separate independent boards with responsibility for alcoholic beverage control, education, elections, public health, mental health, and social services policy.
Only the board of commissioners, however, can levy taxes and appropriate county funds. The responsibility for financing county operations and the power to control give a board of county commissioners the ability to coordinate county policy for services with independent boards. Because it raises and county funds, the board of county commissioners can influence all government programs that depend on county money, even schools, although they operate as separate administrative units.
North Carolina Association of County Commissioners (NCACC)
For more information and news about boards of county commissioners, access the
North Carolina Association of County Commissioners' website
. Scan this code with the
Metaverse App
to open an AR experience.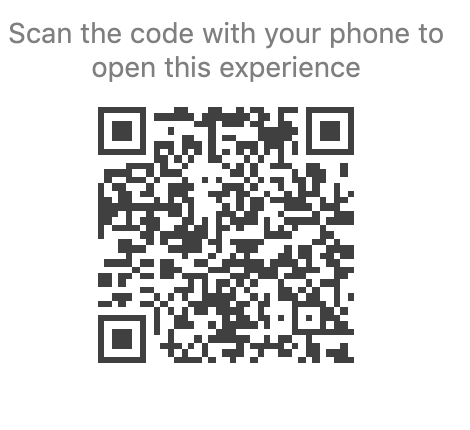 Independent Boards
State laws require that counties provide both public health and social services. In some cases, these services are provided by single county agencies governed by appointed, independent boards. For public health, the members of the board are appointed by the board of county commissioners. For social services, some of the members are appointed by the board of county commissioners.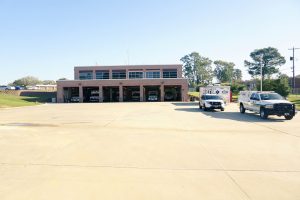 Appointed boards for social services and public health are responsible both for hiring their agency's director and for advising the director on policy and budget matters. Local boards of health also have the authority to adopt local laws, called "rules," which apply throughout the entire county.  Social services boards do not have the authority to adopt rules. They actually play a relatively limited role in setting local policy because so many of the programs their agencies administer are funded and governed by federal and state law and policy.
Counties have several other options for health and social services agency organization and board governance. They may organize public health and social services by joining together to create multi-county agencies that are governed by independent, appointed boards. In addition, counties can choose to create that are governed by a consolidated human services board. Members of a consolidated board are appointed by the board of county commissioners. Finally, the board of county commissioners has the option of abolishing the independent governing boards for public health and social services and assuming the powers and duties of the abolished boards. This flexibility in organization and governance has resulted in a wide variety of human services agency structures and boards across the state.
Battle for Control of Human Services in Jackson County
How we manage human services in our communities is often a source of political conflict in local governments. In 2012, the N.C. General Assembly gave county boards of commissioners additional options for governing public health and social services: they could appoint a separate board to govern each (the norm prior to passage of this bill), they could appoint a consolidated board to govern both, or they could directly govern public health and social services themselves.
In a 15-month span, Jackson County cycled through all three of these choices as the board of commissioners initially fought with the health and social services boards, and then later among themselves. In the first of several 3-2 split votes, the board of commissioners voted to consolidate their existing public health and social services boards in early 2018. The newly combined board, unsure about why the consolidation occurred, reached out to the board of commissioners for clarification on the decision. In response, the board of commissioners voted to abolish the consolidated board altogether and made themselves responsible for overseeing health and human services. The abolition quickly became an issue in the next election cycle, and the majority of commissioners flipped in favor of supporting the county's traditional two independent board model. The new county board promptly voted in March 2019 to re-establish separate health and social service boards, bringing Jackson County back to where it began.
Jackson County's saga with its health and social services boards shows what can happen when local governments are given new authority by the state. Even though Jackson County didn't make the change right away, the N.C. General Assembly's decision to let counties change how health and social services are managed allowed the county to experiment with how it governed its health and social service functions. That new authority became politicized and two factions on the board of commissioners were continuously at odds over what would be best for the county. The conflict was as much about where power would reside as it was how the services would be delivered, and similar conflicts occurred in many North Carolina counties since the 2012 decision by the General Assembly.
Case Study
Counties also establish regional mental health called "local management entities" (LMEs). Each LME has a board appointed by the counties it includes. The LME boards oversee delivery of public mental health, developmental disabilities, and substance abuse (MHDDSA) services in those counties.
Each county's sets policies for operations of local voter registration and elections and selects an elections supervisor to manage these operations. The State Board of Elections appoints these boards and regulates their work.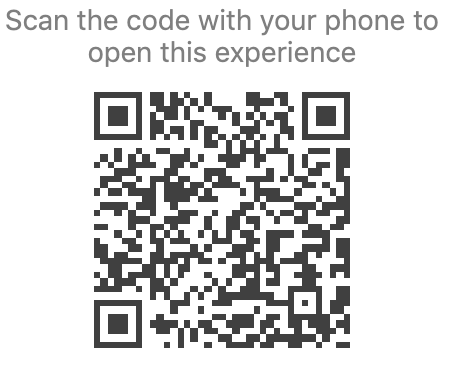 In counties where alcoholic beverages are sold, an alcoholic beverage control (ABC) board oversees ABC stores in the county.
Most North Carolina counties have a single, countywide public school system, although some counties have more than one. Unlike the other independent county boards, voters in each school district elect the members of the local board of education.
None of the independent boards has the authority to taxes. The board of county commissioners is responsible for raising and allocating local funding for these services.
Diversity of North Carolina Counties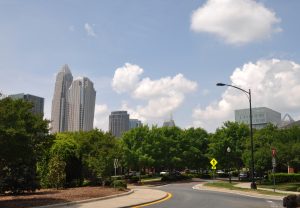 There is no "typical" North Carolina county. In area, they range from 173 square miles (Chowan County) to 949 square miles (Robeson County). The population differences are even greater. In 2019, Tyrrell County had the smallest population with just over 4,300 residents, and Mecklenburg County had the largest population with more than 1,075,000 residents.
Population density varies widely across counties, too. As of 2019, Hyde County had only about nine people per square mile, whereas Mecklenburg County had more than 2,000 people per square mile.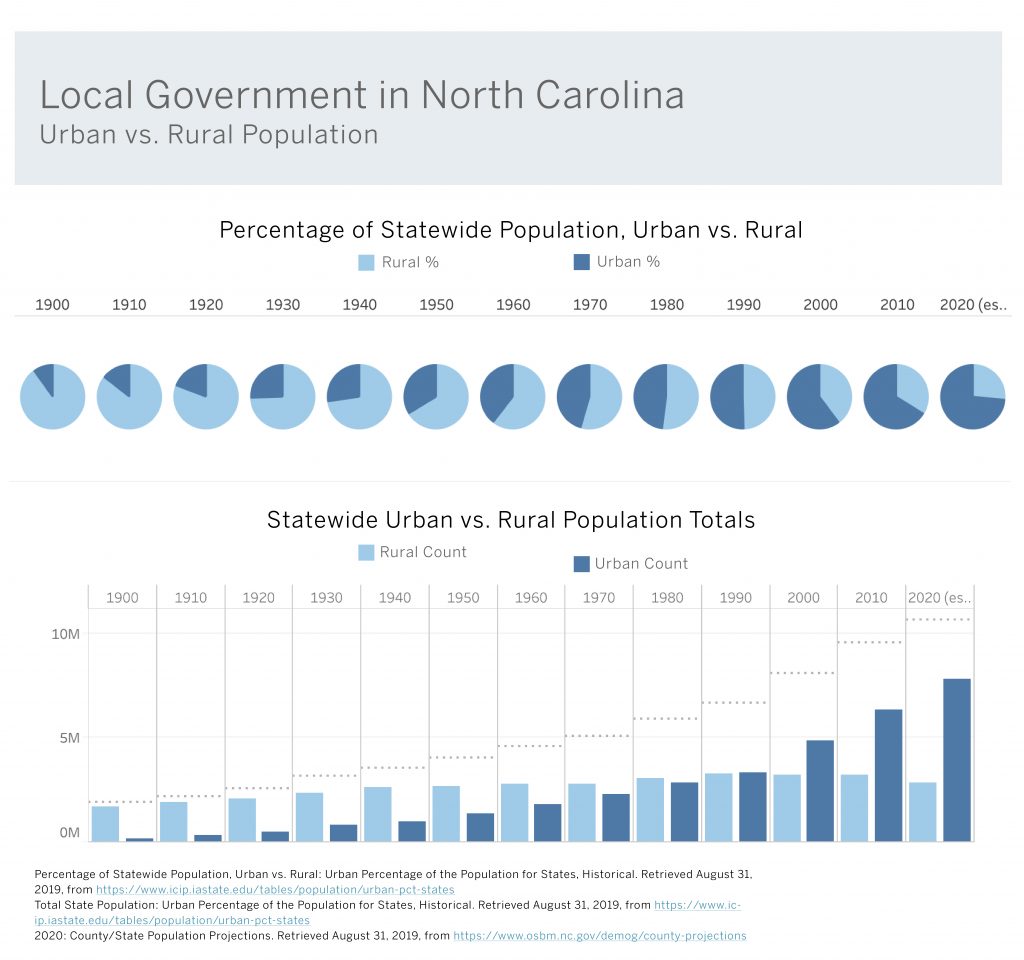 The , in the central part of the state, are an area of rolling hills. North Carolina's biggest cities and their suburbs are in this region. They create a continuous band of 15 largely counties centered along Interstate 85 from Charlotte to Raleigh, as shown on the map below. This population pattern of counties is sometimes referred to as the "Piedmont urban crescent" of North Carolina.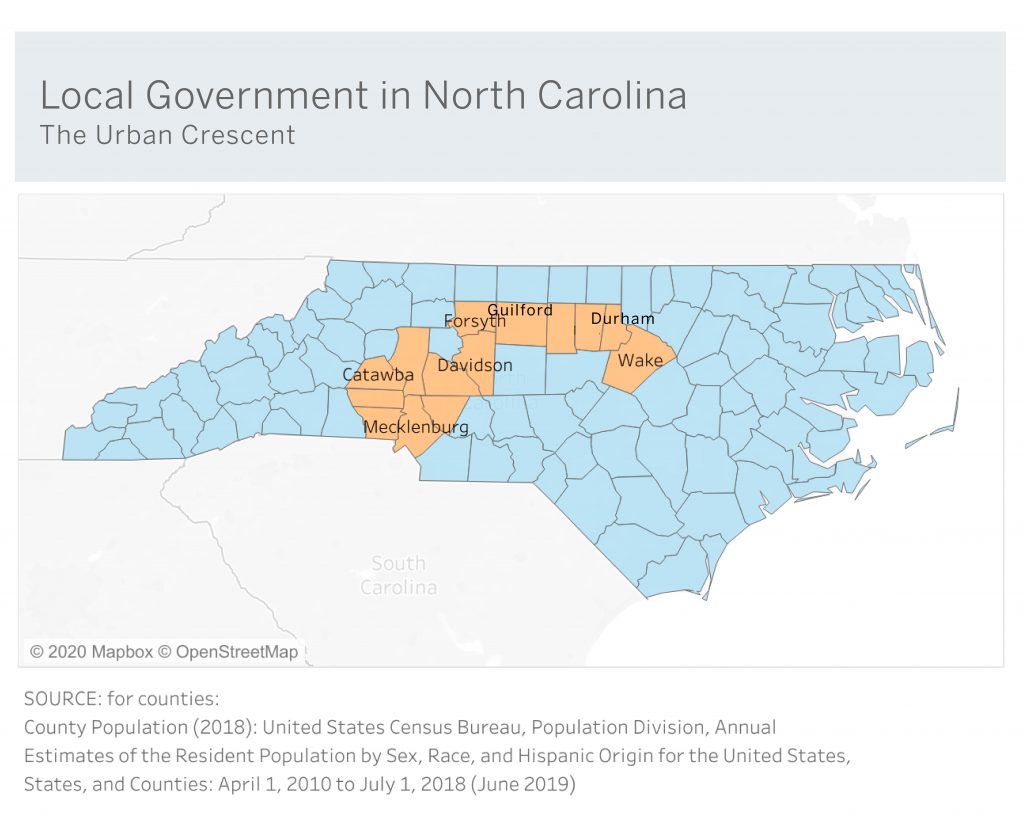 Most counties in the Piedmont, however, are largely . Farming is a more important part of the economy in the eastern than in the western Piedmont. Manufacturing has been particularly important in the western Piedmont, even in many rural counties. Since 2000, however, many of the traditional industries (textiles, clothing, and furniture) have left North Carolina, creating considerable economic hardship and change as the state economy shifts to new industries.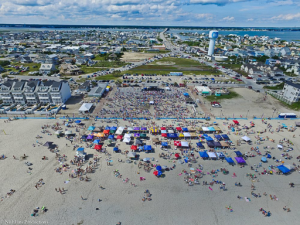 The land in the western part of the state is mountainous. Many of the are heavily forested. In the eastern part of the state, the land is a flat . Some counties in the east are also heavily forested, but many are rich agricultural areas with highly productive farms. In both the east and west, most of the counties are rural. Agriculture and forestry are important economic activities in those parts of the state. Tourism is also especially important to the economy of the mountains and the coast. Fishing remains important in coastal areas.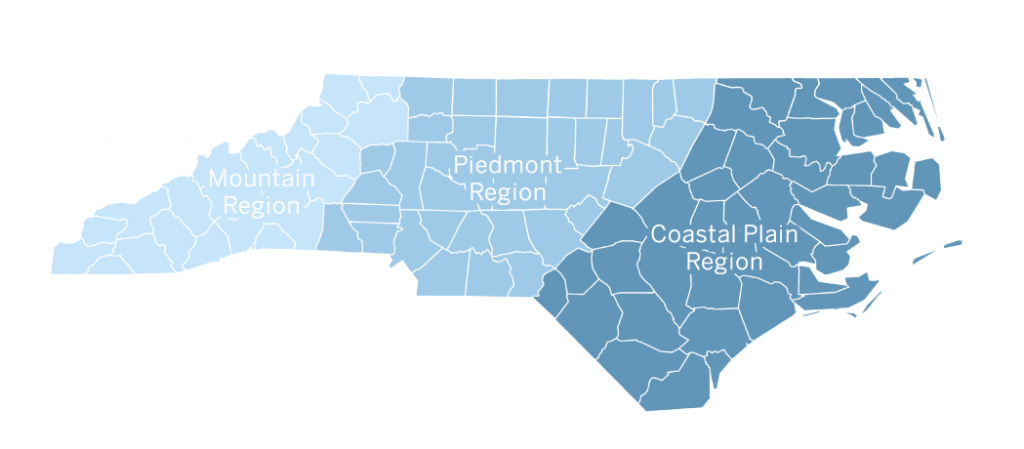 Only a handful of mountain and coastal counties are largely urban (having more than 250 people per square mile in 2017):
Buncombe (Asheville) and Henderson (directly south of Asheville) in the mountains, and
Cumberland (Fayetteville), New Hanover (Wilmington), Pitt (Greenville), and Onslow (Jacksonville) on the coastal plain.
County Level Statistics
For county-level statistics visit the Census website, click on North Carolina, then select "counties". Scan this code with the Metaverse App to open an AR experience.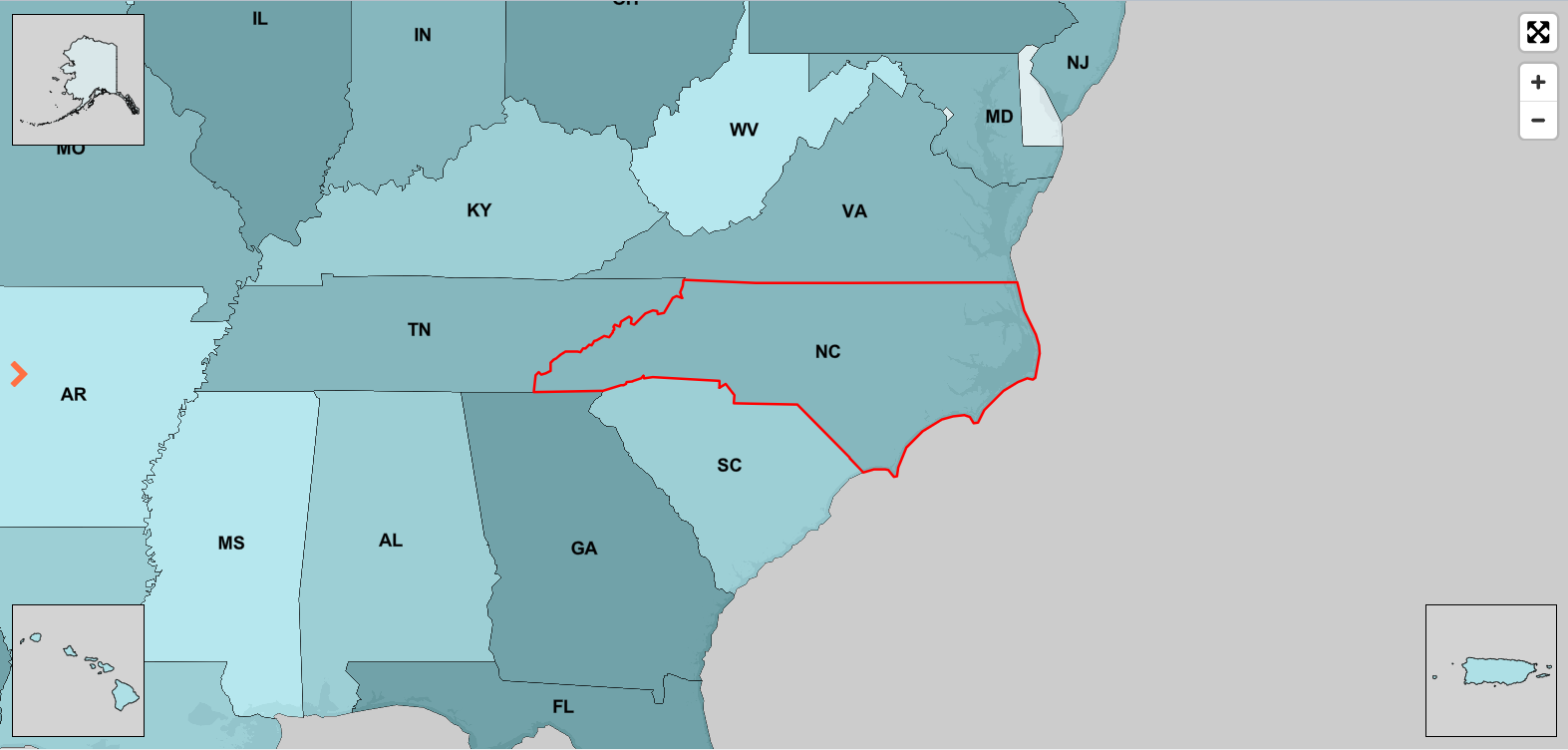 Population Changes and County Government
Changes in the population mean changes in service demand as well as in the amount of tax needed to pay for those services. Since 1950, some North Carolina counties have become more densely populated, others have maintained their population, and others have experienced a decrease in population. Overall, the population of the state more than doubled from 1950 to 2010, from 4 million to 9.5 million (exceeding 10.5 million in 2020). But most of the increase was concentrated in about half of the state's counties. Some counties actually lost population over that time. The map below shows the percentage each county's population changed during that time span.
Three kinds of development have contributed most to population growth.
New and rapidly expanding businesses created jobs and led to increased population in some counties. Much of this kind of growth occurred in the Piedmont, with Mecklenburg and Wake counties having the greatest population increases.
Military base development contributed much to the population growth in some coastal plain counties, especially Cumberland (Fort Bragg) and Onslow (Camp LeJeune).
Resort and retirement community developments also contributed to major population growth in several counties, particularly in the mountains (Henderson, Watauga) and at the beach (Brunswick, Currituck, Dare).
Whether they came to take jobs created by expanding businesses, to serve on military bases, or to retire, new residents needed housing, food, clothing, banking, and other goods and services. This need led to the expansion of other businesses, to the creation of additional jobs, and additional population growth. As a result of the new jobs, people in counties with population growth generally have higher incomes than those who live in counties with little or no population growth.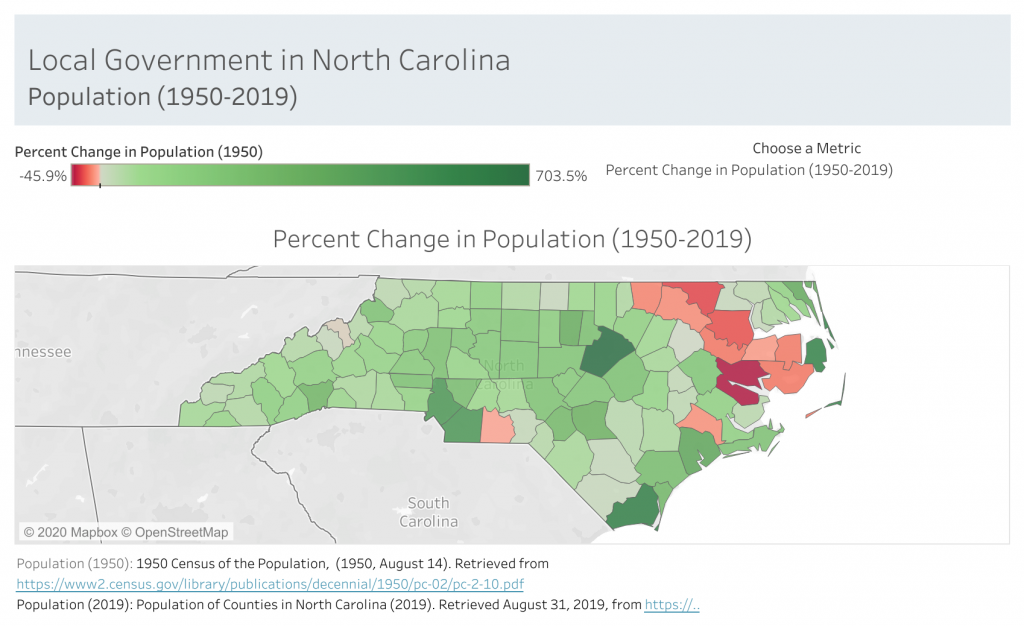 Population growth creates a need for additional government services. Not only are there more people to be served, but the kinds of services needed may also change. For example, housing developments outside city limits may require public water and sewer systems to protect the public health. New school buildings and other public facilities are also needed as the population increases. County governments must pay for these new facilities and hire new employees to serve their larger population.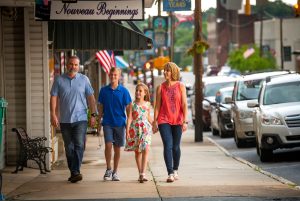 As mentioned, not all counties gained population. In North Carolina, many counties that are primarily agricultural have had little population growth or even experienced a decrease in population since the mid-twentieth century. Machines replaced people for many farming operations during this period. In some rural counties, manufacturing or tourist jobs replaced agricultural jobs. In other counties, however, there were few new jobs to replace those lost on the farms. Often the jobs that are available pay low wages. These are also usually the counties where income is lowest.
Counties with a constant or declining population have special problems. High unemployment and low wages mean that a larger proportion of the population needs financial assistance and health care from county government. At the same time, poorer people pay less in taxes. A county with a low per capita income may have trouble raising funds to assist its needy residents. Government programs to create new jobs may be particularly important in such counties. Economic development is a priority for many counties but is both more challenging and urgent in counties that have not grown for many years.
HISTORY OF NORTH CAROLINA COUNTIES
Counties were a key part of colonial government in North Carolina. As British control and European settlement extended westward from the coast, British authorities set up new counties to provide government for the colonists. The colonial governor appointed justices of the peace in each county. The justices served as both the courts and county administrators. The justices of the peace appointed constables to enforce the law. They also appointed a sheriff to collect taxes and wardens to care for the poor. The justices appointed a surveyor to mark land boundaries and a register of deeds to keep property records. Establishing land boundaries and maintaining records of property were very important to the farmers and planters who settled the colony. Having government officials nearby was especially important before the development of modern transportation because it could take many hours to travel only a few miles.

There were 35 counties in North Carolina when the state declared its independence from Great Britain in 1776. After independence, North Carolina state government continued to use counties to organize local citizens and provide basic government throughout the state. The General Assembly continued to create new counties and sometimes abolished others. By 1800, there were 65 counties, and by 1900, there were 97.
In the twentieth century, three additional counties were created to bring the total number of counties to 100, the number we have today.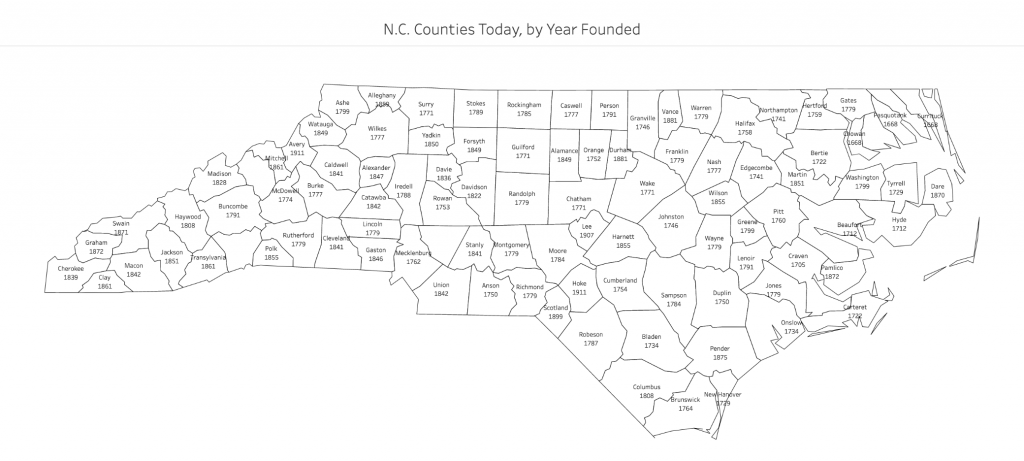 Voters in North Carolina could not select their own county officials until after the Civil War. Up until that time, the state appointed county officials. The North Carolina Constitution of 1868 provided for the election of the sheriff, coroner, register of deeds, clerk of court, surveyor, and treasurer. Under the 1868 constitution, voters in each county also began to elect a board of county commissioners. The board of county commissioners replaced appointed justices of the peace as officers of general government for the county.
✔ Find your county's website to determine where you live in relation to municipalities (incorporated areas).
✔ Identify services your county government provides. Which of these services do you regularly use? Which would you like to know more about?
✔ Determine how many cities and towns (incorporated municipalities) are located in your county.
✔ Find out who serves on your county board of commissioners. By using the website or by contacting them, find out about their background, how long they have they served, and what issues they are most passionate about.
✔ Search local media or records of county board meetings to find out what issues are at the forefront for your county government right now.
a program that a government decides to provide to meet the needs or requests of its residents
a program which local governments must provide because of requirements from state or federal government
North Carolina's state legislature that consists of a House of Representatives of 120 members and a Senate of 50 members
an elected county office tasked with managing public records such as property records, birth and death certificates, and marriage licenses
Bi-partisan board tasked with overseeing elections, voter registration, and maintaining voting records
elected county official responsible for law enforcement, jails and courtroom security
a legally binding agreement made between two or more people or organizations
a person who has full rights in a country because he or she was born there or has been given those rights by the country
the part of a county outside the cities and towns in that county
a city, town, or village that has an organized government with authority to make laws, provide services, and collect and spend taxes and other public funds
a group of persons formed by law to act as a single body
to ask a court to act against a person or organization to prevent or pay for damage by that person or organization
a group of people responsible for the governance of an enterprise
a state official elected in each N.C. county in a partisan election to a four-year term; responsible for all clerical and record-keeping functions of the superior court and district court in addition to various other responsibilities
money a government has not spent at the end of the fiscal year
a plan for raising and spending money
a law, usually of a city or county
an adopted policy of a local governing board expressing its sentiments on a particular issue
a directive from a local governing board instructing action by the government
to set aside money for a specific purpose
as provided under a 2012 law, an agency created by counties in North Carolina that is a combination of public health and social services agencies
(also known as special purpose local government) unit of local government created by the General Assembly to deliver a specific service, usually with territorial boundaries larger than a single jurisdiction and often encompassing several jurisdictions
the central region of North Carolina including Surry, Yadkin, Alexander, Catawba, and Cleveland counties on the west to Warren, Franklin, Wake, Chatham, Lee, Moore, and Richmond counties on the east; includes 36 counties
area where people live close together; most are incorporated as municipalities
of or relating to the countryside; area where fewer people live
the western region of North Carolina, extending eastward from the Tennessee border to the eastern boundaries of Alleghany, Wilkes, Caldwell, Burke, and Rutherford counties; includes 23 counties
the eastern region of North Carolina, extending approximately 150 miles inland from the coast; the western border of the regional is usually defined as the western boundaries of Northampton, Halifax, Nash, Johnston, Harnett, Hoke, and Scotland counties (41 counties in all)
the income that a government collects for public use
(Geographic Information Systems) software that combines layers of geographic data for the purpose of managing, analyzing, and presenting it