Book Title:

Inquiry of the Public Sort, Volume 2

Subtitle: More Microstudies in Public Administration and Public Affairs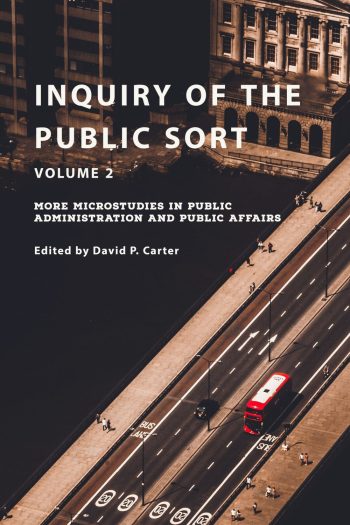 Book Description: A collection of small-scale research projects in matters of public administration and public affairs, carried out by graduate students in the Programs of Public Affairs, University of Utah.
License:
Creative Commons Attribution NonCommercial
Book Information
Book Description
Public affairs graduate students enrolled in Dr. David Carter's fall 2021 Research Design course once again embarked on a somewhat unorthodox curriculum, executing complete research projects from start to finish in 15 weeks. The result was seven microstudies that tackle prescient topics with both practical and scholarly importance, including: consumers' motivations regarding sustainable product purchases, American support for U.S. policy towards the United Nations, the impact of contemporary "critical race theory" debates on teachers and education, wildfire causes and consequences across jurisdictions, the impact of the SARS-CoV-2 pandemic on single mothers, and the affect of state policies on queer youth. The studies are diverse in epistemological underpinnings and research methods—ranging from critical and interpretivist qualitative investigations to quantitative analysis of secondary data—but are united in their collective attention to research design fidelity and concern for findings with "public" relevance.
License
Inquiry of the Public Sort, Volume 2 Copyright © 2021 by David P. Carter is licensed under a Creative Commons Attribution-NonCommercial 4.0 International License, except where otherwise noted.
Subject
Public administration