During your research in your college classes, you may be asked to write an annotated bibliography.
What is an Annotated Bibliography?
An annotated bibliography is a full citation (in either MLA or APA format) of a source, followed by a brief description and evaluation of the book or article. See the following example:
What to put in the annotation:
Information: A summary of your findings
Evaluation: What did you think of it, how will it help your topic
Comparison: How it compares to other books/articles
Authority: The background of the author
Annotated bibliographies are not difficult; just remember it's an organized list of the sources you've used, each of which is followed by a brief note—the annotation.
Examples
Here are a couple of entries Antonio makes in his annotated bibliography for an essay he is writing on head injuries in football. Using the same search terms ("helmets," "NFL," and "head injuries"), a search of Academic Search Complete in his college library nets him entries 1, 2, and 4, and a search on Google nets him entry 3. Drawing from the color-coding suggestion, Antonio distinguishes between direct quotation (red), paraphrase (blue) and summary (purple), by using different font colors for each.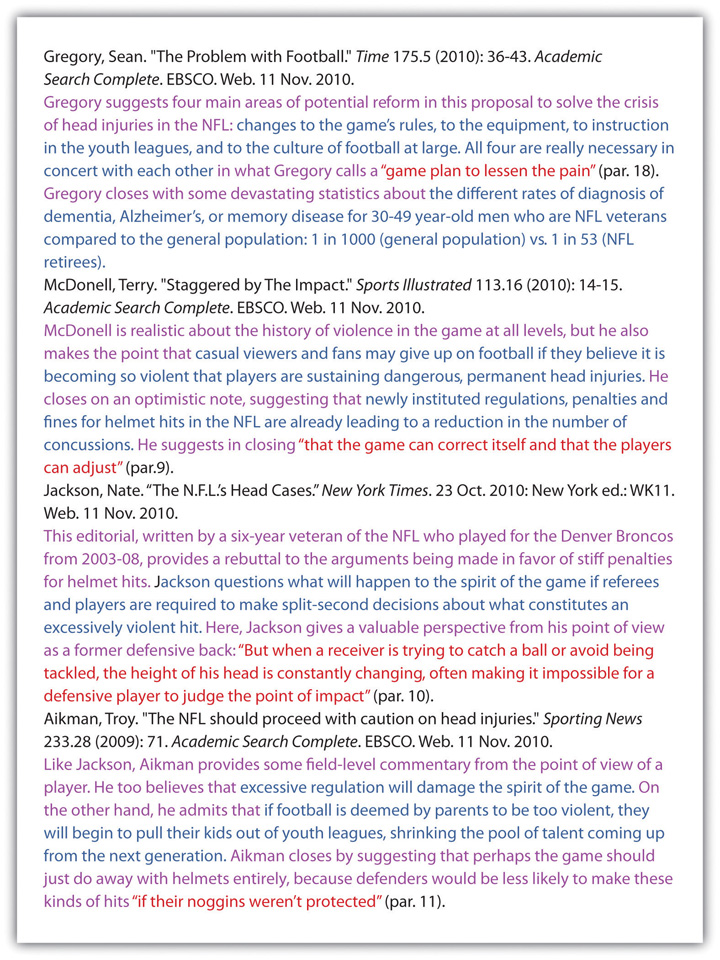 See below for another example of how your annotated bibliography can look in MLA format.
APA Annotated Bibliographies
The format above is similar for APA format — your annotated bibliography should be double-spaced; references should be in alphabetical order and have a hanging indent. However, your annotations should be fully indented as you would for a block quote. Here is an example:
1. Choose a research topic of interest to you. Find a related website and find the following pieces of information: name of author, editor, or sponsoring organization; title of article; title of journal or site that has published the article; version or issue number; date of publication or access date.
2. Choose a research topic of interest to you. Find a related online blog.
3. Choose a research topic of interest to you and set up a related RSS feed.
4. Choose a research topic of interest to you. Find a related government site.
5. Choose a research topic of interest to you. Online, find a related photo, video, and table.
6. With your writing group sharing a couple of computers, amass several sources of an essay and write up an annotated bibliography.
7. Using Antonio's essay idea on helmet hits in the NFL, draw up two statements of purpose that differ from each other in at least three of the six concerns (voice, audience, message, tone, attitude, or reception).
---