Identify and distinguish methods of delivery.
Discuss the rehearsal process.
Strategize best practices for rehearsal.
Having a clear understanding and appreciation for aesthetic choices—including verbal, nonverbal delivery, and the use of presentation aids— will enhance your understanding of public speaking. In reading the previous chapters, you likely thought of speakers who have either exemplified certain qualities or "broken the rules" by, for example, using many vocalized fillers. While understanding these ideas is important, the best path to integrating them in your own presentations is through rehearsal. You will create an exceptional aesthetic experience for your audience, but that starts before you step in front of the audience.
"I already know how to rehearse a speech," you may be thinking. But like any ability, sport, or game, people proficient in those areas have insight to add. Yes, you could learn to masterfully cook on your own, but having an experienced chef at your side will lead to unexpected insights and increase your proficiency. So, trust us. We are experts.
When you begin the rehearsal process, the first step is figuring out which type of delivery you'll be executing. There are four main types of delivery that we'll outline below.
Types of Delivery
The content, purpose, and situation for your presentation will partially dictate how you rehearse because they will inform what type of delivery style you select. There are 4 general types of delivery: impromptu, extemporaneous, the use of a manuscript, and memorized.
Impromptu Speaking
is the presentation of a short message without advance preparation. You have probably done impromptu speaking many times in informal, conversational settings. Self-introductions in group settings are examples of impromptu speaking: "Hi, my name is Steve, and I'm a volunteer with the Homes for the Brave program." Another example of impromptu speaking occurs when you answer a question such as, "What did you think of the movie?" Your response has not been preplanned, and you are constructing your arguments and points as you speak. Even worse, you might find yourself going into a meeting and your boss says, "I want you to talk about the last stage of the project. . ." and you have no warning.
The advantage of this kind of speaking is that it's spontaneous and responsive in an animated group context. The disadvantage is that the speaker is given little or no time to contemplate the central theme of their message. As a result, the message may be disorganized and difficult for listeners to follow.
Here is a step-by-step guide that may be useful if you are called upon to give an impromptu speech in public:
Take a moment to collect your thoughts and plan the main point that you want to make (like a mini-thesis statement).
Thank the person for inviting you to speak. Do not make comments about being unprepared, called upon at the last moment, on the spot, or uneasy. In other words, try to avoid being self-deprecating!
Deliver your message, making your main point as briefly as you can while still covering it adequately and at a pace your listeners can follow.
If you can use a structure, use numbers if possible: "Two main reasons. . ." or "Three parts of our plan. . ." or "Two side effects of this drug. . ." Past, present, and future or East Coast, Midwest, and West Coast are pre-fab structures.
Thank the person again for the opportunity to speak.
Stop talking (it is easy to "ramble on" when you don't have something prepared). If in front of an audience, don't keep talking as you move back to your seat.
Impromptu speeches are generally most successful when they are brief and focus on a single point.
We recommend practicing your impromptu speaking regularly and every day. Do you want to work on reducing your vocalized pauses in a formal setting? Cool! You can begin that process by being conscious of your vocalized fillers during informal conversations and settings.
Extemporaneous
is the presentation of a carefully planned and rehearsed speech, spoken in a conversational manner using brief notes.
Speaking extemporaneously has some advantages. It promotes the likelihood that you, the speaker, will be perceived as knowledgeable and credible since you know the speech well enough that you don't need to read it. In addition, your audience is likely to pay better attention to the message because it is engaging both verbally and nonverbally. By using notes rather than a full manuscript (or everything that you're going to say), the extemporaneous speaker can establish and maintain eye contact with the audience and assess how well they are understanding the speech as it progresses. It also allows flexibility; you are working from the strong foundation of an outline, but if you need to delete, add, or rephrase something at the last minute or to adapt to your audience, you can do so. The outline also helps you be aware of main ideas vs. subordinate ones.
Because extemporaneous speaking is the style used in the great majority of public speaking situations, most of the information in the subsequent sections of this chapter is targeted toward this kind of speaking.
Manuscript
speaking is the word-for-word iteration of a written message. In a manuscript speech, the speaker maintains their attention on the printed page except when using presentation aids.
The advantage of reading from a manuscript is the exact repetition of original words. This can be extremely important in some circumstances. For example, reading a statement about your organization's legal responsibilities to customers may require that the original words be exact. In reading one word at a time, in order, the only errors would typically be mispronunciation of a word or stumbling over complex sentence structure. A manuscript speech may also be appropriate at a more formal affair (like a funeral), when your speech must be said exactly as written to convey the proper emotion or decorum the situation deserves.
However, there are costs involved in manuscript speaking. First, it's typically an uninteresting way to present. Unless the speaker has rehearsed the reading as a complete performance animated with vocal expression and gestures (well-known authors often do this for book readings), the presentation tends to be dull. Keeping one's eyes glued to the script prevents eye contact with the audience. For this kind of "straight" manuscript speech to hold an audience's attention, the audience must be already interested in the message and speaker before the delivery begins. Finally, because full notes are required, speakers often require a lectern to place their notes, restricting movement and the ability to engage with the audience. Without something to place the notes on, speakers have to manage full-page speaking notes, and that can be distracting.
It is worth noting that professional speakers, actors, news reporters, and politicians often read from an autocue device, such as a teleprompter, especially when appearing on television, where eye contact with the camera is crucial. With practice, a speaker can achieve a conversational tone and give the impression of speaking extemporaneously and maintaining eye contact while using an autocue device. However, success in this medium depends on two factors: (1) the speaker is already an accomplished public speaker who has learned to use a conversational tone while delivering a prepared script, and (2) the speech is written in a style that sounds conversational.
Memorized
speaking is reciting a written message that the speaker has committed to memory. Actors, of course, recite from memory whenever they perform from a script in a stage play, television program, or movie. When it comes to speeches, memorization can be useful when the message needs to be exact and the speaker doesn't want to be confined by notes.
The advantage of memorization is that it enables the speaker to maintain eye contact with the audience throughout the speech. Being free of notes means that you can move freely around the stage and use your hands to make gestures. If your speech uses presentation aids, this freedom is even more of an advantage.
Memorization, however, can be tricky. First, if you lose your place and start trying to ad-lib, the contrast in your style of delivery will alert your audience that something is wrong. If you go completely blank during the presentation, it will be extremely difficult to find your place and keep going. Obviously, memorizing a typical seven-minute classroom speech takes a great deal of time and effort, and if you aren't used to memorizing, it is very difficult to pull off.
We recommend playing with all 4 types of delivery (though extemporaneous is most common in public speaking). Once you identify what type of delivery style you'll use in a speech, it's time to rehearse.
Rehearsal
Rehearsal sounds like homework, we know. Rehearsing your speech, however, doesn't just assist in increasing one's speech grade. Rehearsing is your commitment to bettering your foundational communication skills for the long haul.
When you rehearse, you are asking: what kind of aesthetic choices do I want to implement? Aesthetic choices can be enhanced or limited based on the situation and context in which you're speaking, both physically and culturally. For example, if you are speaking outside without a microphone, your embodiment of the speech and aesthetic scene would differ from a speech with a lectern in a small classroom.
This might be a good place to dispel a few myths about public speaking that can influence perceptions of rehearsal:
Myth #1: You are either born a good public speaker or not. While someone may have certain characteristics that are attractive in our cultural understanding of public speaking, good rehearsal will create conditions for everyone to become better speakers.
Myth #2: Practice makes perfect. It is possible to practice incorrectly, so in that case, practice will make permanent, not perfect. There is a right way and a wrong way to practice a speech, musical instrument, or sport.
Myth #3: Public speaking is just reading what you wrote or reading and talking at the same time. For example, I (one of your authors) often hear envy over my public speaking abilities, but I certainly was not blessed with a universal speaking gene. Instead, I spent years doing debate, speech, and performance to practice writing arguments, responding to ideas, and crafting a public speaking persona. When I do presentations, I spend lots of time workshopping the speech "on my feet" to determine the best type of delivery, where to emphasize, when to move, while considering the entire scene that's being created. Because I have practiced a lot, though, I am more confident about these decisions during the rehearsal process so I perform more consistently.
Have you found yourself using one of these myths? Sadly, we often rely on these myths to talk ourselves into believing that public speaking isn't for us – never was and never will be.
You might also, for example, have attempted rehearsal in the past and thought, "How am I supposed to remember all these words and all these bodily movements at the same time?! It's impossible!" It's true: a lot is going on when you give a public speech, and focusing on your aesthetic delivery requires a conscious effort. Think about the classic party trick of rubbing your belly and patting your head at the same time. In the first attempt, you may have struggled (like some of us!). With practice, though, you can find strategies that allow you to accomplish this task that, at first glance, was too much.
One major misconception about rehearsal is that it begins when your speech is completely written. Start rehearsing as soon as you can. Too often, speakers wait until the entire speech is complete – it's been created, written, and is on paper. We recommend, however, embedding rehearsal workshops throughout your speech preparation. Why?
Rehearsal and workshopping will assist you in translating the written argument into verbal form. "How does this sound?" or, "I think I know another example that would work well here." Using rehearsal to workshop content allows you to listen to the sound of your argument out loud rather than reading on paper only.
Rehearsal, thus, is an ongoing process and part of your entire public speaking preparation. So, now what? What does a good rehearsal consist of?
Check the Space
We've been a broken record, we know, but we'll say it again: think about the context – including the space that you're speaking in. The space—and resources available within it—will influence your rehearsal because you'll know the spatial opportunities and constraints. Let's talk through some key questions that you should ask about the space.
Is there a lectern or podium? If so, should I use it?
Many speaking spaces include a lectern or a podium. A is a small raised surface, usually with a slanted top, where a speaker can place notes during a speech. A is a raised platform or stage. Both the lectern and podium allow speakers stability while they present, and there's the bonus of having a place to rest your speaking notes.
However, even for experienced speakers, it is all too tempting to grip the edges of the lectern with both hands for security. You might even wish you could hide behind it. Remember, too, that opting to keep your hands at your sides will not be visible to your audience. Be aware of these temptations so you can manage them effectively and present yourself to your audience in a manner they will perceive as confident.
If you opt to use a lectern, your rehearsal should integrate a similar structure. As you rehearse, try stepping to the side or front of the lectern when speaking with free hands, only occasionally standing at the lectern to consult your notes. This will enhance your eye contact as well as free up your hands for gesturing.
What size is the space?
If you are accustomed to being in a classroom of a certain size, you will need to make adjustments when speaking in a smaller or larger space.
A large auditorium can be intimidating. Most of us are used to sitting in the seats, not standing on the stage! Because it may be difficult to find a space that large while you rehearse, keep a few things in mind:
Be aware that your voice is likely to echo, especially if far fewer people are in the space than it can hold, so you will want to speak more slowly than usual and make use of pauses to mark the ends of phrases and sentences. When you rehearse, slow down to account for the echo – listen to find ways to speak slowly while avoiding a robotic tone.
Your facial expressions and gestures should be larger so that they are visible from farther away. If you are using presentation aids, they need to be large enough to be visible from the back of the auditorium. Of course, if you can get the audience to move to the front, that is the best situation, but it tends not to happen.
Limited space is not as disconcerting for most speakers as enormous space, and it has the advantage of minimizing the tendency to pace back and forth while you speak. A small space does call for more careful management of note cards and presentation aids, as your audience will be able to see up close what you are doing with your hands.
What about acoustics?
The acoustics of your speaking space can often dictate an audience's ability to hear and comprehend what you're saying. If you are speaking outside, your voice is likely to carry and be less insulated than a theatre or small classroom. Remember, if your audience can't hear you, they can't experience your speech.
Check for a microphone: using a microphone will amplify your voice, so it is a good choice to increase your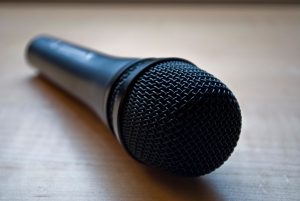 volume in an open or large acoustic space. Remember that a microphone may require that you slow down for the sound to carry. Check to see if it is handheld or can be clipped on. This may seem like a small difference, but it will affect your ability to move and gesture, so this small detail can make a larger impact on your aesthetic choices.
If you have never spoken with a microphone, ask to do a soundcheck and use that time to perform the first few lines of your speech to get an understanding of how your language will sound through a microphone in that space.
Workshop Strategies
Rehearsal means workshopping the embodiment of your speech. This is key because, as we've discussed, a speech is experienced differently by the audience than if they were reading it on a page. The sooner you begin and the sooner you become comfortable with rehearsal, the better your content will translate to the audience. To assist, let's talk through some rehearsal strategies and best practices. Rather than a linear process, view these processes and strategies as circular or recursive – continue returning to each throughout rehearsal.
Conduct a self-assessment
We often hear, "oh no; I hate to listen to myself talk." And we get it. It can feel strange to self-assess. While difficult and sometimes frustrating, it's important to know what kind of speaker you are and what you'd like to improve. For example, are you often quiet and asked to speak up? Or, conversely, are you a loud talker whose booming voice fills up the room with ease?
These general questions about your communication style can begin giving insight into your strengths as a speaker, and the answers will be your focus areas during rehearsal. If you know that you're a quick-talker, you'll want to pay attention to pace and consciously integrate additional pauses. If you struggle with eye contact, asking a friend to rehearse with you can increase your comfort with engaging through eye contact.
However, you can only gain so much about your speaking strengths by investigating your general communication style. The best way to get a baseline understanding of your speaking style is to—you guessed it – watch yourself give a speech. Yes, this may feel awkward. But it's worth it. When watching, we recommend that you identify any aesthetic choices that emerge more than once. After all, you're looking for key areas to improve, so you want to hone in on things that seem to trip you up over and over.
With that in mind, we recommend two ways to approach conducting a self-assessment: start with general questions and move toward specific examples. Figure 16.1 guides you through this process.
Conducting a Self-Assessment
As you watch yourself speak, take general notes about your aesthetic experience as though you are an audience member.
What kind of overall aesthetic experience is being portrayed? What "felt sense" am I leaving the audience with? Does this match the overall tone of the content?

What were successful moments where, as I watched, I felt particularly called in?

What aesthetic choices were present? What did I do that successfully delivered the content?
How was that idea organized or supported? Did I use language that I want to remember?

What were moments that felt jarring or disconnected?

How did I deliver the content? What didn't work?
Was the content confusing? What sounded off? Did I provide enough support or evidence?

What would I change to be more successful?
Figure 16.1
In conducting a self-assessment, your main goal is identifying opportunities for improvement and understanding your current strengths. The more comfortable you become with self-assessing, the less likely you'll finish a speech and say, "I have no idea what I just did."
Rehearse with all speaking materials
Rehearse with everything that you'll speak with. Too often, speakers use their full outline (or even a full manuscript) when rehearsing and make a speaking outline right before standing up to speak. This makes effectiveness difficult, and understandably so. If you're used to looking down at a full-length paper, using a notecard and a few keywords will feel radically strange and different in the moment.
Instead, rehearse with everything that you'll speak with, including your speaking notes (check out Chapter 9 for assistance on creating a speaking outline). Speaking notes are your friend, and workshopping with your notes will create consistency and familiarity when you formally speak.
Pro Tip: Make sure that your speaking notes include proper oral citations: give credit where credit is due!
There are benefits beyond familiarity. You can, for example, create cues on your notes that communicate with your future speaking self. Do you have trouble with projection? Use a green highlighter on your speaking notes to remind yourself to "speak up!" The more you rehearse with that green mark, the more confidently and consciously you can work on projecting.
In addition to speaking notes, you should rehearse with any other materials that will be present – a presentational aid, a table, a chair, etc. If you're using PowerPoint, you'll want to rehearse with a clicker since you'll likely have an additional device to hold. As you rehearse, ask: "do I need to hold this the entire time? Can I seamlessly place it on a table nearby? How long does the audience need to experience each slide?"
The more you integrate these materials into your rehearsal, the more seamless they'll appear the day that you speak. Rather than be burdensome or awkward, they will be part of the speaking experience.
Start over and over and over
That's right. Rehearsal is an over-and-over-and-over again process not a one-time-through ordeal. While a self-assessment is a key part of rehearsal, you may be unable to video yourself before a speech or presentation. In that case, starting over and workshopping repeatedly will be key.
As you begin workshopping, listen to the argumentative flow of your content: does this make sense? Can an idea be clarified? Does the transition connect the main points fully? How does the concluding thought leave the audience? Listening to the arguments will allow you to make aesthetic and delivery choices that will enhance that information.
Try it in different ways. Listen. Try it another way. Listen. Do it again.
Successful rehearsal is a process of self-reflection and being comfortable critiquing your own presentational style. You can always (and we recommend) ask others for help – feedback will provide you with different perspectives. These techniques, however, should always happen before the day of your speech. We provide some day-of recommendations below.
The Day of Your Speech
Rehearsal continues until the moment you speak, including the day of preparation. There are a few day-of rehearsal techniques that we recommend.
Warm-up your voice
Have you ever begun talking and instead of a clear, articulate sentence, your voice sounded scratchy and awkward? Perhaps you had to clear your throat for your voice to return. That's because your muscles weren't warmed up. When you begin your speech, you want your voice and vocal cords to be warmed up to allow higher blood flow to reduce hoarseness. Consider the following warm-up exercises:
Avoid holding tenseness by dropping the shoulders and taking a few deep breaths.
Open your mouth as wide as possible, close it, and open it again.
Warm up the tongue by rolling the tongue a few times (you know the sound!)
Select a few words and work to over-enunciate them by placing extra emphasis as you speak out loud.
These are just a few suggestions to get your vocals warmed up. We know these sound a bit weird, and we don't often see people standing in the hallway stretching out their mouths or vocal cords. But that's OK! Find a private spot and try to be comfortable in warming up your vocals.
Warm-up your body
Your speech is a full-body experience, so warming up your body is key. Because public speaking is embodied, you want to feel connected with all parts of your body so that you can comfortably and confidently engage. There is no "right way" to warm up, so use warm-up techniques that work best for you. We enjoy deep breathing, stretching, and shaking out the limbs.
Warming up your body can also help reduce the jittery feelings of communication anxiety. If you're feeling anxious, try implementing strategies to reduce communication apprehension. We recommend looking back over the chapter on reducing speech anxiety for suggestions on how to reduce and/or manage communication apprehension.
Trust yourself
You have worked hard. You know your stuff. Help the audience experience that time and labor.
Conclusion
This chapter has concluded our discussion on creating an aesthetic experience. We worked to identify key delivery techniques – impromptu, extemporaneous, manuscript, and memorized.
You now have helpful starting places when workshopping a speech. Rehearse. Rehearse. Rehearse.
the presentation of a short message without advance preparation
the presentation of a carefully planned and rehearsed speech, spoken in a conversational manner using brief notes
the word-for-word iteration of a written message
reciting a written message that the speaker has committed to memory
a small raised surface, usually with a slanted top, where a speaker can place notes during a speech
a raised platform or stage