Otis Chandler (@otown) is the co-founder and CEO of Goodreads.com; Kyusik Chung is Vice President, Business Development at Goodreads, and is the co-founder of Discovereads, which was acquired by Goodreads in 2011. Patrick Brown is the Community Manager at Goodreads. Goodreads is the world's largest site for readers and book recommendations. Follow @Goodreads for latest news and updates.
We've all fallen under the spell of a truly great book. But where did we originally hear about it? How did we come to choose that particular book from among the literally millions of books in the world? Did a friend hand it to us and say, "You have to read this!" Or did we hear about it on NPR's "Fresh Air"? Or was it a Goodreads Recommendation that convinced us to give it a try?
From the publisher's perspective, discovery has always been shrouded in mystery, a sort of alchemical process through which readers find books they love. With a community of more than 7.5 million people and 280 million books shelved, Goodreads is uniquely equipped to shed some light on this eternal question. In early 2012, our CEO Otis Chandler gave a talk at the Tools of Change[1] conference in New York City presenting some data that helps get at one of the most pressing questions facing the publishing industry today—how do readers discover books?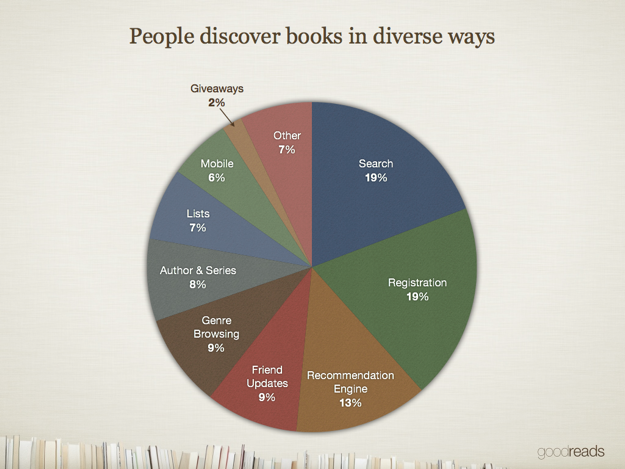 What we found is that readers discover books in several different ways. While this may not seem surprising, it should serve as a reminder to authors and publishers that no one promotion or marketing technique is enough. To successfully promote a book, you have to reach out to readers in a variety of ways.
We compiled a summary of the various methods Goodreads members use to find books on the site. One of the biggest things we learned—or should we say confirmed—is the power of word of mouth. Searching for titles on Goodreads is the top way people find books for their to-read shelves. That means they first heard of it elsewhere—likely from friends or the media. Search represented the method of discovery with the widest distribution of titles, from the very popular to the very obscure.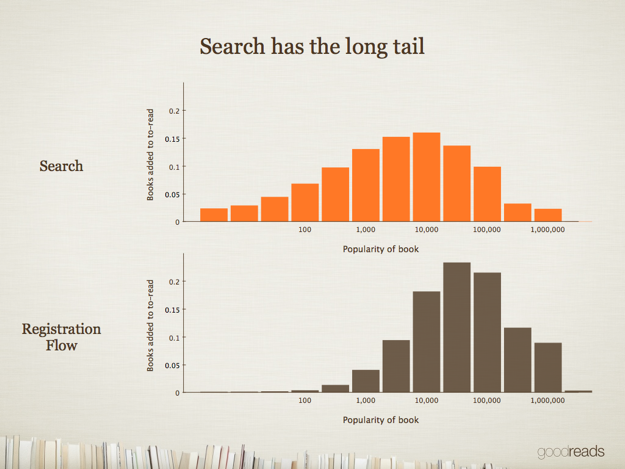 Some of the methods for finding books, such as the registration process for Goodreads, favor very popular books. We want to make sure you see something familiar when signing up, so we show books that many readers have liked. But other methods of discovery, such as updates from your friends and searching for specific books and authors, are better for finding more obscure books.
Since we launched it in September 2011, our Goodreads Recommendation Engine[2] has been incredibly successful. It was designed to show you interesting mid-list books (books that are neither bestsellers nor completely unknown titles) that you may not have heard of. As shown in the graph below, we succeeded. This makes sense, as nobody needs an algorithm to tell them about a bestseller. It's also worth pointing out that on the lower end, our recommendation engine has a minimum threshold of several hundred ratings so we know enough about a book to be statistically comfortable recommending it. So authors, if you know of a strong comparable title to your book and you are able to market your book to those readers—and they respond by adding your book to their Goodreads account—our recommendation engine will notice this correlation and be even more likely to suggest your book to the right readers.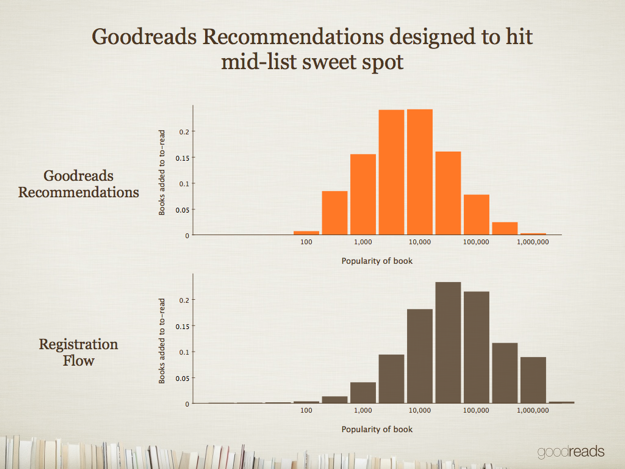 To find out more about where people initially hear about the books they read, we ran a survey of more than 3,200 Goodreads members, asking them how they discovered books. The results were somewhat surprising.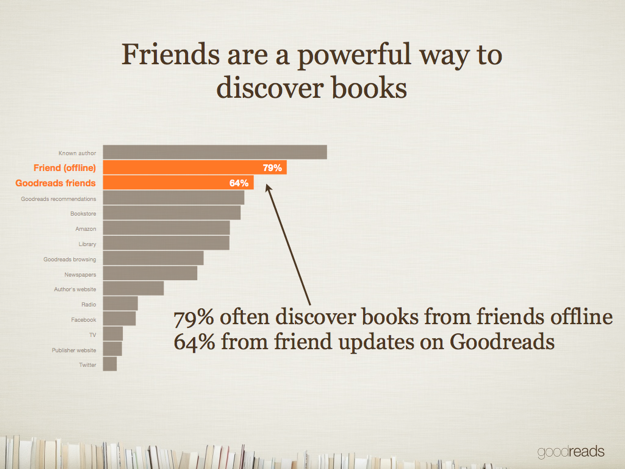 As you can see, most Goodreads members get book recommendations from their friends, either on Goodreads or off. Conversely, very few Goodreads members rely on Twitter and Facebook to hear about new books.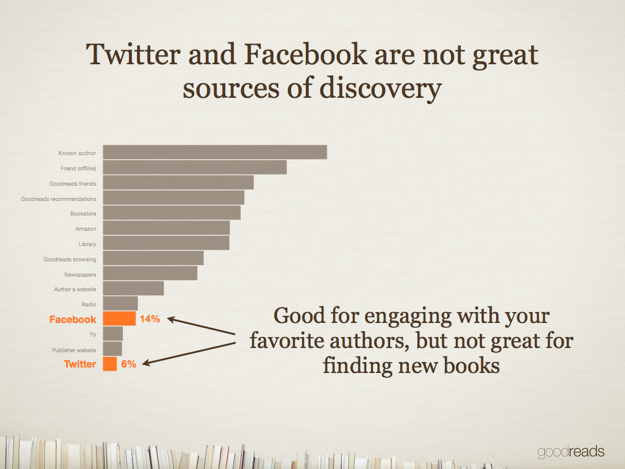 And, as we've shown previously,[3] an appearance on a popular NPR program or The Daily Show can give any book a "pop" on Goodreads. It's worth noting, though, that maintaining that level of interest in the book relies on word of mouth. (In the graph below, the blue line shows the number of times A Slave in the White House[4] was added after a member searched for it, and the brown curve shows the number of times the book was added because a member had seen a mention of the book in a friend's update.)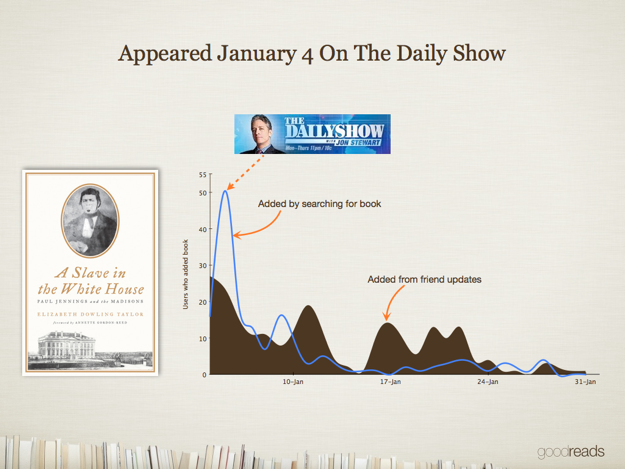 Discovery happens in a multitude of ways, and a successful marketing campaign should take that into account. But there are a few strategies that seem to work well.
Our best advice, both for authors and for publishers, is to work hard to establish your core fan base. The more momentum you get, the more it will build. Encourage readers to rate and review your books. This will not only help generate word-of-mouth buzz, which is essential for a sustained promotion, but it also helps get your books onto the appropriate book lists[5] and onto places like the Goodreads Recommendation engine. Our Listopia[6] lists are a great source of discovery for our members, including lots of mid-list titles. They tend to be specific, such as World War II Fiction or Pacific Northwest Books, so having your book on the right list can make a huge difference.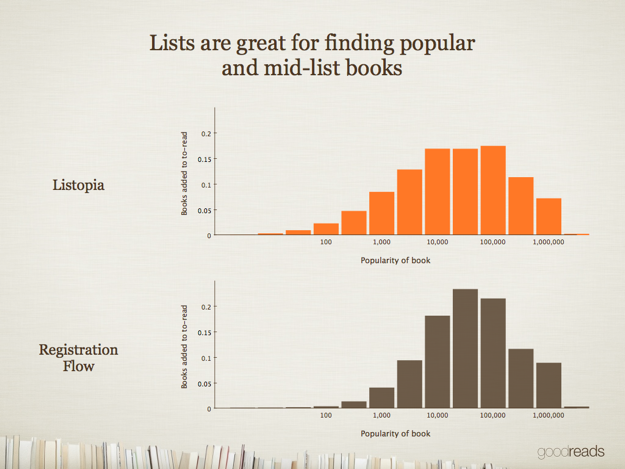 If you're an author who already has a following, be sure to promote your book heavily to your existing fans and fans of similar authors. Add a Goodreads badge[7] or widget[8] to your website or blog and encourage your readers to add your books and become your fan. If you're just starting out, reach the right readers with an advance giveaway.[9]
We've collected a range of interesting data on how readers discover their books, much of which is included in a slideshow whose link appears below:
http://www.slideshare.net/PatrickBR/goodreads-how-people-discover-books
As Goodreads continues to grow, we will bring the book publishing community still more of this kind of in-depth information.
---
Give the authors feedback & add your comments about this chapter on the web: https://book.pressbooks.com/chapter/goodreads-otis-chandler
---