January 2017 marked (almost) one year into the process, as well as the start of the last. By then, conversations, contracts, and paperwork had begun circulating between BMC, the National Performance Network (NPN) and possible tour sites. The original plan for The Making Room called for a "culminating event," something that would mark the end of the parallel play between Sue and Bebe and dancers, an event that preserved the experiential nature of the exchange for an audience to witness. The original event date in March 2017 at New York Live Arts came and went due to staff and budgetary issues. Meanwhile, NPN came on board with commissioning funds for In A Rhythm, meaning that three NPN sites—Live Arts, the Wexner Center for the Arts (Columbus, OH) and On the Boards (Seattle, WA)—had agreed to present the work. There would now be a Wexner production residency and premiere, a tour to the commissioners' venues, as well as a stop at the Dance Center of Columbia College Chicago. Thanks to Live Arts' introduction we were planning an additional production residency sponsored by LUMBERYARD at Jacob's Pillow (Lee, MA) a few weeks before the premiere at the Wexner. And thanks to the National Dance Project, a major support for our production, we would be able to have an additional residency at FringeArts (Philadelphia, PA) between the premiere and the first tour stop at Live Arts. We were fortunate and grateful. We now had a dance to build.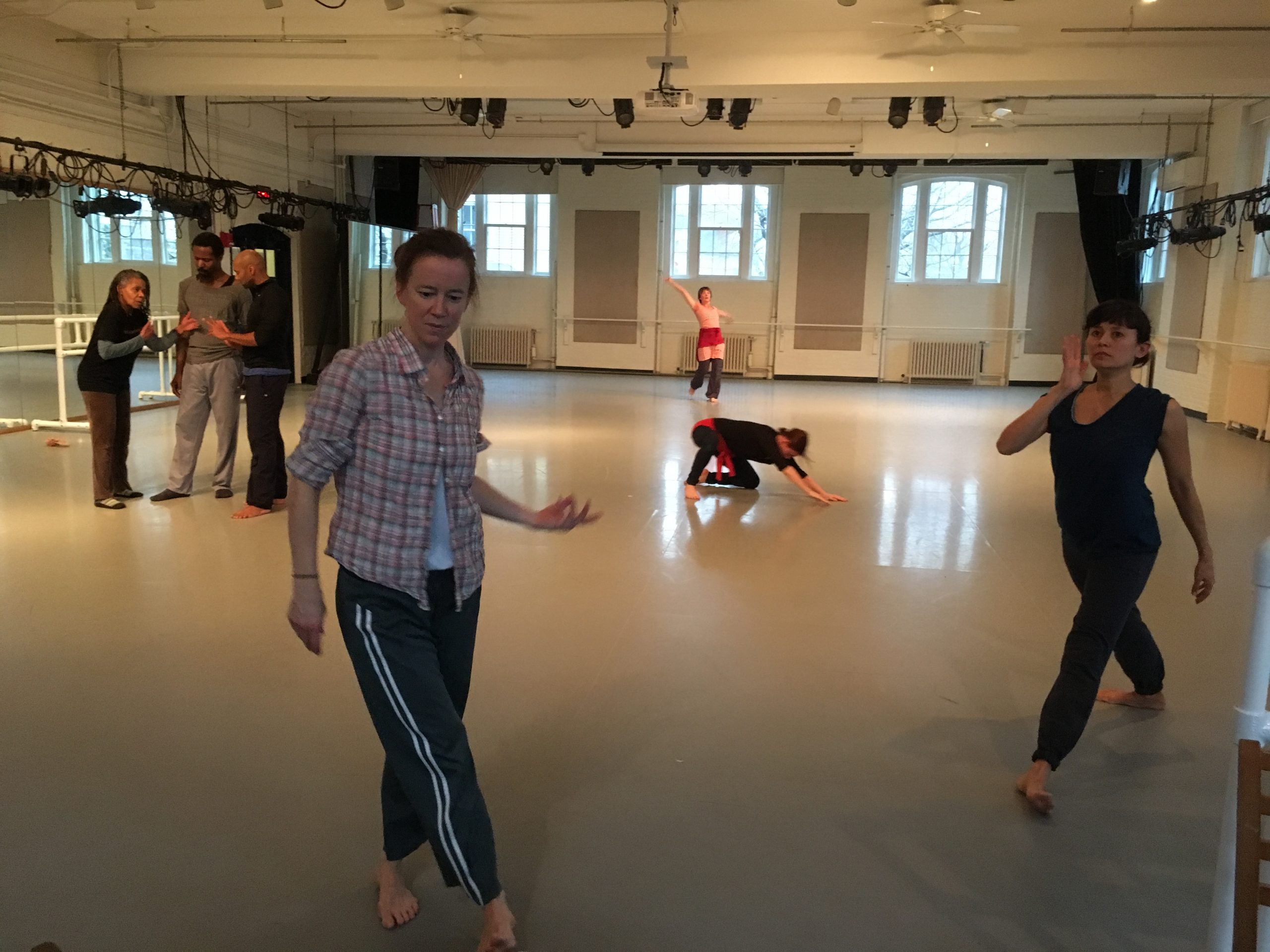 The Smith Residency, January 2017
At the start of the year, I have a new short-term day job. I have been named the Smith College Neilson Professor for the 2017 spring semester, at the invitation of the Department of Dance. The terms of the professorship allow me time to take part in Smith community activities without an expectation of teaching. It's an opportune transition into my recent retirement from 17 years of teaching in OSU's Department of Dance. Thanks to the generosity of Smith's Department of Dance and Angie (an Associate Professor there), we're able to use the studio facilities during the semester, allowing the company to work deeply in various groupings. The terms of the professorship require three lecture-performances delivered to the Smith community over the course of the term. I attend weekly meetings of the Kahn Colloquium, an invited group of faculty, staff, and students from the Five Colleges who have met throughout the year, diving into a chosen topic—"Modes of Perception" is the theme for 2016–17. Chaired by Associate Professors Chris Aiken (Dance) and Daphne Lamothe (Africana Studies), the Kahn is a divining rod for intense thinking. Additionally, lectures and symposia realigning race, sexuality, art, and politics ricochet through the community. Ideas of "troubling blackness" and rich discussions about what is demonstrated, apparent, assumed, inherent, and passé in racial (and other) discourse are finding their way into the studio. What is already an engaging and productive environment becomes even more so.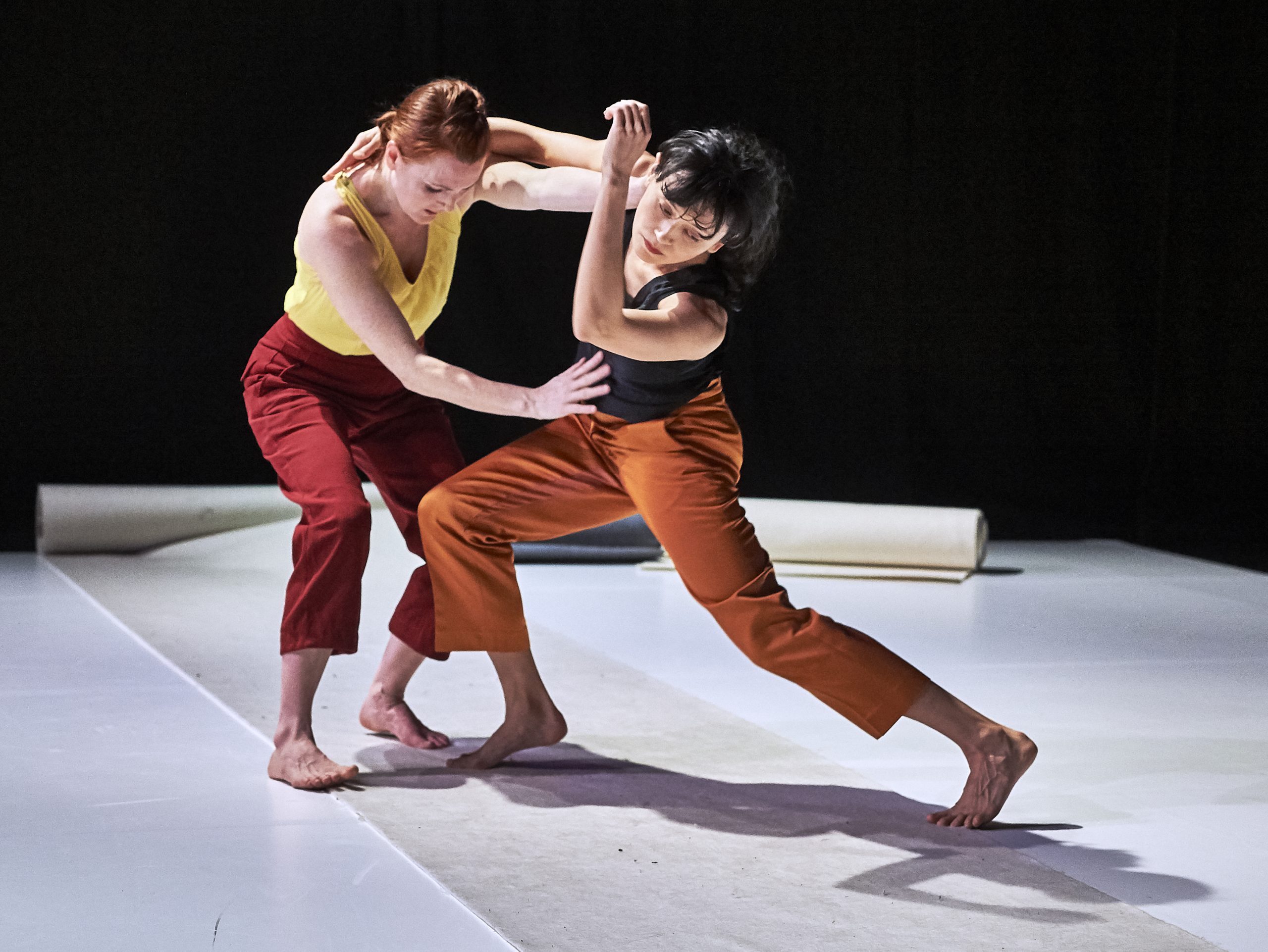 1. Michelle, Angie, Bronwen
We pick up the thread from last June surprisingly well. Video is helpful of course but there's also the affinity of bodies remembering together. What is harder to recall, beyond the placement in time and texture, is the float of attention to several things at once; that is what first brought us to notice these particular arrangements of parts. Recalling is laced with re-composing, with the next-and-newest accumulation of detail and interest, shooting between my "new" perception of what they are doing and the dancers' "new" recall of the thing.
The four of us start by crafting a motion vocabulary, a way of naming what we're doing, what we're intending, what we're seeing. Words are very present, metaphoric, and useful. The emphasis is on reading the other rather than describing the self, which I find wonderfully generous. We spend much of our time watching and taking turns dancing with each other, less time on solo work. By the end of the week we've begun two duet forms that will stay with us and deepen. Bronwen and Angie's "Hero and Attendant" relationship gets a name and thus an intention. One person faces outward into their imagination, their personal scope writ large and free: the Hero. The other attends to them (Attendant) as Hero presses past them into their own excess, their own welling up and over. It's not helpful to describe it in terms of how the movement takes place and shape; the metaphoric is easier to grasp. Bronwen's Hero wells up and out, and up still further; Angie is her Attendant, matter-of-fact and complete on her own terms.
In Angie and Michelle's duet, the work/play between them feels purposely undefined and open to what emerges. It feels like a continuation of a spark of "what is this?" from their dance in a workshop a year and a half ago. "Who are we, together?" is the question they seem to follow.
The entry into both duets becomes firmer over time, like the practice of a private handshake. Before there are two duets there are four of us entering the space, watching each other dance. We follow threads of description, giving ourselves and each other a handle on sensations and thoughts that form while in motion.
Angie's notes, January 1, 2017:
Methods of finding in improvisation—how I recognize from the inside:
Dynamic drive—Yes. Push—Yes, go now. This is me thinking, perceiving, and doing. It's both cyclical and web-like.
Recognition is needed to get to how do I choose? I have a sense of recognizing and redirecting the obvious choice (but not too much.) The subtlety of this sense is linked to a deep desire for complexity.
This is what's happening, this is what we're doing.
What to do then? In a flash I feel the possibilities of all the radicals I can imagine and I know… it's not that… but a little bit of that.
But then when we're making the thing—we are capturing a 'thing', creating from nothing/something. Then we are layering onto that captured thing. At this point I ask What are the varying containers for this? How do each boil over?
It seems we aim to capture these particular ways of thinking/doing, then we are interested in combining that with something set. THEN we are layering the improvised score on top.
I am interested in something set, immovable like the David Foster Wallace text, so that we can push against the fixed with the improvised (and vice versa).
2.  Michelle, Sarah, Angie, Darrell, Bronwen, Trebien
It's the first time this group has danced together. Once again, we start with improvising, taking turns, noting what's newly in play. I watch and juxtapose dancers and moments, alert to the syntax, the structure of the movement as a way to meet its meaning. Partnered pairs we call the Syntax Duets crop up right away, playing off specifics that describe relationships-in-action: continue past the point where we often pause; note the poetics and musicality that arise; tango; slipping iconic images. As we work separately on three duets, the overlap of attentions being paid to these three distinct relationships is its own study in form. There is a choreography arising that I can't quite figure out how to craft. I'm struck throughout the three weeks by the levels of practice and different histories of making that exist among these artists. The layers of assumption, notions of how to rehearse, the different degrees of comfort with ideas that take awhile to bloom—and of course, their embodied artistries! They are themselves so completely; where does this work fit in with their work? Sarah Lass, a first-year MFA grad student at Smith, videotapes and takes notes, documenting the early formation of intentions between us. Her notes from the group's first day are here.
Syntax: it was everywhere. We had come up with a sense of time, a rhythm of action, blocky bits put next to each other as a describable reckoning. Syntax doesn't exist without something to say.
I can't quite track the emergence of this curiosity. Syntax was rooted through this process and like any emergent departure point it was always in view, always in tune. I was wary of it petering out into just an awkward rendering of juxtaposition—too facile. I was most curious about what was said rather than the arrangement of how it was delivered. The what didn't have much to do with thematic information. It was knowable and unnameable at the same time.
What is visible? We start with a notion of the tell, which has to do with direction toward the receiver, visible or not, in time with an event. The tell is the signage, the sleight of hand that teeters between what's being done and what's being shown. Our emphasis is on what is actually experienced rather than how to demonstrate it. The time taken to reflect on the sensation (ooh…) carries a sheen of performance that puts you a step behind where you actually are. The tell puts the moment smack-dab between you and your partners. You cut to the chase and move on.
At some point the phrase "Cut to the Chase" becomes the new engine. The words describe a dynamic reading of the tensile agreement between sensation and action. It is showing up in everything. It is generative, whooshing movement out of the body and between the folks. It is lovely and not really as fast as it sounds, but there's an exhilarating driver in place. I was inspired by a trio I had just seen by choreographer Joanna Kotze [1] which had a forthright, odd, and looney full-bodied gestural physicality, like shouting the obvious up close. Their looney-ness inspired Cut to the Chase (if not now, when?): get to it, take away the "and" in dance phrasing, go for less twining and un-twining of the action.
A new score emerges that carries this pulse, which we call "At Speed." The dancers form a circle, enter it on impulse whether alone or in a ragged grouping. The aim is not to hurry but to be quick; it is at the speed of what it is, what it takes to accomplish. Time is short but long enough. I like its matter-of-fact span between confusion and clarity. It feels like the dancers are bypassing aesthetic reasoning—I like that—but perhaps it's a new aesthetic, a new preference rising. But that dang "and" beat between actions, that slight polite deference before your turn is hard to disrupt. Politeness should have more room to it.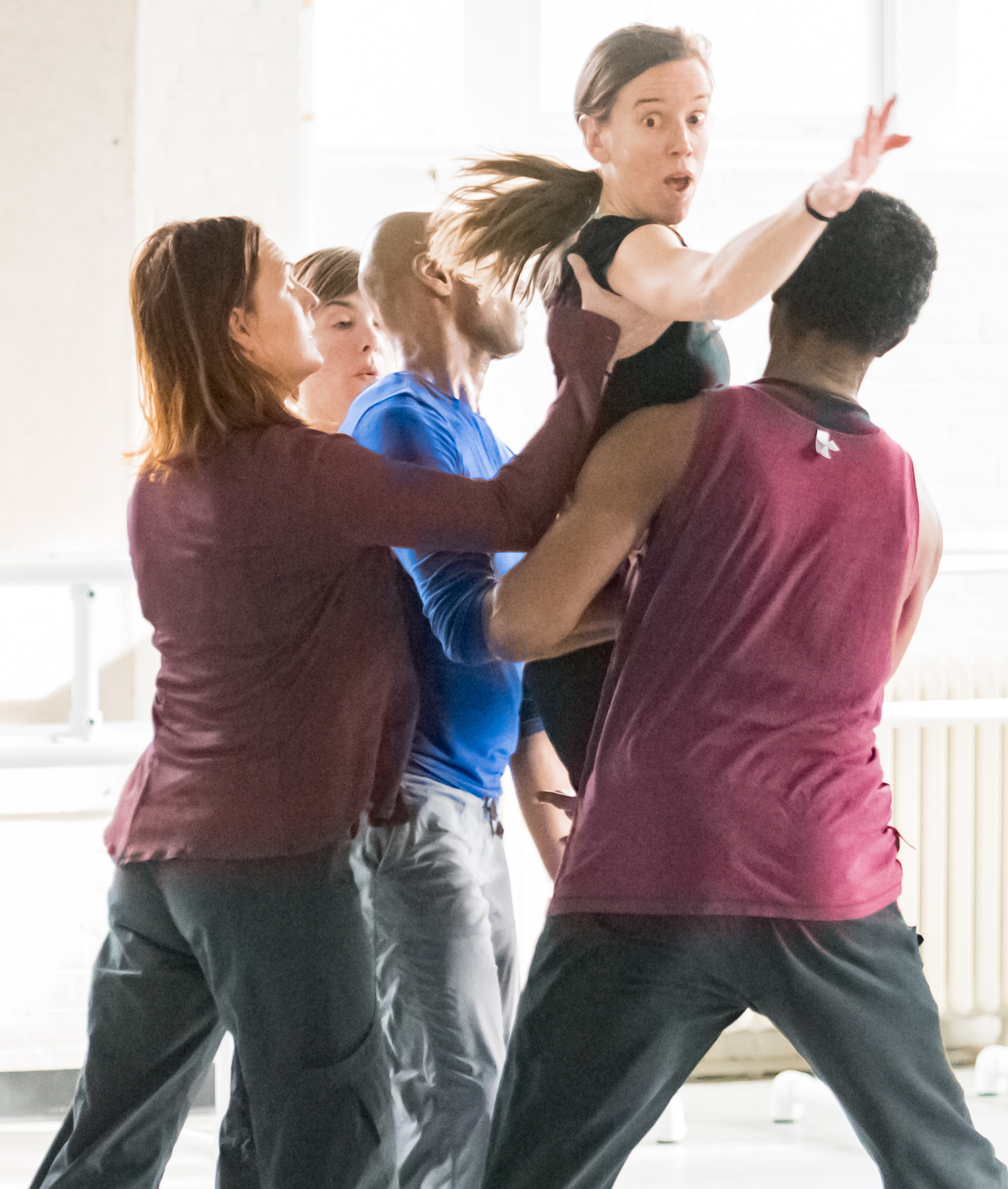 Forming a score, particularly with this group, is forming a language. There is a recognition of signifiers, cues, struts, timings, tells, all the signals that pass between partners in a culture that knows something of itself. The work leads us to KidFury and Crissle's podcast The Read, and we take the time to sit down and listen to the episode.[2]
We've been dancing again to Nelly's "Country Grammar" in this Smith residency, as we had in August. It is a 2000s rap tune that is heavy with 'hood descriptives indicating black street attitude, cars, sexual preference, and the like. Together all the cultural references have broadened the tone in the room, differently personal and intimate; blackness heard by black and white folks, recognizable and known. The Read carries a hit of outlier nuance—understood from the inside, available (but not explained) to the outsider. In The Read, snarky-ness is the value point, both between the hosts and with their audience. The Read can be heard as a kind of training in attitude. The topic (Kanye West and his dressed-up child at the BET Awards) is not as relevant as the rhythm, the swing back and forth.
The sections in development—Syntax Duets, At Speed, No Moves, Hero and Attendant, Angie-Michelle Duet and others—all have a cut-to-the-chase delivery, a known quality even as the form is only partially rendered. They all have a relationship to each other that we can't yet decode, a structure we can't yet recognize. What is compelling is the opportunity they bring to speak to each other. Syntax doesn't exist without something to say.
---
It Happened It Had Happened It Is Happening It Will Happen, a 2017 showing at New York Live Arts, with Kotze and dancers Stuart Singer and Netta Yerulshamy. ↵
Here is a sample from The Read's June 30, 2016 podcast, which should be spoken out loud and fast, one line after the other bam-bam-bam, to get the proper tone:
C: Did you watch the whole BET [Black Entertainment Television] Awards?
K: Watch… is like... is a word. Perused?
C: You fast-forwarded through most of it, didn't you?
K: The vast majority.
C: Exactly what I should have done. ↵