11

Identifying and Understanding How to Manage Conflict

Dispute Resolution Office, Ministry of Justice (Government of Saskatchewan)
Learning Objectives
Describe the different causes of conflict.
Analyze the different approaches to managing conflict.
Recognize how conflict escalates.
Adapt your approach to conflict.
11.1 The Theory of Conflict
Conflict: to struggle, clash, be incompatible. (Oxford Dictionary, n.d.)
For centuries, people accepted adversarial disputes and harsh conflict as a by-product of human nature. This acceptance caused people to analyze only how conflict could be resolved, that is, how they could make it go away. In the past decade or two, many people have started to also ask, "Why is conflict resolved in that way?" and, "Might there be a better way?"
If we are to make progress toward better conflict resolution, it is imperative that we understand why conflicts arise and how people traditionally have reacted to conflict situations. When we are able to analyze more clearly the causes of disputes, we will be able to determine better what processes need to be implemented to produce a more positive outcome to the conflict.
11.2 Four Major Types of Conflict
In order to analyze how to transform destructive conflict into a dispute with a positive outcome, let us begin by exploring the four major types of conflict (categorized by cause): data conflicts, relationship conflicts, value conflicts, and structural conflicts.
Data Conflicts
Data conflicts occur when people lack the information necessary to make wise decisions, are misinformed, disagree over which data are relevant, interpret information differently, or have competing assessment procedures. This type of conflict is usually the simplest to overcome, by adopting a process to ensure both parties perceive the data in the same way.
Relationship Conflicts
These problems often result in what have been called unrealistic or unnecessary conflicts since they may occur even when objective pre-conditions for conflict, such as limited resources or mutually exclusive goals, are not present. They occur due to the presence of strong emotion (e.g., jealousy, mistrust, hatred) and are created from perceptions, poor communication, stereotypes, and so on. Relationship conflicts often fuel disputes, causing them to escalate.
Value Conflicts
This type of conflict is caused by perceived or actual incompatible value systems. Values are beliefs people use to give meaning to life and to explain what is good, bad, right, or wrong. Value conflicts occur only when people attempt to force one's set of values on another or lay claim to exclusive value systems, which do not allow for divergent beliefs.
Structural Conflicts
Structural conflicts are caused by oppressive patterns of human relationships. These patterns are often shaped by forces external to the people in dispute. Often, the disputants have no reason to be in conflict other than the structural problem that is imposed on their relationship. Often, these conflicts can be overcome by identifying the structural problem and working to change it. Acceptance of the status quo can perpetuate structural conflict.
Figure 11.2.1 Types of Conflict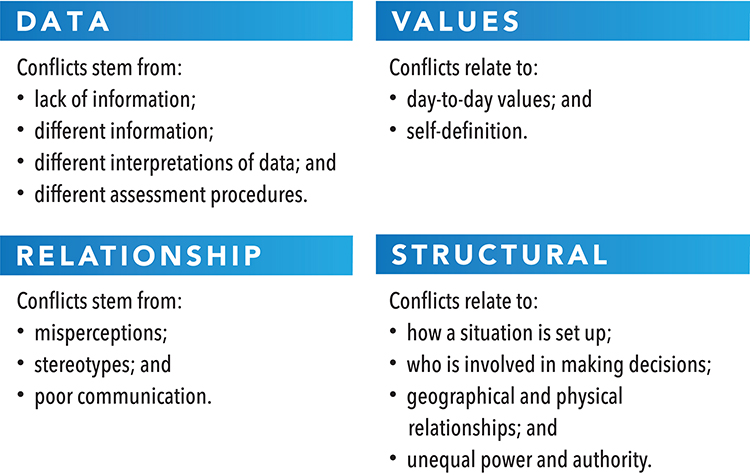 It is important to understand what type of conflict (data, value, relationship, or structural) you are dealing with before you can effectively work toward a resolution. The solution for each type of conflict will be different and must suit the type of conflict you are addressing. For example, it would be unlikely that you would resolve a relationship problem with a data solution.
Data and structural conflicts have external sources of conflict and are typically easier to resolve; this is done by changing something in the external environment. Conversely, relationship and value conflicts relate to internal sources of conflict and can be much more difficult to resolve. Understanding relationship and value conflicts requires a deep internal awareness and empathy for others. Resolving relationship and value conflicts may significantly challenge an individual's personal perspectives, which generally makes the process more difficult. Typically, when we are under stress or in an escalated conflict we reach for data or structural solutions to resolve the conflict as these solutions require less time and effort.
11.3 Dealing with Conflict—Different Approaches
Every individual or group manages conflict differently. In the 1970s, consultants Kenneth W. Thomas and Ralph H. Kilmann developed a tool for analyzing the approaches to conflict resolution. This tool is called the Thomas-Kilmann Conflict Mode Instrument (TKI) (Kilmann Diagnostics, 2017).
Essential Learning Activity 11.3.1
For information on the Thomas-Kilmann Conflict Mode Instrument, see the Kilmann Diagnostics website.
Thomas and Kilmann suggest that in a conflict situation, a person's behaviour can be assessed on two factors:
Commitment to goals or assertiveness—the extent to which an individual (or a group) attempts to satisfy his or her own concerns or goals.
Commitment to relationships or cooperation—the extent to which an individual (or a group) attempts to satisfy the concerns of the other party, and the importance of the relationship with the other party.
Thomas and Kilmann use these factors to explain the five different approaches to dealing with conflict:
| | | | | |
| --- | --- | --- | --- | --- |
| avoiding | competing | accommodating | compromising | collaborating |
There is an appropriate time to use each approach in dealing with conflict. While most people will use different methods in various circumstances, we all tend to have a more dominant approach that feels most comfortable. One approach is not necessarily better than another and all approaches can be learned and utilized. To most effectively deal with conflict, it is important to analyze the situation and determine which approach is most appropriate.
Let's take a closer look at each approach and when to use it.
Avoiding
An avoidance approach demonstrates a low commitment to both goals and relationships. This is the most common method of dealing with conflict, especially by people who view conflict negatively.
Table 11.3.1 Avoiding

Types of Avoidance

Results

Appropriate When

Physical flight
Mental withdrawal
Changing the subject
Blaming or minimizing
Denial that the problem exists
Postponement to a more appropriate time (which may never occur)
Use of emotions (tears, anger, etc.)

The dispute is not resolved.
Disputes often build up and eventually explode.
Low satisfaction results in complaining, discontentment, and talking back.
Stress spreads to other parties (e.g., co-workers, family).

The issue is trivial or unimportant, or another issue is more pressing
Potential damage outweighs potential benefits
Timing for dealing with the conflict is inappropriate (because of overwhelming emotions or lack of information)
Application to Nursing—Avoidance
When might avoidance be an appropriate approach to conflict in a hospital or clinic setting?
In a hospital or clinical setting, there may be times when it is appropriate to avoid conflict. For example, on a particularly busy day in the emergency room, when a patient in life-threatening condition has just been received, the attending doctor may bark directions at the assisting nurses to get equipment. The nurses may feel offended by the doctor's actions; however, it may be appropriate for the nurses to avoid the conflict at that moment given the emergency situation. The nurse, if he or she felt it was inappropriate behavior by the doctor, could then deal with the conflict after the patient has been stabilized.
When might avoidance be an inappropriate approach to conflict in a hospital or clinic setting?
Avoiding the conflict may be inappropriate if that same doctor continues to bark directions at the nursing staff in non-emergency situations, such as during debrief of a surgery, or when communicating non-emergency instructions. When the nurses and doctor have to continue a working relationship, avoiding the continuing conflict will no longer be appropriate.
Competing
A competing approach to conflict demonstrates a high commitment to goals and a low commitment to relationships. Individuals who use the competing approach pursue their own goals at the other party's expense. People taking this approach will use whatever power is necessary to win. It may display as defending a position, interest, or value that you believe to be correct. Competing approaches are often supported by structures (courts, legislatures, sales quotas, etc.) and can be initiated by the actions of one party. Competition may be appropriate or inappropriate (as defined by the expectations of the relationship).
Table 11.3.2 Competing

Types of Competing

Results

Appropriate When

Power of authority, position, or majority
Power of persuasion
Pressure techniques (e.g., threats, force, intimidation)
Disguising the issue
Tying relationship issues to substantive issues

The conflict may escalate or the other party may withdraw.
Reduces the quality and durability of agreement.
Assumes no reciprocating power will come from the other side; people tend to reach for whatever power they have when threatened.
Increases the likelihood of future problems between parties.
Restricts communication and decreases trust.

There are short time frames and quick action is vital.
Dealing with trivial issues.
Tough decisions require leadership (e.g., enforcing unpopular rules, cost cutting, discipline).
Application to Nursing—Competing
When might a competing approach to conflict be appropriate in a hospital or clinic setting?