Wir leben in einem Haus mit Keller, Erdgeschoss und einem weiteren Geschoss. Meine Ausrüstung für unser Smart Home besteht aus zwei Gosund-Steckdosen für den Trockner und die Waschmaschine, einem Vibrationssensor für den Briefkasten, zwei Sensoren für das Fenster, zwei  Steckdosen zum An/Ausschalten des Lichts, ein Echo, zwei Echo Dots und einem Minicomputer als Steuerzentrale (Raspberry Pi 4 ) mit einem Verbindungsstick, der Messdaten empfängt und sie an den Minicomputer weitergibt (ConBee II Zigbee-Stick).
Ich habe zuerst mit dem Echo und den Steckdosen gespielt. Ich liebe es, dabei mit der Spracherkennung von Alexa zu arbeiten. Wenn das Essen fertig ist, wird mit dem Befehl: "Alexa Peter Essen" im Arbeitszimmer von Peter die Ansage gemacht: "Mittagessen ist fertig". Mit dem Befehl "Alexa anrufen Dot Peter", wird eine interne Haustelefon-Verbindung hergestellt, die der andere mit "Alexa Anruf annehmen" akzeptieren kann. Licht kann über die WLAN-fähigen Steckdosen über Alexa an- und ausgestellt werden. An die Müllabfuhr erinnert Alexa automatisch am Abend vorher (Erinnerung und Kalender sind entsprechend eingestellt). Im Keller ist ein Bewegungsmelder verbunden mit einer Steckdose, die automatisch das Licht anstellt und die Treppe ausleuchtet, wenn jemand dorthin geht.
Dann habe ich viele Videos zum Thema Smart Home auf YouTube angesehen und mich durchgefragt. Mit den angebotenen kommerziellen Smart-Home-Versionen legt man sich auf Sensoren des jeweiligen  Herstellers fest. Ich wollte das nicht. Deshalb habe ich den Raspberry PI mit einem Programm (IoBroker) aufgesetzt, das es ermöglicht, verschiedene Smart-Home-Systeme zu nutzen. Für alle meine Sensor-Installationen (Waschmaschine, Briefkasten usw.) gibt es Videos, die man gut nachvollziehen kann, auch wenn ich manche dreimal angesehen und mir die Anweisungen auch noch ausgedruckt habe.
Mir gefällt auch, dass man kleine Anweisungen geben (also Sketche schreiben) kann, was die Geräte machen sollen; zum Beispiel welche SMS-Nachrichten auf dem Handy ankommen, welche Ansagen über Echo Dot gegeben werden oder welche Musik abgespielt werden soll. Inzwischen bekomme ich diese Nachrichten auf mein Handy: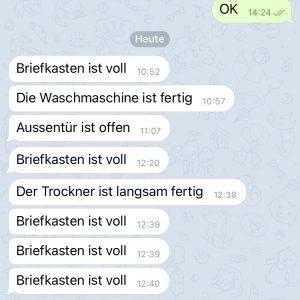 Über Echo Dot wird angesagt, wenn es im Badezimmer zu kalt wird oder, wenn die Außentür noch offen ist. Meinen Sketch für den Briefkasten musste ich allerdings schnell umprogrammieren; der Zeitungseinwurf morgens um 5 Uhr verbunden mit der Ansage: "Der Briefkasten ist voll!" und dem Abspielen der Musik "Trari trara, die Post ist da", war dann doch zu viel.
---
We live in a house with basement, ground floor and another floor. My equipment for our smart home consists of two Gosund sockets for the dryer and the washing machine, a vibration sensor for the mailbox, two sensors for the windows, two sockets for switching the light on / off, an echo, two echo dots and a minicomputer as Control center (Raspberry Pi 4) with a connection stick that receives measurement data and forwards it to the mini computer (ConBee II Zigbee stick).
I played with the Echo and the sockets first. I love working with Alexa's voice recognition. When the meal is ready, the command: "Alexa Peter Essen" announces in my husband's study: "Lunch is ready". With the command "Call Alexa Dot Peter", an internal in-house telephone connection is established, which the other person can accept with "Alexa call accept". Light can be switched on and off by WiFi-compatible sockets via Alexa. Alexa will automatically remind you of the garbage collection the evening before (reminder and calendar are set accordingly). In the basement, a motion detector is connected to a socket that automatically turns on the light and illuminates the stairs when someone goes up or down.
Then I watched a lot of videos on the topic of smart homes on YouTube and made enquiries. With the commercial smart home versions offered, you depend on sensors from the respective manufacturer. Because I didn't want that, I set up the Raspberry PI with a program (IoBroker) that enables various smart home systems to be used. There are videos for all of my sensor installations (washing machine, mailbox, etc.) that are well reproductable, even if I have viewed some of them three times and also printed out the instructions.
I also appreciate the fact that you can give little instructions (write sketches) what the devices should do; for example, which SMS messages arrive on the cell phone, which announcements are given via Echo / Dot or which music is to be played. Meanwhile I get these messages on my cell phone: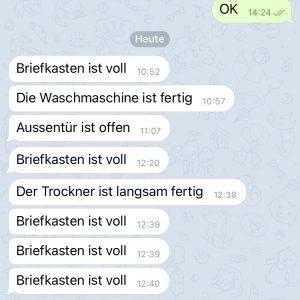 Echo Dot announces when it gets too cold in the bathroom or when the front door is still open. However, I had to reprogram my sketch for the mailbox quickly. When the newspaper arrived at 5 o'clock in the morning we received the announcement: "Today´s paper is on your doormat!"  simultaneously playing the music "Trari trara, die Post ist da".
I must admit that was just a bit too much for me!