Ontario Tech University
Abstract
Technological literacy has become an important focus within the modern classroom. The integration of technology into a traditional learning environment helps develop meaningful learning experiences and cultivates positive perspectives and relationships with technology. Although technology has become a staple within most classrooms and incorporated into curriculum standards, the integration of technology and technology frameworks or models compete with barriers and limitations based on preconceived perceptions of technology, school culture, and access to technology. This chapter is an introduction to the Technology Pedagogical Content Knowledge (TPACK) model proposed by Mishra and Koehler. The purpose of this chapter is to briefly summarize the TPACK model and provide examples of how the framework can be integrated into classrooms to ensure the successful incorporation of education-based technologies and Information and Communication Technologies (ICT's) and further propose solutions to common barriers and limitations.
Keywords: barriers, education, pedagogy, technology integration model, TPACK
TPACK Model of Integration
The TPACK model is an acronym for Technological Pedagogical Content Knowledge. The Technology Integration model was proposed by Punya Mishra and Matthew Koehler in 2006 via their text Technological Pedagogical Content Knowledge: A Framework for Teacher Knowledge. Their findings build on the Pedagogical Content Knowledge (PCK) framework first proposed by Lee Shulman's 1986 work, Those Who Understand: Knowledge Growth in Teaching. Shulman's initial conception of the PCK model focused on the pedagogical context and the content context. The PCK model focuses on how the way educators teach and what they teach need to be equally represented in order to present an optimal learning experience. The PCK model is depicted in Figure 1.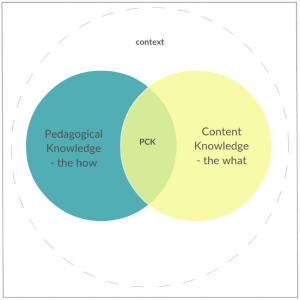 Mishra and Koehler (2006) expanded upon this foundational text by adding the technological impact associated with a more modern learning environment and pedagogical approach (Ling, Chai, & Tay, 2014). The TPACK model highlights areas of overlap between the three core components of technological implementation and integration into a learning environment. The idealized state is where all three of these contexts meet in the combined TPACK competency where technology is successfully incorporated into a learning environment as it meets both the pedagogical and content-based knowledge in a meaningful and useful way for both learners and teachers. Figure 2 illustrates this overlap and the ideal state for technological integration.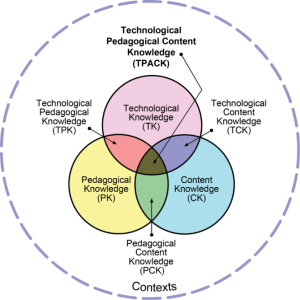 Background Information
The TPACK model is expressed through an overlapping Venn diagram where the various knowledges cumulate in the optimal experience where pedogeological, content, and technological knowledges are balanced in the TPACK structure. Each knowledge component has a very important role in the successful integration of technology within the classroom.
Technological Knowledge
The Technological Knowledge (TK) is an interesting part of this model because it is hard to define due to the constant change of new and emerging technologies. Due to the changing dynamics of the technology accessible to learners and teachers, it is important that educators have a broad understanding of the available technologies and emerging technologies and how they can be productively integrated within their curriculum (Mishra & Koehler, 2006).
Pedagogical Knowledge
Pedagogical Knowledge (PK) refers to the way in which the educator presents content to their students in an effective way and addressing challenges or misconceptions from the learner. Mishra and Koehler describe the pedagogical context as, "knowing what teaching approaches fit the content, and likewise, knowing how elements of the content can be arranged for better teaching" (2006, p.1027).
Content Knowledge
Content Knowledge (CK) is exactly what the term suggests which is the actual knowledge about a specific field or subject matter (Mishra & Koehler, 2006). Educators are expected to be experts in the field of study they teach and the scope of complexity of which it is presented to the learner. Educators must have the fundamental backgrounds and understandings for their specific field of study otherwise there could me a misrepresentation or communication of the facts thereby confusing or misleading their students (Ball & McDiarmid, 1990).
The Ideal Overlap
It is important to remember that although each context knowledge is an important part of the TPACK model, it is stressed that each part is reliant on the other. One context or competency cannot function efficiently on its own. For example, although it is important for an educator to be extremely knowledgeable about the topic they are teaching without a pedagogical understanding of how to present or teach the material in a meaningful way defeats the purpose of cultivating content-based expertise. The overlap between pedagogical, technological, and content based knowledges represents an ideal balance within the classroom.
Applications: TPACK in the Classroom
Implementing meaningful technology within any classroom can be a daunting task. Thorough evaluation of a tech-based tool that seamlessly integrates into a predetermined curriculum must be justifiable and provide an elevated learning experience without feeling cumbersome or irrelevant (Earle, 2002).
TPACK and 21st Century Skills
John Dewey famously said, "If we teach today's students as we taught yesterday's, we rob them of tomorrow." This sentiment resonates deeply within today's educational climate. Educators must teach in a forward-thinking way. Implementing 21st Century Skills into the classroom has become an increasingly important aspect of curriculum planning and implementation. Integrating technology and technological literacy has become an ever-evolving scope within the modern curriculum and learning environment. These skills are more than just introducing students to particular technologies and the ability to use them, but rather highlight the importance of transferring these skills to relevant real-world applications (Prensky, 2010, p.10).
Selecting Technology. In order to integrate technology into the classroom, it is important to remember that less can be more. Rather than attempting to incorporate a new and innovative technology that claims to tick off all of the items on your tech-tool wish list, it is advisable to use tried and tested technologies that have proven payoffs. From a teacher's perspective, using an easy to learn and intuitive technology is key to success. Aside from learning and mastering the technology themselves, they must consider their students' diverse needs, accommodations, and affordances. Using a tool like TEDED is an efficient way to include multimedia, assessment, and customization in order to heighten student engagement. The platform is easily accessible and does not include fees thereby being accessible to all educators and learners.
Potential Barriers. Although the TPACK model synthesizes three main components for the successful integration of technology within the classroom, there are innate barriers associated with the model. Three main factors that contribute to these barriers include teacher perceptions of technology, school culture or policies, and physical access to technology (Ling, Chai, & Tay, 2014).
Suggested Solutions. An important part of the TPACK model is cultivating a positive culture between educators where they can share their experiences with each other regarding their trials and errors associated with integrating technology within their classrooms. Each educator's experience, whether deemed to be a success or challenge, allows others to learn from the trials and tribulations and find other effective ways to integrate tools into their lessons. If their collective experiences are shared in an open and accessible forum, mistakes or challenges can be mitigated rather than repeated. Creating this open dialogue also allows for educators to share tech-tools that are easily accessible and do not include monthly or annual fees to the user or institution. These forms of dialogue help limit or remove the barriers associated with institutional policies and the need for expensive subscriptions and increase the overall accessibility to technology through smart integration of collaborative technological tools.
TPACK Toolkit: Successfully Unpacking TPACK
Considering the possible barriers and limitations associated with implementing new technologies within the classroom, it is important to mitigate these possible challenges in the planning stages when incorporating a meaningful technology. It is crucial to ensure that the tool being utilized does not detract from learning objectives due to burdensome features. These features include excessive time needed for the educator and students to learn a new technology or platform, excessive fees associated with the tool, or issues with compatibility. To decrease the likelihood of running into these challenges, it is important to select a tool that is user-friendly and easily adapted to classroom materials.
An example of an accessible tool to all classrooms is TEDED. This tool successfully balances the various contexts of the TPACK model. The platform integrates and balances the technological, content, and pedagogical contexts to ensure a meaningful learning process. TEDED provides specified content on a specific area of interest. This content is carefully curated into a concise lesson plan. The content is organized in digestible sections and follows the elaboration theory to ensure that student interaction with the material fulfills pedagogical principles. Educators can easily customize and manipulate the lesson plan to ensure the content fits classroom material relevant to students. The overall process strikes the unique balance suggested by the TPACK model in order to ensure seamless and meaningful integration of technology within a learning environment.
Conclusions and Future Recommendations
The TPACK model suggests the perfect combination of pedagogical, content, and technological competencies in order for educators to provide the most rounded educational experience. The model in a lot of ways assumes that providing this level of educational experience can be obtained, however, there are various barriers and obstacles that inhibit the proper integration of technology within the classroom.
As it stands, teachers are constantly being stretched thin to meet curriculum standards, participate in extracurricular activities, overcome institutional barriers, and manage large classes to name a few of their daily burdens (Ertmer, 1999). To suggest that teachers need to update their technological skills in a culture where new technologies are being developed and released is a big ask. For this reason, some teachers will continue to have a negative perspective on the need or requirement to integrate new technologies into the classroom. Aside from this demand, teachers who are innovative and embrace the use of technology are faced with institutional constraints including budgetary limitations and a lack of accessibility to technology. This disconnect creates frustration as their efforts to embrace 21st Century Skill building is railroaded.
It is important to recognize that the TPACK model represents an ideal scenario. In order to meet this ideal or come close to achieving this within a classroom, the standards for integration have to be attainable. Incorporating technologies that are inexpensive or free to the user, as well as ones that are intuitive and easy to learn, are the cornerstone of successful integration of tech-tools within the classroom. It is important for educators to vet and evaluate technology-based tools before implementing them into their classroom to ensure that learning is optimized through the use of technology rather than simply acting as a hollow expectation.
References
Ball, D. L., & McDiarmid, G. W. (1990). The subject matter preparation of teachers. In W. R. Houston (Ed.), Handbook of research on teacher education  (pp. 437–449). New York: Macmillan.
Earle, R. S. (2002). The integration of instructional technology into public education: Promises and challenges. Educational Technology, 42(1), 5-13.
Ertmer, P. A. (1999). Addressing first- and second-order barriers to change: Strategies for technology integration. Educational Technology Research and Development, 47(4), 47-61. doi:10.1007/BF02299597
Koehler, M. (2019). TPACK 101. [Web page].  Retrieved from http://www.matt-koehler.com/tpack-101/
Ling Koh, J. H., Chai, C. S., & Tay, L. Y. (2014). TPACK-in-action: Unpacking the contextual influences of teachers' construction of technological pedagogical content knowledge (TPACK). Computers & Education, 78 , 20-29. doi:10.1016/j.compedu.2014.04.022
Mishra, P., & Koehler, M. J. (2006). Technological pedagogical content knowledge: a framework for teacher knowledge. Teachers College Record, 108 (6), 1017–1054
Prensky, M. (2010). Partnering. In Teaching digital natives. Partnering for real learning  (pp. 9-29). Thousand Oaks, CA: Corwin Press.
Shulman, L. S. (1986). Those who understand: knowledge growth in teaching. Educational Researcher, 15  (2), 4–14. http://dx.doi.org/10.3102/0013189×015002004
Wells, N.S.. (2017). Pedagogical Content Knowledge. [Web page]. English Remnant World.  Retrieved from https://englishremnantworld.wordpress.com/2017/05/28/pedagogical-content-knowledge-in-english/