Social Media and Curriculum
Shirley Thang (shirley.thang@uoit.net)
University of Ontario Institute of Technology
ABSTRACT
Personal learning network (PLN) and the multiple social media tools are the collaboration process of a shared interest. Individuals from all over the world will come together to have discussions, ask questions and share resources. There are three types of personal learning networks: (1) Personally maintained synchronous connections; (2) Personally and socially maintained semi-synchronous connections; and (3) Dynamically maintained asynchronous connections (Warlick, 2009). The use of the network places a great emphasis on the role of metacognition in learning which enables individuals to actively reflect on the resource and tools that they seek. It is self-directed learning where self-awareness and responsibility are needed for building and managing a network. By building a network and using Twitter, it was found to increase students' engagement to the content (Evans, 2014). It connects students to outside experts, professionals and concepts/ ideas that are not covered in much detail in the course they are undertaking. PLN is fast, efficient, and allows individuals to be creative. However, face-to-face interactions may be affected as one is more focused on online interactions (Przybylski & Weinstein, 2012). Research has found negative effects on closeness and the quality of conversation between individuals when using mobile devices (Drago, 2015). In addition, individuals may have difficulties in recognizing when a post is research-based or when someone is posting an opinion (Educause Learning Initiative, 2009). With the more recent news of social media privacy concerns, users must be aware of what they are sharing and reading online.
Keywords: bookmarking tools, collaboration, Personal Learning Network (PLN), social media, Twitter
INTRODUCTION
Professional development for educators is more immersive as the constant need for reflection and improvement of teaching practice occurs throughout one's career. Teacher professional development needs are not uniform such that one size does not fit all. The professional development must be relevant and of interests and meet the needs of the teacher. Many teachers seek assistance from mentors and value the informal professional development of learning from students and personal interactions with colleagues (Bauer, 2010). In addition, students and individuals consult with each other on the internet as an informal way of interacting. The internet makes interacting between people easily accessible. From any time and place, as long as there is access to the internet, then there is access to collaborating on information (Bauer, 2010).
The use of social media has an exponential growth trend with over 600 million users on Facebook and over 100 million on Twitter (Evans, 2014). Such trends in social media resulted in the current generation of students termed as "Net Generation" (Evans, 2014). These individuals are constantly being connected through web-based or personal device-based applications. Social media and networking sites are full of content and information, and most importantly, the personal interests of the users themselves.  By creating a personal learning network, it empowers individuals to build their own knowledge through the discussions they have with people from all around the world through social media.
WHAT IS A PERSONAL LEARNING NETWORK?
Personal Learning Networks (PLNs) are not a novice integration in our lives. Individuals relied on families, friends, colleagues and acquaintances to supplement knowledge about the world. PLN has been around for some time, starting in the late 1990s (Weisgerber & Butler, 2015). According to Stephen Downes (2009), he found reference to PLN in a document by the Government of Canada Treasury Board Secretariat in 2000. The term PLN is consistent to what we use today, "Personal Learning Network has PC based, multimedia learning activities that employees can tailor to a learning map" (Downes, 2009, para. 2). PLN was listed as a best practice example used by the Royal Bank of Canada to support career and professional development of employees (Downes, 2009). Professional learning comes from references to books, television, the media, and the connectivity of information in the digital universe with people for the past decades.
PLN is largely connected to the connectivism theory (Siemens, 2005). Connectivism firstly starts with the individual themselves. The personal knowledge the individual has is comprised of a network where it is connected to organizations and institutions. These organizations and institutions then provide learning to the individual and act as a cycle of knowledge development (personal to network to the organization). The goal is for the learner to stay current in the field through the connections they form (Siemens, 2005). PLNs are a collection of resources the individuals use to increase their knowledge and engage in their own learning. These PLNs are a combination of connections through social media tools and are personalized to one's learning. The networks formed allow like-minded and similar interest individuals to share ideas and seek feedback in a timely manner. It removes barriers of schedule and time conflicts and as well as geographical locations (Weisgerber & Butler, 2015).
Technologies are ever-growing, full of content and give individuals a voice in shaping their knowledge that they never had access to before. The use of technological PLNs are imperative to every individual who wants to stay connected to the fast and ever-changing world. Growing and learning through the use of a PLN does not only work by reading, watching, listening and being a spectator. It is about creating with others and most importantly, taking the time to reflect on the resources explored. It is a collaboration process and by sharing your ideas, other people in your network can learn from you and have dialogues about different perspectives (Bauer, 2010).
TYPES OF PLNS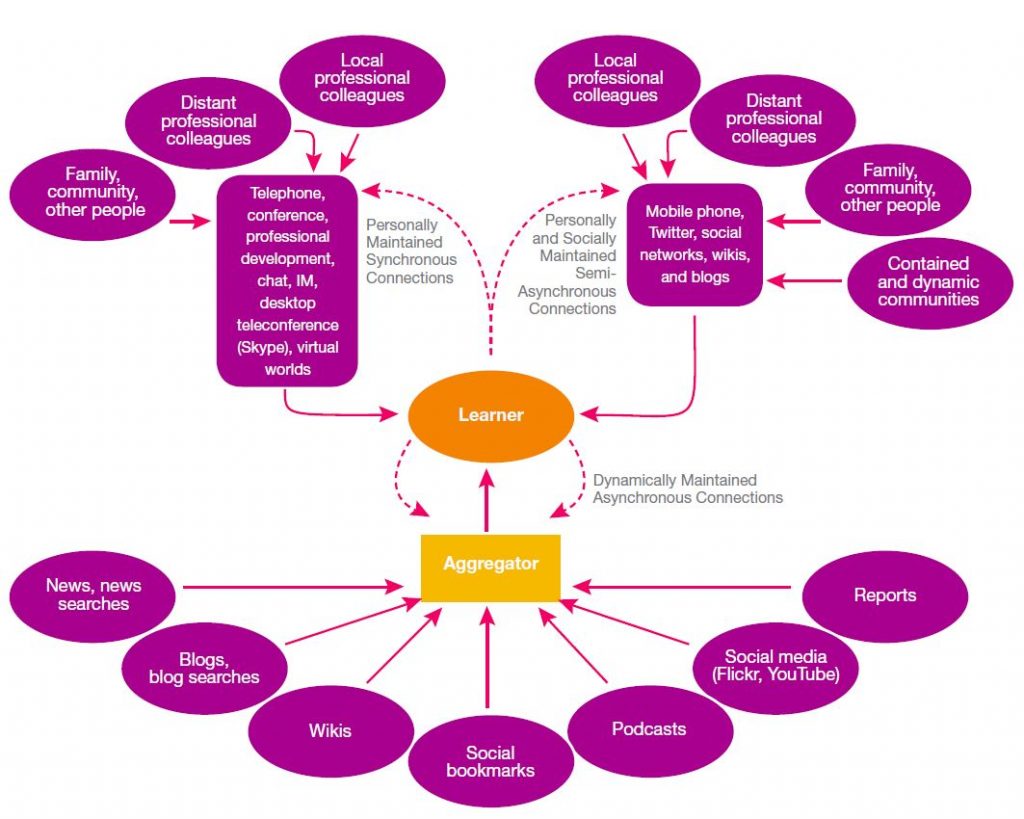 In the article by David Warlick (2009), there are three main types of PLNs: (1) Personally maintained synchronous connections; (2) Personally and socially maintained semi-synchronous connections; and (3) Dynamically maintained asynchronous connections. Figure 1 displays the three main types of PLNs.
Personally maintained synchronous connections
This is a form of a traditional network where individuals come together at the same time to consult to answer questions, solve problems, and accomplish goals. To enhance this experience, tools such as chat, instant and text messaging (iMessage), teleconferencing (Skype, FaceTime, Slack), Twitter, and virtual worlds (Second Life) can be used. Essentially it is like attending a meeting at school or at work. However, barriers such as geographical location, language and culture becomes more transparent and are addressed (Warlick, 2009).
Personally and socially maintained semi-synchronous connections
This form of network is not exactly synchronous as the questions and conversations are sent to a community of individuals who share the same interests, expertise, or perspectives. These conversations are not guided toward a single individual. Semi-synchronous refers to collaboration that does not occur in real time. Collaborators can be geographically distant but also participate in the discussion whenever it suits their schedule. Tools that individuals use to grow this type of network include Google Docs, Twitter, group discussion boards, Facebook walls, commenting on blogs, and others (Warlick, 2009).
Dynamically maintained asynchronous connections
The first two types of PLNs are for connection between individuals, however, this type of PLN focuses on connecting the individual with the content sources that they identified to be valuable. In a sense, this type of PLN inspired the shift from hunting for information to having programs that gather information for you based on your interests. For example, when you subscribe to YouTube channels, Google Alerts, or podcasts, you are training these tools to organize and deliver information that you are interested in. Additionally, if you find a blog that you find interesting, you can subscribe to its RSS feed with your aggregator. Aggregators such as Netvibes will help periodically check for new blog posts, retrieve them and make them available for reading at your own time and leisure. More recently, social booking services such as Pocket, StumbleUpon, Delicious, Dribbble, Pinterest and others are used for individuals to bookmark and categorize websites they find online. These bookmarks are usually public and can be viewed by other members on the site. In comparison to conducting a Google search on a topic of interest with millions of findings, searching the topic on a social booking service will return a more manageable list of websites that are likely to be better quality as someone has gone through the process of bookmarking it and found it to be useful (Warlick, 2009).
PLN IN EDUCATION
The use of PLN in education exposes students to outside experts, professionals and concepts/ ideas that are not covered in much detail in the course that they are taking. Literature has shown a framework when creating personal learning environments is best when they "fostered self-regulated learning" and were "supported by learner-centered pedagogy" (Camiel, Goldman-Levine, Kostka-Rokosz, & McCloskey, 2014, p. 464). PLNs use in education empowers students to take ownership of their own education. The use of PLNs places a greater emphasis on the role of metacognition in learning which enables students to actively reflect on the resource and tools that they seek. Using Twitter was found to increase student engagement in the classroom (Evans, 2014). A research mentioned in Evans (2014) article was conducted by Junco, Heibergert and Loken (2011). They surveyed college students and asked how often students attended plays or are involved in activities. Connecting this to Twitter, they found the Twitter group was found to score higher in both engagement and performance in assessment (Evans, 2014).
PLN is not only beneficial for the students but also for educators. Many PLNs are created by educators. Teachers are constantly reflecting on their teaching practice and in turn hoping their students will succeed based on how they teach. Findings from Pataraia, Margaryan, Falconer, and Littlejohn (2015) suggest personal networks assist educators with a diverse pool of knowledge and skills about teaching. The individual chooses whom to follow and identifies people who bring value to their network. Educators may be collaborating on a specific course or ask for feedback on an activity or assessment they made. The networks they create are all professionals and colleagues in their field. The informal conversations allow one to be freer to ask for help and converse in dialogue to have a greater understanding. As Trinkle (2009) explains, PLNs allow Twitter users to participate in the "collective inquiry into best practices" (p. 22) and the best practices based on their personal interests. This enables one to be open-minded and have a growth mindset about learning.
TWITTER AS A PLN
Twitter's usage has increased exponentially since its launch in 2006. Twitter is a social networking site that delivers only 280 characters per post (as of 2017, they increased their character limits from 140 to 280). These "small bursts of contents" known as tweets are delivered to users all around the world. Users can post original tweets or retweet information from individuals they follow. Users can send private and public messages. There are currently over 550 million users and over 58 million tweets per day (Camiel et al., 2014). Twitter has been used in a variety of education fields, such as professional healthcare education (medicine, dentistry, pharmacy, and nursing) (Camiel et al., 2014). A research was conducted with 266 pharmacy students which explored their comfort level using Twitter and evaluated their perceptions about sharing weekly health news on Twitter while developing their own PLN (Camiel et al., 2014). In the survey, 36% of the students were comfortable using Twitter, 21% were aware that medical/ pharmacy news can be shared on Twitter before the project, and 79% were new to PLNs. The survey concluded that healthcare/ government organizations and newsletters were their favourite resource and their professional development was enhanced by professional sources (67%) and 59% of the time by their classmates online (Camiel et al., 2014).
Twitter is unlike other social networking sites such that you can follow any person with a public profile but the person does not need to follow you back. To build a PLN on Twitter, Weisgerber and Butler (2015) identify key steps to start building a PLN (Figure 2). Firstly, identify key individuals whose work you admire. These could be professionals in your field of interest or colleagues. The next step they suggested is to go through each professional's list of followers and the people they follow. This is a way to easily identify users who share the similar interests. Twitter also provides recommendations on who to follow that is personalized based on the user's interests. Furthermore, a Twitter list can be used to categorize people and will create its own timeline feed (Lewis, 2013). In other words, it is a filter that makes sure you only see the tweets from those you are interested in. The goal of using Twitter as a PLN is to identify similar interest individuals and share resources.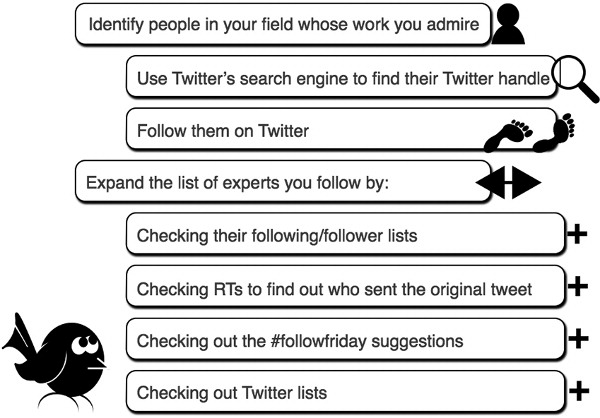 ADVANTAGES OF PLN
As mentioned before, barriers with regards to access to information, geographical location, language, culture are addressed when individuals create a learning network online. An individual living in North America can easily connect with someone in Asia, which is similar to a 14-15 hours flight away. The idea of discussing with someone about a similar interest in a foreign country, thousands of kilometres away is a remote thought to many people. Even more, connecting to professionals and prestige individuals who are well known in the field of the topic makes it easily accessible to information. The access to a global learning environment enables a place to discuss and explore with others, to ask questions and exchange information (Commonwealth of Australia, 2010). Some connections may not occur if it wasn't through networking. Networks offer opportunities for informal training, coaching and possibly the development of mentors in the field of interest (Pataraia et al., 2015).
Networking is fast. Instead of using "snail mail", these technological tools will send instant messages and individuals will exchange and receive messages in a timely manner. PLNs are also efficient. Since everything is connected using mobile devices and social networking sites, all that is really required is internet access.
PLNs are very much self-directed (Commonwealth of Australia, 2010). It takes one to be motivated to reach out for information and to inquire about what they want to know, and to be constantly learning. As mentioned by Pataraia et al (2015), mutual learning and the reciprocal exchange was highly stressed by academics. The support and encouragement within networks were recognized and helped boosted individual's confidence to experiment with new things. Connecting to this, networks help people to be creative and explore novel endeavours. Lastly, networks facilitate self-reflection in terms of what the person needs, what the person has, how the person will do it, why the person is doing it, and what the person can do to improve on it (Pataraia et al., 2015). Self-awareness is a huge factor with regards to developing a PLN as it takes one to constantly maintain a network to see the benefits to one's learning (Educause Learning Initiative, 2009).
DISADVANTAGES OF PLN
Alongside the positive aspects of PLNs, there is also the negative side of PLNs. First of all, maintaining and updating social media accounts may be time-consuming. Social media can be addicting as it can be described as "being overly concerned about online activities, driven by an uncontrollable motivation to perform the behavior, and devoting so much time and effort to it that it impairs other important life areas" (Andreassen & Pallesen, 2014, p. 4054). Individuals may be disregarding face-to-face interactions and instead, is more focused on online interactions. Przybylski and Weinstein wrote in 2012, "recent advancements in communication technology have enabled billions of people to connect more easily with people great distances away, yet little has been known about how the frequent presence of these devices in social settings influences face-to-face interactions" (p. 1). Findings showed that technology has a negative effect on the quality and quantity of face-to-face communication. Conversations in the absence of mobile devices were rated as significantly superior compared to the presence of mobile devices (Misra, Cheng, Genevie, & Yuan, 2014). Individuals who had conversations in the absence of mobile devices reported higher levels of empathetic concern (Misra et al., 2014). In addition, multiple experiments found negative effects on closeness, connection and conversation quality when individuals are engaging in personally meaningful topics (Drago, 2015). A study looked at the relationship between addictive use of social media, narcissism, and self-esteem. The study found an addictive use of social media was related to higher narcissism and lower self-esteem (Drago, 2015). According to the Diagnostic and Statistical Manual of Mental Disorders, narcissistic personality disorder definition is the high levels of self-importance, fantasies of success, feeling special and unique, lack of empathy, envy, and arrogance (Drago, 2015).
Since PLNs are mostly technology based, it requires the individual to have access to technological gadgets. Considering this, not all students and individuals can afford these technologies to constantly maintain a PLN. Additionally, technologies are always advancing and improving. If individuals are not technologically advanced, they may face challenges of networking.
Also, PLN is structured around self-directed learning. There is a requirement of self-awareness and responsibility for building and managing a PLN. Students and individuals may need to take time to think about their own metacognition and reflect on how they learn best. Some individuals lack the information that is necessary to recognize whether someone is writing based on statistics and research, or when someone is formulating an opinion (Educause Learning Initiative, 2009). Likewise, with the circulation of fake news, it is important for individuals to recognize which news are based on facts and which news are falsified information.
Lastly, with the increasing popularity of social media usage, user privacy and online safety is a concern. Social media sites have difficulties managing their privacy options as witnessed by Facebook and Cambridge Analytica. Personal information of up to 87 million Facebook users was exposed in 2016 for the purpose of micro-targeting for political elections (White, 2018). As a result of this, users on social media sites should be aware of privacy issues and the concern of being influenced.
CONCLUSIONS AND FUTURE RECOMMENDATIONS
Overall, PLN is used by individuals who are undergoing professional development and have a self-awareness in understanding their needs and strengths. PLNs emphasize informal relationships and is not structured. Personal networks equip individuals with knowledge and skills by collaborating with people all over the world on a shared interest through social media, which is easily accessible. Twitter is a social media tool that is used by many individuals when creating their PLNs. Students, educators and everyone will benefit from networking as they will gain much more knowledge and be able to share their own knowledge with other people. They will be able to understand multiple perspectives and self-reflect.
The concerning part about creating PLNs is the privacy issues using social media sites. More lately there has been a demand for where the information that is shared online and on personal accounts are collected and stored. Individuals who are worried about their personal information being shared online may be avoiding social media and therefore, will not create a vast network that will benefit their presence. Therefore, it is important to recognize the safety factors of using social media and be aware of the followers or individuals that are in the same network as you. Likewise, differentiating between research-based posts versus opinion-based posts is a demanding factor as one has to recognize the source of the information they are receiving. In conclusion, since PLNs are very much self-directed and one has to have the self-awareness and motivation to start and maintain PLNs, a suggestion is to be open to new ideas and have a growth mindset. Essentially, knowledge is power and might as well make use of the network of individuals and expertise that you share.
REFERENCES
Andreassen, C., & Pallesen, S. (2014). Social network site addiction- An overview. Current Pharmaceutical Design, 20(25), 4053-4061. doi:10.2174/13816128113199990616
Bauer, W. I. (2010). Your personal learning network: Professional development on demand. Music Educators Journal, 97(2), 37-42.
Camiel, L. D., Goldman-Levine, J. D., Kostka-Rokosz, M. D., & McCloskey, W. W. (2014). Twitter as a medium for pharmacy students' personal learning network development. Currents in Pharmacy Teaching and Learning, 6, 463-470.
Commonwealth of Australia. (2010). PLNs? Retrieved from https://online.illawarra.tafensw.edu.au/getflexible/stepup/docs/poster_pln.pdf
Downes, S. (2009, October 5). Origins of the term 'personal learning network'. Retrieved from https://halfanhour.blogspot.com/2009/10/origins-of-term-personal-learning.html
Drago, E. (2015). The effect of technology on face-to-face communication. The Elon Journal of Undergraduate Research in Communications, 6(1), 13-19.
Educause Learning Initiative. (2009, May). 7 things you should know about personal learning environments. Retrieved from https://library.educause.edu/resources/2009/5/7-things-you-should-know-about-personal-learning-environments
Evans, C. (2014). Twitter for teaching: Can social media be used to enhance the process of learning? British Journal of Educational Technology, 45(5), 902-915.
Junco, R., Elavasky, C., & Heiberger, G. (2012). Putting Twitter to the test: Assessing outcomes for student collaboration, engagement and success. British Journal of Educational Technology, 44, 273-287.
Lewis, N. (2013, April 18). What is a Twitter list or a list on Twitter? Retrieved from https://nicklewiscommunications.com/what-is-a-twitter-list-or-a-list-on-twitter/
Misra, S., Cheng, L., Genevie, J., & Yuan, M. (2014). The iPhone effect: The quality of in-person social interactions in the presence of mobile device. Environment & Behavior, 1-24.
Pataraia, N., Margaryan, A., Falconer, I., & Littlejohn, A. (2015). How and what do academics learn through their personal networks. Journal of Further and Higher Education, 39(3), 336-357.
Przybylski, A. K., & Weinstein, N. (2012). Can you connect with me now? How the presence of mobile communication technology influences face-to-face conversation quality. Journal of Social and Personal Relationships, 30(3), 237-246.
Siemens, G. (2005). Connectivism: A learning theory for the digital age. International Journal of Instructional Technology and Distance Learning, 2(1), 3-10. Retrieved from http://www.itdl.org/journal/jan_05/article01.htm
Trinkle, C. (2009). Twitter as a professional learning community. School Library Monthly, 26(4), 22-23.
Warlick, D. (2009). Grow your personal learning network: New technologies can keep you connected and help you manage information overload. Learning and Leading with Technology, 36(6), 12-16.
Weisgerber, C., & Butler, S. H. (2015). Social media as a professional development tool: Using blogs, microblogs, and social bookmarks to create personal learning network. Teaching Arts and Science with the New Social, 339-363.
White, P. (2018, March 20). Meet Christopher Wylie, whistle-blower on Cambridge Analytica and Facebook use of data. Retrieved from The Globe and Mail: https://www.theglobeandmail.com/canada/article-who-is-christopher-wylie-the-whistle-blower-on-cambridge-analytica/