30
Juliana-Marie Troyan; Maggie Elpers; Taylor Lorusso; Sevanna Boleman; Willis Watts; Joseph Rivera; David Jonah Lamothe; and Anthony Spearman
Introduction
In the study of science and technology in society, the modern world, spanning from the 1940s to the present day, is an overwhelming, yet enriching period to study. Although the 1940s and the 2020s are both considered modern, the average person today would most likely find himself or herself living a very different life in the 1940s. Those differences would regard heavily debated subjects, such as societal views on medical care and defense, as well as daily subjects of entertainment and communication. With changing societal views, science and technology have progressed to satisfy society's needs and wants. These changes in society brought about by advances in medical care, defense, cybersecurity, entertainment, and communication define our lives today. The modern era has seen and will continue to see extensive changes in society that are driven by politics, religion, and essential events calling for significant developments in science and technology, which has given society the life it gladly accepts today. By the end of this chapter you will be able to understand magnitude and presence of science and technology in the modern era. These ideas will be expanded upon in the following sections, starting with the question: What has science looked like in the modern world?
Science
In the 21st century alone, scientists have been able to detect gravitational waves on the moon, sequence the genome of a cancer patient, and create human organs using stem cells ("10 Greatest Scientific Discoveries and Inventions of 21st Century | ISB Glasgow," n.d.). However, perhaps one of the most influential discoveries in the scientific community was the ability to see particles at the atomic and molecular level. Thus, the field of nanoscience was born, and ever since, there has been an influx of scientific developments that have been translated into technology directly affecting human life. The discovery of nanoscience has led to advances in the fields of computing and engineering, which has the potential to change the gap of accessible healthcare technology between socio-economic classes.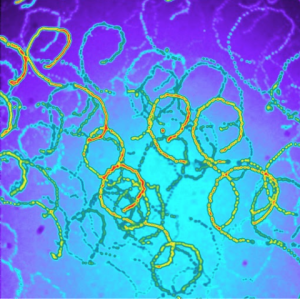 The word "nano" stems from a Greek origin meaning dwarf, which proves to be applicable when measuring particles that are one billionth of a meter. One of the original scientists to use the term nanotechnology described the concept as having a goal to manipulate single atoms and molecules for the production of macroscale products (Bardosova & Wagner, 2013). In the early 1980s, two scientists at IBM Research in Zurich developed the Scanning Tunneling Microscope (STM), which allowed materials to be imaged and manipulated at the atomic level (Baird & Shew, 2004). This allowed scientists and researchers to see smaller structures than ever before, and since then, a wide variety of fields have been impacted. In the US specifically, the establishment of the National Nanotechnology Initiative (NNI) federally funded by institutions such as the National Science Foundation, the Department of Defense, and the National Institutes of Health, has created a push for innovation in the areas of physical, chemical, biological, and materials engineering (Roco, 2003). Nanoscience and nanotechnology is a rapidly growing field in the modern period of engineering, physics, and computing.
Currently, some of the significant applications of nanoscience are being used in the Biomedical and Biological Engineering fields for a wide range of applications, including disease therapies, vaccines, and even personalized medicine. Emerging as a subfield of Biomedical Engineering, the research area of drug delivery has readily adopted the use of nanoscience. Through the use of nanoparticles ranging in the size of 10 to 1000 nanometers in diameter, researchers can deliver therapeutics such as pharmaceuticals, proteins, and even RNA encapsulated in nanoparticles for the treatment of many diseases including cancer and cardiovascular diseases. The term nanoparticle is perhaps quite vague, as nanoparticles can be synthesized using polymers, peptides, and lipids, as well as other synthetic and biological materials. Nanoparticles are advantageous as drug delivery vehicles because they can be readily taken up by cells, they provide a steady release of drugs, and targeting moieties can be incorporated to help nanoparticles deliver their cargo at a specific site in the body (Sahoo & Labhasetwar, 2003). Nanoparticles can be conjugated with cell-specific ligands that will carry the nanoparticle to where the matching receptor is overexpressed. For example, a nanoparticle could be tagged with a specific motif that would bind to cancer cells overexpressing a particular receptor on the cell membrane, and it would not be targeted to healthy tissue to avoid common side effects of chemotherapeutic drugs.
One of the newer advances in nanoscience and healthcare is the field of personalized medicine. Usually, when a patient is diagnosed with a disease, there is one pharmaceutical or treatment for the disease, and each patient diagnosed with the said disease is given the same treatment. However, with the genetic testing that is now available, scientists can predict which drugs will be more beneficial for individual patients and tailor effective patient therapies towards smaller populations with different genetic profiles (Vogenberg et al., 2010). Another avenue of personalized medicine therapies comes from stem cells. Stem cells are characterized by their ability to grow into multiple types of cells, and in the early 2000's it was discovered that basic cell types could be reprogrammed into induced pluripotent stem cells (iPSCs) that are capable of forming functional tissue-specific cells (Chun et al., 2011). For example, a patient's stem cells could be collected, reprogrammed in a laboratory to grow into a different cell type, and implanted back into the human body to treat a disease or injury. This method is advantageous because it limits the adverse side effects that come from introducing foreign materials into the human body.
It seems as if the field of nanoscience and nanotechnology is the future of modern medicine, but it begs the question, can this help everyone? The development of personalized medicine could be widening an already significant gap in access to health care between socio-economic classes. Take, for example, a developing country that does not have the infrastructure or essential utilities to support modern laboratories or patients with enough income to pay for personalized therapies that are doubtfully cost-effective. Do these patients have the same access to therapies compared to patients living in first world countries with research institutes that receive billions of dollars in funding each year? Some scientists argue that personalized medicine has benefits in eliminating health disparities, such as developing targeted therapies for certain ethnic groups that share common disease characteristics (Brothers & Rothstein, 2015). However, it would be naïve to say that patients in developed countries will not benefit more from personalized medicine than developing countries.
Nanoscience is the future of many disciplines with the ability and potential to affect human life on a large scale. Currently, the globe is experiencing a boom in the use of nanoscience that has the potential to cure incurable diseases and provide better healthcare to developing countries. Whether or not these technologies will be accessible to all is an issue that will undoubtedly be impacted by figures outside the scientific community, such as legislation and national regulations, as more and more technologies arise from nanoscience.
Technology
In addition to nanotechnology, 3D Printing is another modern world technology that is continually evolving to encompass a wide range of applications, especially in the medical industry, allowing medical professionals, researchers, and educators alike the opportunity to improve and advance procedures and technology like never before. 3D printing, also known as additive manufacturing, takes a digital model or blueprint of an object of the user's creation and prints successive layers of material to create a tangible 3D model of that object (Nawrat, 2018). Compared to other manufacturing methods that subtract material to form a product, additive manufacturing is the addition of material. The initial goal of 3D printing was to develop faster prototyping but it has developed into so much more in today's world. Medical researchers and specialists are using 3D printing to create artificial organs with bio-printers to validate proper drug dosages and practice complicated surgical operations in a cost-effective manner (Nawrat, 2018). Universities and some primary education schools are implementing 3D printers as a resource for school projects/coursework, prototyping, and learning. Additionally, 3D printing is being used to manufacture custom products, such as prostheses, at a relatively low cost. Traditional methods to get the same result, such as injection molding, takes weeks to make and costs thousands of dollars. 3D printing allows companies to build their objects remotely and on a case-by-case basis.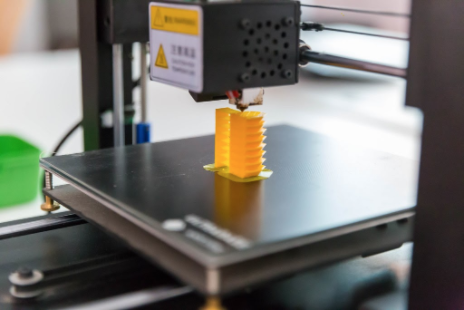 One of the most impressive technological advancements in recent years regarding 3D printing in the medical industry is bioprinting. Rather than printing plastics or metals, bioprinters use a computer-guided pipette to layer living cells and create artificial living tissues (Nawrat, 2018). Some of the most common materials used in this type of 3D printing include cell aggregates – such as tissue spheroids, cell pellets, and tissue strands – hydrogels, micro-carriers, and decellularized matrix components (Peng, 2017). Bioprinting has expanded to encompass a wide range of applications in medicine such as pharmaceutical drug discovery, creation of artificial organs called "organoids" for elaborate surgery preparation or organ replacements, and giving medical students more real-world experience without the added patient risk. One of the biggest challenges during new drug discovery is that there are so many strict regulatory and validation requirements that need to be met in order to ensure their safety and efficacy for public use. As can be assumed, this is a very tedious and taxing process and unfortunately, leads to inflated attrition rates and significant losses in funding (Peng, 2017). Traditional cell-based studies use 2D monolayer culture methods; however, this is not realistic for drugs that will be implemented in a 3D environment. The implementation of bioprinting allows for more predictive methods of efficacy and safety analysis, decreasing the attrition rates and enabling a "quick-win, fast-fail" mentality, saving time and money, and increasing the amount of drug discovery.
In addition to advancing medical experiments and procedures, 3D printing can also be used to develop more precise surgical instruments and tools for other medical practices in a cost-effective manner. In environments such as hospitals and medical centers, it is very easy for bacteria and infection to spread. However, tools made using 3D printing can be "one-off" or even made for specific tasks on a case-by-case basis, improving procedures, and eliminating the risk of transferring bacteria or viruses. Now, it can be argued that having to purchase or "print" new tools for each surgery would add up in cost. However, by creating the perfect tools for the job for a lot less than they would cost using other manufacturing methods while still getting the added customization benefits would outweigh the additional 3D printing material expenses (3D-printed Surgical Tools n.d.). As this technology continues to increase in popularity, economists estimate that the 3D printing industry will be worth $3.5 billion by 2025 in the medical field alone (Nawrat, 2018).
3D printing is further expanding its reach in the medical industry by solving many issues and restrictions that arise in this field. Prosthetics are one of the most popular yet most expensive medical devices for amputees used globally today. There are many advantages to incorporating 3D printing into prosthetic development. Firstly, it can be difficult and expensive to produce prosthetics that are the perfect fit for a patient. Every patient's needs are going to be different. With 3D printing, prosthetics can be modeled and printed at a much lower cost to ensure a proper fit for every patient (Top 5 Applications, 2019). Children who are candidates for prosthetics typically will not be able to get a quality prosthetic until they are fully grown, but 3D printing technology allows for new prosthetics to be printed every couple of months to keep up with them as they continue to grow without the extreme financial burden. Third world countries who may not even have prosthetics as an option can take advantage of the 3D printed ones (Top 5 Applications, 2019). Another application of 3D printing in the medical industry is bioprinting. Rather than printing plastics or metals, bioprinters use a computer-guided pipette to layer living cells and create artificial living tissues (Nawrat, 2018). These "organoids", or artificial organs, can be used for pharmaceutical testing as a cost-effective and ethical means of helping to identify the side effects of drugs and validating safe dosage amounts (Top 5 Applications, 2018). Surgeons can also use these organoids and create patient-specific organ replicas to practice before performing the actual operation. This method has been proven to speed up procedures and minimize trauma (Nawrat, 2018).
Politics
The events of the 2016 presidential election revealed the power that social media technology possesses in society through its influence of public opinion using algorithms that can influence what a social media user sees. These algorithms can cause news-feed echo chambers, dark posts, and bots. Social media has only recently become politically relevant due to its beginnings coming in the early 2000s. Social media sites use news-feed algorithms to order posts that appear on a user's feed (Barnhart, 2019). Social media has woven itself into many parts of our lives– sometimes in unexpected ways. One crucial part of our society that has been changed forever by social media is politics. A particularly profound demonstration of the relationship between politics and social media took place during the 2016 presidential election.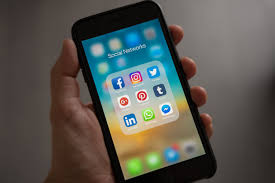 One potential effect of the use of news feed algorithms by social media sites is the creation of echo chambers. An echo chamber is a term used to describe a situation in which the information and opinions an individual is exposed to predominately align with their own beliefs (Digital Media Literacy, 2019). This situation can occur in any circumstance where information flows, but social media algorithms have allowed for the creation of a specific type of echo chamber called a filter bubble. As stated previously, social media algorithms are used to determine how posts appear on a user's feed. These algorithms often take what types of people and pages an individual interacts with into account (Digital Media Literacy, 2019). For example, if a user tends to click on pages about dogs, then posts about dogs will appear at the top of their news feed more often. Therefore, users are often exposed to content that is synonymous with what they interact in the first place. In terms of politics, this can prevent users from being exposed to different viewpoints than their own, and it can further polarize views. There has been a trend in American politics in which those on opposite poles of political standpoints are feeling increasingly negative toward each other (Allcott, & Gentzkow, 2017). While there is no conclusive evidence that echo chambers affected the outcome of the 2016 presidential election, studies have outlined that news feed algorithms may exacerbate political tensions between those on the opposite ends of political views.
Not only are echo chambers a potential problem lurking in the social media and political crosshairs, but "dark posts" should also be considered. Dark posts are advertisements that are only visible to specific users on social media. These types of advertisements are a part of the ad-algorithms for several social media sites. For example, a dark post aimed towards college students would only be visible to college students. Dark posts go a step beyond just a targeted advertisement. These advertisements can use keywords like your actual job title (Gollin, 2018). In short, dark posts allow customization of the targeted advertisement strategy. In the 2016 election, it was found that a Russian organization bought thousands of ads on several social media platforms, such as Facebook, focusing on political and social issues that actively targeted certain demographic groups (Young et al., 2018). Facebook testified before the United States Senate that 126 million Americans were subjected to advertisements and posts, including some dark posts, created by Russians (Gollin, 2018). Social media platforms are making changes to the dark post regulations in order to foster more transparency and prevent an issue like this from recurring.
Another issue surrounding social media use in the 2016 presidential election is the use of bots on social media. Bots are social media automated accounts that use algorithms to interact with other users (Tarantola, 2019). It can often be challenging to differentiate between a bot and a human. Only about 47% of Americans stated that they could recognize a bot account (Tarantola, 2019). Bots can be used for political strategies as well. These so-called political bots can disseminate news information, post spam, and harass other users. Bots were particularly rampant in the 2016 presidential election, with higher levels of bot use than ever before (Kollyani et al., 2016). These bots accounted for a large amount of the political content generated and discussed during this election. Since bots are also often used to spread news, they can be used to spread misinformation as well. Since this problem has risen, social media platforms are taking measures to try and reduce the power and prevalence of bots.
Echo chambers, dark posts, and bots had relevance in the events of the 2016 presidential election. They helped reveal the power that social media technology possesses in society through its influence of public opinion using news-feed algorithms. Social media has been beneficial in allowing increased access to information by which people can form their political identities. Unfortunately, the same characteristics that foster the benefits of social media may also provide an opportunity for disinformation to be spread. In an age where social media algorithms value engagement over credibility, it is essential to be aware of the issues that may manipulate public opinion.
Religion
Many factors drive the advancements of science and technology in society today. Currently, resources, knowledge, prosperity, and ambition are influences in the decisions to create, investigate, and look for answers and solutions to the problems in the world. One controversial technology has been used in the field of medicine. The scientific breakthrough of new reproductive technology (NRT) has been used to treat infertility around the world and is rapidly spreading. Many religions have various viewpoints on NRT. Christianity, which is composed of Catholics and Protestants, is the most prominent religion in North America. It has affected new reproductive technology in three different ways: supporting the means to overcome infertility, encouraging more research in the field, and discouraging its future use.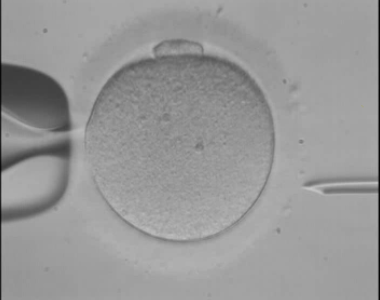 Many Christians believe that NRT is a means to overcome fertility by giving couples who cannot conceive naturally the opportunity to conceive with this medical advancement. According to the Centers for Disease Control and Prevention, infertility is defined as "not being able to get pregnant (conceive) after one year (or longer) of unprotected sex" (Becker, 2019). From 2015 to 2017, nineteen percent of women 15-49 struggle with infertility, so many turn to new reproductive therapy, which includes in vitro fertilization (IVF) and intracytoplasmic sperm injection (ICSI). In IVF, fertilization occurs outside the female's body. In ICSI, the doctor injects sperm into the female's mature egg. Also, in some cases, donor eggs and sperm are used. Protestants, in particular, feel that babies should be celebrated as life is celebrated in the Bible, the sacred text of Christians. Others, like Catrece Caron, believe that "God created these doctors to do this kind of work." Caron, according to the Washington Post, was a forty-one-year-old mother who had a seven-year-old and a two-year-old through IVF in Boston, where over 90,000 babies have been born as a result of their medical advancements. Another mother, named Lesley Brown, said her daughter, "Louise is truly a gift from God" (Smith, 2018). Boston is just one city in the United States, where babies were celebrated as gifts from God through NRT.
Protestants have encouraged more research in the medical field concerning infertility and NRT. For example, George Church, a Harvard geneticist, is now beginning a project called the Human Genome Project, which maps the DNA in humans. He said he believes Protestants are beginning to encourage this new research as they now have support for IVF from Protestants. Church says, "In the Bible, it says we are given dominion over the Earth. Inventing newer and newer advanced technologies is almost a key component of human nature"(Cha, 2018). Scientists feel they are gaining more support from the Protestants and, in turn, are encouraged to research more into the medical field of infertility through science and technology.
As many Protestants support and encourage the science and technology of the Christian faith, Catholicism discourages its future use. The Catholic Church believes NRT is immoral and illegal. They strongly disapprove of the research and use of NRT. A report by the Catholic Church entitled Respect for Human Life and Dignity of Procreation states, "Children are a gift and a blessing from God and that although science makes some things possible, it does not make them right. Research must continue in the causes of infertility, but the morality of these should be carefully considered." (Sallam, 2016) The percent of the World's population, so they are very influential with their beliefs. The Catholic Church discourages future use and research in the medical advancements of infertility.
Science and technology are often affected by religion. In the 2016 article, Religious Aspects of Assisted Reproduction, it says, "Human response to new developments regarding birth…is largely shaped by religious beliefs. When assisted reproduction was introduced into medical practice in the last quarter of the twentieth century, it was fiercely attacked by some religious groups and highly welcomed by others" (Sallam, 2016). Christianity, which is widely practiced in North America, has impacted the medical advancements in new reproductive technology. While some support the means and encourage more research, others actively discourage its use. Either way, religion has influenced NRT; therefore, affecting today's society as a whole.
Key Events & Innovations
The modern era saw the rise of technologies such as reproductive technology, the television, man-made satellites, personal computers, and many more. However, there is a specific event that triggered significant technological advancements in medicine and society. With the end of the Second World War and the rise of nuclear weapons, tensions between the Soviet Union and the United States of America rose, which gave rise to the Cold War. This Cold War led to an arms race and growth of nuclear weapons between the Soviets and Americans; these tensions also spread into space. When the Soviets launched the world's first artificial satellite into space, the United States felt the pressure building, and the Space Race began between the two major powers. During the Space Race, the United States not only landed on the Moon, but they were able to develop groundbreaking technological advancements.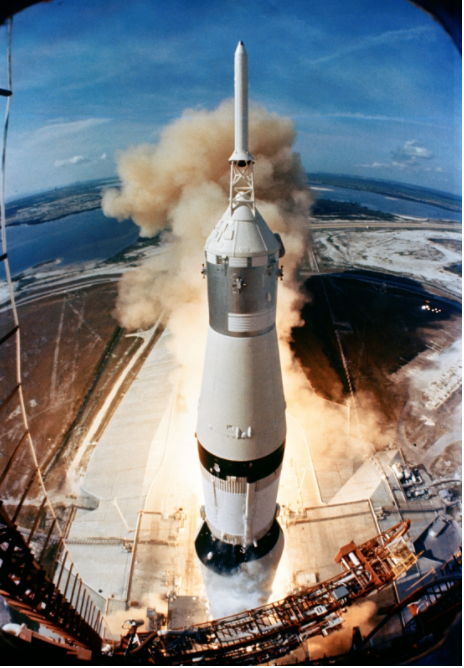 A quick recap: Germany's instability after the First World War led to the rise of Adolf Hilter and his Nazi Party. Hitler anointed himself as the supreme leader of Germany in 1934. He and his National Socialist Party broke the Versailles Treaty, which was a peace treaty that ended World War I, by rearming Germany and its military. Later, Hitler and Joseph Stalin, the dictator of the Soviet Union at the time, signed a pact, and the Soviet Union and Germany invaded Poland from the East and West. Great Britain and France, who have promised military support to Poland if ever invaded, declared war on Germany, which ignited the start of WWII. In 1940, Germany, Italy, and Japan signed the Tripartite Pact, which became the Axis alliance. Later in German-occupied Poland, more than 6 million Jews would be murdered during the Holocaust, mass genocide of European Jews from 1941-1945. On December 7, 1941, Japanese aircrafts attacked a major United States Naval Base in Pearl Harbor in Hawaii, which led to the United States entering the Second World War against the Axis alliance. On June 6, 1944, also known as "D-Day," the Allies began the invasion of Europe by landing troops on the beaches of Normandy, France, which signified German defeat. In order to finalize the war with the remaining Axis power, Japan, the United States crafted some nuclear weapons, called atomic bombs, that would later be dropped on Hiroshima and Nagasaki, Japan. The war promptly ended as the Japanese agreed upon the terms of the Potsdam Declaration, a statement that called upon the surrender of the Japanese armed forces (Gilbert, 2014).
Taking a step back before the Second World War was over, the Allied powers held a conference to decide on how to carry on after the war. During this conference, tensions grew between President Harry S. Truman and dictator Joseph Stalin because they were both suspicious of each other's intentions, especially since Truman made Stalin aware that the United States had created nuclear weapons through their discreet program called the Manhattan Project. These rising tensions helped give birth to a tension-driven period called the Cold War. Over the next few years, after World War II ended, the Soviet Union began experimenting with nuclear weapons. By the 1950s, the two superpowers, the Soviet Union and the United States of America, grew their nuclear arsenal to the point where they could destroy each other (Oreskes & Krige, 2014; McDougall, 2008). With the stress of nuclear weapons and the spread of communism breathing down America's shoulders, the United States started to feel the pressure. The competition between the Americans and the Soviets did not stop on the land, air, and sea; the competition extended to the final frontier: space. The two superpowers explored beyond our world to see how it could benefit their cause, and on October 4, 1957, the Soviet Union launched the first man-made satellite, Sputnik I, into Earth's orbit. The United States felt this achievement was an immediate threat as the ballistic missile, Soviet R-7, that launched Sputnik could potentially drop a nuclear missile onto American soil. In 1958, the United States created the National Aeronautics and Space Administration, better known as NASA, and the Space Race began. In 1959, the Soviets launched a space probe that crashed into the Moon. In 1961, the Soviets sent the first man to space, Yuri Gagarin, and he orbited around the Earth. In response to all of the Soviet's achievements, President John F. Kennedy pledged to have America land on the Moon before the Russians. After a few Apollo missions to space, the Apollo 11 mission began on July 16, 1969; this mission was the first lunar landing attempt. On July 20, 1969, Neil Armstrong, a U.S. astronaut, is the first man to step on the Moon. The Space Race ended as the Americans were the first to land on the Moon (Getchell, n.d.). Landing on the Moon gave Americans hope for a prosperous future as The New York Times reporter states in January 1960, "I can picture a flourishing civilization on the moon twenty or thirty years (after landing on the moon)" (Levitt, 1960).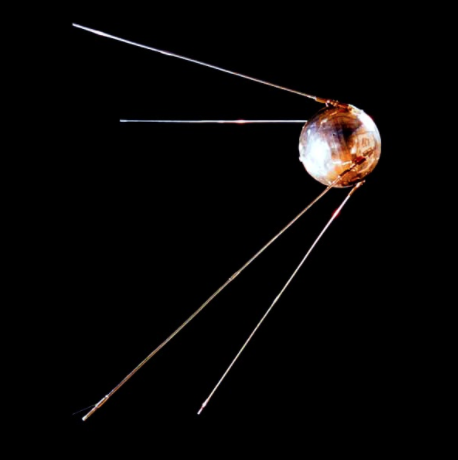 The Space Race led to significant technological achievements; some inventions are still used today, while some were modified over several years to create the technology we encounter every day in our lives. NASA created scratch-resistant astronaut helmets; in 1983, NASA licensed the scratch-resistant technology to the Foster-Grant Corporation. Foster-Grant combined their ten years of research and NASA's technology to create a scratch-resistant plastic material that would surpass glass under normal wear. Most spectacle lenses that we use today are made of plastic instead of glass (Bryan, 2016). Also, modern firefighting equipment is derived from spacesuit material and equipment. The materials used in spacesuits make for good flame-retardance and heat-resistance. Also, firefighters breathing systems are modeled after astronaut life support systems. This technology not only helps save the lives of fire accident victims but also helps the hero firefighters stay alive also. A technology also used to aid in reducing or suppressing accidental fires are adjustable smoke detectors that were created by modifying original smoke detectors. NASA and the Honeywell Corporation worked together to develop a smoke detector that could have its sensitivity adjusted in order to prevent false smoke alarms. Also, although commonly thought that duct tape was created by NASA for its space operations during the Cold War, duct tape was actually invented in the 1940s during World War II, and it functioned as medical tape.
Additionally, CAT scans and MRI's, which are minimally invasive medical scans used to investigate a person's tissues, bones, and organs, use technology like NASA's digital signal technology. During the Apollo missions, NASA used this technology to recreate images of the Moon ("20 Inventions We Wouldn't Have Without Space Travel", n.d.). Also, NASA used SPOC, a navigation monitoring computer. This computer was a modification of a commercial computer called GRiD Compass, and it was chosen for Space missions because of its compact size, large storage capacity, and high processing speed. A significant modification to allow for portability was the addition of a fan to cool the computer. This modification propelled the portable computer market (Haggerty, 1985). As we have seen, the Space Race has led NASA to collaborate with others in creating technology that we can appreciate in our daily lives. As The New York Times reporter states in April 1985, "the development of military hardware has often enriched science and technology, and the trend is certain to continue" (Browne, 1985).
The technology was developed due to the urgency of the Space Race and the tensions from the Cold War. After Sputnik I orbited Earth for the first time, the United States decided to create the space program, NASA, to participate in the space race, which led the United States to land on the moon and achieve other goals and innovations. One main technological innovation that has had a significant impact on society is the sending of satellites into space. These satellites enable our modern world to be connected almost instantly through the use of broadband internet. The introduction of satellites and broadband internet has created a platform that allows people to collaborate and learn in a faster and more convenient way than ever before. Today, we use portable computers to surf the internet, but this would not be possible without the modifications of the SPOC navigation monitoring computer used in NASA space missions. This innovation in portable computers and other innovations have driven society through the modern era.
The word "computer" has been in use since the early 1600s when it described a person, rather than a machine, who performed computations. This definition stayed the same until the 19th century when the industrial revolution saw the invention of machines with the primary purpose of performing calculations. Since then, computers have come a long way, allowing us to access vast amounts of information, stay in contact with people across the globe, and they have even helped send people to the moon. The computer is one of the most significant technological inventions of modern times. Its creation has changed the way society operates in professional and even personal settings. They have also expanded the overall knowledge of the human race through their computational power and the ease with which they can share information.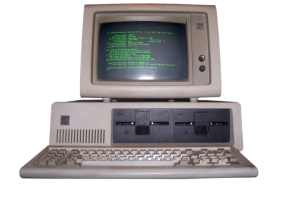 Charles Babbage conceptualized the first computer in 1822. It was called the Difference Engine, and it was designed to compute several sets of numbers and print out the results. However, because of funding, a full-scale version was never completed. The first fully functional, programmable modern computer did not come until 1938. The Z1, created by German Konrad Zuse, was created in its inventor's parents' living room and is considered the first electromechanicalbinary programmable computer. It took eight years after that for the completion of what we consider to be the first "modern" computer. The ENIAC was invented by J. Presper Eckert and John Mauchly at the University of Pennsylvania. It weighed almost 50 tons and is the first example of a fully functional digital computer. Since then, computers have come a long way. Modern versions are exponentially smaller and more powerful. Most people have a computer light enough to fit in their backpack, but with over one thousand times the processing power of the ENIAC. Computers today continue to get smaller and lighter while increasing processing power at a breakneck speed. Where the ENIAC was not even able to store its programming commands, computers today often have dozens of gigabytes of memory; some even have terabytes of space. Initially, many people were uncomfortable around computers. The term "computerphobia" was used frequently in the '80s to describe people who held this anxiety towards them, with many publications even offering tips for how to treat it. The term "computerphobia" retained its popularity until the '90s when people's technological fears turned from computers to the internet itself.
The development of the internet is arguably the most significant advancement in the history of computers. Computing power and storage used to be limited to the single computer it was found on, which limited their usefulness. During the 1970s and 1980s, small networks started to pop up, limited to a single university computer science department or a business. It was not until 1990 when the first recognizable form of the internet as we know it was invented by computer scientist Tim Berners-Lee. The falling cost of disk space meant that system administrators could set aside vast amounts of storage to host data that could be shared globally in conjunction with the internet. This allowed vast amounts of knowledge to be spread throughout the world, along with software being developed at a much faster pace since collaboration became significantly more comfortable. Nowadays, the internet is a part of all of our lives. We use it to keep in touch with friends across the globe, along with its usage for standard day to day entertainment.
Computers have entirely changed the way our society works. One significant result of their creation and popularity has been some economies shifting from manufacturing to service jobs. Completely new job categories have had to be created to service and implement computer technologies. The networking ability of computers has also allowed businesses to relocate to more remote locations than before. Information processing tasks like payroll and record management can now be easily automated by a computer when they used to require hours of work by a person or group of people. In the field of weather forecasting, our current understanding of weather is almost entirely dependent upon computational models. Biological research now starts with a predictive model that helps determine what to explore in the real world. The computational power of computers has completely changed the way we approach tasks in society.
Due to computers, humans have been able to make accomplishments that our predecessors would never have even dreamed of. Their power and versatility have allowed us to map out some of the deepest parts of the ocean while also helping take us to the moon itself. Then, the invention of the internet unlocked almost infinite possibilities for their use. Distance has become almost meaningless when we can communicate nearly instantly, and vast amounts of knowledge that used to be confined to one location can be accessed by people all over the globe simultaneously. Without them, we would not be anywhere near as advanced of society as we are today
Human beings have always been naturally curious about the world that surrounds them. As homo sapiens began to evolve and their intelligence increased, they broke out of their original habitats to explore the surrounding world. After years of evolution and exploration, homo sapiens covered the world, establishing societies on every corner of the planet. As time continued, these societies advanced, and homo sapiens continued to explore the untouched peaks and valleys of the earth. These amazingly intelligent explorers had explored the world, but soon they turned their eyes to exploring the hidden heavens of the sky. In the early 1600s, the first telescope was invented to look at the heavens, and human society has been entranced with the idea of space ever since. A Soviet scientist finally achieved the ability to travel into space and the idea of space exploration by the name of Konstantin Tsiolkovsky in 1903. Tsiolkovsky solved his famous rocket equation that was able to calculate the accurate fuel to weight ratio that was needed to successfully propel a rocket outside of the earth's atmosphere into the depths of space. As time went on, humans were able to integrate this equation into more advanced and different technologies. These advancements fueled the creation of many different modern technologies that are used in everyday life of society now. Along with the advances in modern society's technology, space exploration has advanced in many ways as well. Space exploration has evolved from being a government-owned entity that could send small satellites into orbit to being able to build an International Space Station that humans can live in for an extended period. Even public companies like SpaceX and Boeing are joining the coalition of space exploration. This ability of society to explore the depths of space has led to an unbelievable breakthrough in the advancements of modern technology and scientific studies, that many people do not realize, has allowed for the lives that society is living today.
The study and exploration of space have had a drastic effect on modern life down on earth. Many technologies that are used in everyday western life would not even be possible without the idea of space travel. This is because space exploration needed advancements in technology to allow humans to travel further and stay in space longer. These advancements made through space exploration include areas of modern life such as health and medicine, transportation, public safety, consumer goods, and environmental resources. In the field of health and medicine, space exploration has helped humans understand the effect of zero gravity on the human body. In turn, this understanding has helped develop better health practices back under the weight of gravity, allowing humans to be healthier than the times before space exploration.
Along with helping understand the human body better, NASA funded many studies on creating artificial limbs and muscles that, in the past few years, have begun to translate over to basic medicine. This has allowed humans that have had a limb amputated to be replaced with advanced robotic limbs. Another impactful technology created by NASA to help study deep space was the MRI machine that was later released to the public and is now used every day, saving people's lives. In the field of transportation, NASA funded a study done by Goodyear to develop a rubber that would be strong enough to help land a rover on Mars. This rubber created to land on Mars was then released later to the public to produce more durable tires on cars, reducing the amount of tire blowout and making daily travel safer.
Along with helping create safer tires, space exploration has also helped drive improvements in the field of public safety. One of the main improvements in public safety that space exploration has helped drive is in the field of video enhancements and analysis programs. NASA developed computer programs to help produce better quality videos and to be able to analyze videos frame by frame to help study deep space better. The public now uses this technology to help assist law enforcement in producing quality video footage of any crimes allowing for a safer public. For the modern consumer, NASA helped fund many different products that are used in human's everyday lives. One of these products, patented in 2000 and released to the public in 2005, is the Bowflex workout machine. This project was funded by NASA to help reduce atrophy of muscle mass and loss of bone density of astronauts that spend long periods in space by allowing them to do resistant style workouts in zero gravity. Five years after its creation, NASA released the designs to the public, and the item became a huge hit. Finally, space exploration helped develop some of the most important technology that is being rapidly adopted by many humans around the world, environmental resources technologies. These technologies include many things, such as solar panel cells, water purification systems, and pollution control technologies. Even without knowing it, many humans use technology that was created for space exploration, and, as time continues, the exploration of space will continue to drive our civilization into a more technologically advanced society.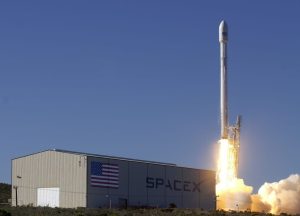 As space exploration is becoming more widespread and shared, the idea that some government entities must do it is no more. Public companies like SpaceX and Boeing are breaking into the market of building rockets and allowing space travel to the public. The CEO of SpaceX, Elon Musk, has the dream of public space travel along with the colonization of Mars and hopefully, in the distant future other planets or solar systems. With these dreams to travel further and colonize other planets, science and technology are bound to see huge advancements in the future. Some of these advancements may include technologies that allow for a faster form of travel or the ability to terraform a planet to allow it to sustain life. With the more in-depth travel and study of space, science is also bound to advance. These advancements could come by way of understanding the vast quantity of material that humans have been able to measure yet have not had the ability to understand or even the possibility of finding life somewhere else in the universe. Only the future holds these advancements, and space exploration is the driving force.
STS in the MODERN world
The study of science and technology in society underscores the idea that society and its needs drive the progression of technology (Feenberg, 2012). Furthermore, society chooses the technologies it will accept, allowing them to succeed, and the technologies it will reject, causing their failure and often their obsolescence. Innovations in space exploration, detailed above, developed because of the societal need for advanced defense, communication, and research. The technology that developed from those needs was determined by society to solve their problems while offering little to no disadvantages, so society accepted space exploration and technology. Societal needs, however, change with time. A highly anticipated technology designed to satisfy the needs of modern society was Google Glass, depicted in the figure below. Although the technology was successful and useful, it was discontinued only one year after it was released due to society's apprehension towards its possible applications (Donnell, 2018). The following detailed dive into the failure of Google Glass is useful in emphasizing society's influence on innovation as it pertains to the modern era of technology. Specifically, in the modern era, privacy concerns dictate the new technologies society will accept, which is evident in the failure of Google Glass.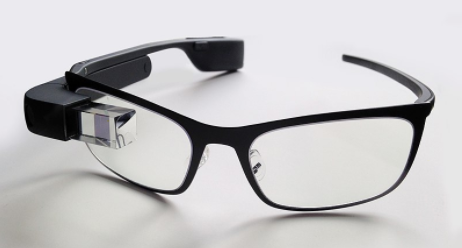 As mentioned in the paragraph above, although it eventually failed, Google Glass Edition 1 was created to solve societal issues of the modern era. The goal of these glasses was to act as a hands-free smartphone. It would allow the user to access the internet, camera, maps, calendar, apps, and other smartphone features solely through voice and motion commands (Pogue, 2013). These functions would not only allow convenience, but they would promote modern concerns, such as hands-free driving. This product would also keep pedestrians safe by preventing phone use and walking near busy streets or on crowded sidewalks. Although society and its needs drove the invention of Google Glass Edition 1, as it does most other technologies, this product did not take into consideration other societal needs that would eventually lead to its failure: privacy concerns.
Modern ideals and morals of society, specifically about privacy concerns, lead to the downfall of Google Glass. Invasion of privacy in the modern world is defined as "the unauthorized collection, disclosure, or other use of personal information as a direct result of electronic commerce transactions" (Wang et al., 1998). Market concerns with Google Glass regarded not only personal information, however, but also the information of bystanders. Since the technology utilized a camera mounted to a person's head, it recorded not only the wearer's voice but also their surroundings. This capability meant that anyone could be subject to recording or streaming at any time.
Although these glasses intended to solve societal issues, society soon realized that the wearer indeed determined the purpose of the glasses. A user of Google Glass could use the technology to record movies in theaters illegally or cheat in casinos (Davis, 2014; Doyle, 2016). They could also discreetly take or stream photos and videos of individuals who never consented to be objectified in such away. Furthermore, even if the wearer was not using the glasses maliciously, no one knew what Google was doing with the data, photos, and videos it collected (Essers, 2013). Because of these privacy concerns, Glass wearers were barred from many restaurants and bars to ensure the guests of such establishments felt safe and protected (Davis, 2014; Weidner, 2020). As mentioned above, society dictates which technologies fail and succeed, and society's concerns about Google Glass, and its actions in defense of those concerns, eventually caused the product's failure.
In the wake of Google Glass's failure, Google learned from society and compromised with it in order to use the same technology in an accepted manner. Google quickly reacted to the failure of Glass by discontinuing the product in 2015, which was only one year after its release (Donnell, 2018). They realized, however, that although society did not accept Google Glass, the technology was sound, innovative, and useful. Google announced in 2019 that they are now developing Google Glass Enterprise Edition 2, which is geared toward business professionals and industry ("Glass – Glass," n.d.). This new use is an attempt to make the technology successful by compensating for societal concern. Bystanders will no longer be subjected to unwanted filming from Google as the new product will be in private offices and factories rather than on public streets. This reintroduction of Google Glass to society in a different way with a different user might allow for its success, which underscores the idea that society dictates accepted technologies.
This case study of Google Glass is useful in discussing the idea that society chooses whether new technologies are accepted or rejected. Google has recognized this dependence on society for success, and they are working to compromise with societal privacy concerns to develop a successful technology. Although society rejected Google Glass Edition 1 based on privacy concerns, societal concerns of health and safety called for the innovation's development. If the reintroduction is successful, Google Glass Edition 2 will be used to benefit the health, safety, and ergonomic efficiency of employees in offices and factories.
Conclusion
As discussed above, society has chosen which scientific and technological developments will define the modern world. Modern politics, religion, events, and society's values of safety, privacy, exploration, health, and communication have driven technological progress in those respective fields. Although these sections have only been an overview of modern world STS, they serve as an introduction to the following in-depth studies of modern technology. While reading each subsequent section, think about these fundamental ideas: society's effect on science technology, science and technology's effect on society, aspects of society that drive technological and scientific advancement, and what causes society to accept or reject a particular advancement.
True or False: Medical devices produced from 3D printers cannot be used on patients, only for educational purposes.
True or False: The first major cause of the Cold War was the increased tensions between the United States and the Soviet Union at the end of World War II.
Multiple Choice: Nanoscience and nanotechnology has impacted which of the following disciplines?

A) Computing and applied mathematics
B) Materials science
C) Healthcare and medicine
D) All of the above

Multiple Choice: What was the largest factor in the failure of Google Glass?

A) Price
B) Aesthetics
C) Privacy Concerns
D) Lack of Celebrity Endorsement

Short Answer: Based on the information provided in this chapter, do you believe that 3-D printing things such as artificial organs is ethical? Why or why not? Support your answer with information in the chapter above.
Short Answer: Briefly discuss how a filter bubble works.
References
Allcott, H. & Gentzkow, M. (2017) Social media and fake news in the 2016 presidential election. Journal of Economic Perspectives, 31 (2), 211-236. Retreived from https://www.aeaweb.org/articles?id=10.1257/jep.31.2.211
Baird, D., Shew, A. (2004). Probing the history of scanning tunneling microscopy. In Discovering the Nanoscale.
Bardosova, M., Wagner, T. (2013). NATO Science for Peace and Security Series -C: Environmental Security Nanomaterials and Nanoarchitectures A Complex Review of Current Hot Topics and their Applications.
Barnhart, B. (2019, February). Everything you need to know about social media algorithms. Sprout Social.  Retreived fromhttps://sproutsocial.com/insights/social-media-algorithms/
Barone, M. (2006). Astroparticle, Particle And Space Physics, Detectors And Medical Physics Applications – Proceedings Of The 9th Conference. Hackensack, N.J.: World Scientific. http://search.ebscohost.com.libproxy.clemson.edu/login.aspx?direct=true&db=e000xna&AN=210566
Becker, G. (2019, January 16). The elusive embryo: how women and men approach new reproductive technologies. Berkeley: University of California Press. Center for Disease Control and Prevention. https://www.cdc.gov/reproductivehealth/infertility/index.htm
Bryan, W. (2016, February 1). Scratch-Resistant, UV-Reflecting Lenses. https://www.nasa.gov/offices/oct/40-years-of-nasa-spinoff/scratch-resistant-uv-reflecting-lenses
Brothers, K. B., & Rothstein, M. A. (2015). Ethical, legal and social implications of incorporating personalized medicine into healthcare. Personalized Medicine, 12(1), 43–51.
Browne, M. W. (1985, Apr 02). 'Star wars' science expected to spawn peaceful inventions: Gains seen for medicine and industry. 'star wars' leading to peaceful inventions. New York Times (1923-Current File). http://libproxy.clemson.edu/login?url=https://search-proquest-com.libproxy.clemson.edu/docview/111234670?accountid=6167
Cha, A. E. (2018, April 27). How religion is coming to terms with modern fertility methods.
https://www.washingtonpost.com/graphics/2018/national/how-religion-is-coming-to-term
Chun, Y. S., Byun, K., & Lee, B. (2011). Induced pluripotent stem cells and personalized medicine: current progress and future perspectives. Anatomy & Cell Biology, 44(4), 245. https://doi.org/10.5115/acb.2011.44.4.245
Davis, W. (2014). The Eyes Have It: Likely to become a high-tech trend, Google Glass is already causing legal experts to see problems. ABA Journal, 100(4), 17-19. www.jstor.org/stable/441598
Digital Media Literacy: What is an echo chamber? GCF Global. https://edu.gcfglobal.org/en/digital-media-literacy/what-is-an-echo-chamber/1/
Donnell, D. O. (2018, November 14). Google Glass is coming back, but will stay in a business-oriented sandbox this time. https://www.notebookcheck.net/Google-Glass-is-coming-back-but-will-stay-in-a-business-oriented-sandbox-this-time.361716.0.html
Doyle, B. (2016, February 28). 5 Reasons Why Google Glass was a Miserable Failure. https://www.business2community.com/tech-gadgets/5-reasons-google-glass-miserable-failure-01462398
Essers, L. (2013, June 18). Google Glass privacy concerns raised by international data protection authorities.  https://www.pcworld.com/article/2042327/google-glass-privacy-concerns-raised-by-international-data-protection-authorities.html
Feenberg, A. (2012). Questioning technology. Routledge.
Getchell, M. (n.d.). The start of the Space Race (article). Retreived from https://www.khanacademy.org/humanities/us-history/postwarera/1950s-america/a/the-start-of-the-space-race
Gilbert, M. (2014). The second world war: a complete history. Rosetta Books.
Glass – Glass. (n.d.). https://www.google.com/glass/start/
Gollin, M. (2018, November). What are dark posts on social media? Falcon.IO. https://www.falcon.io/insights-hub/topics/social-media-strategy/what-are-dark-posts-on-social-media-2018/
Haggerty, J. J. (1985). Spinoff 1985 (pp. 104–105). Washington, D.C.: U.S. Government Printing Office. https://spinoff.nasa.gov/back_issues_archives/1985.pdf
Kollanyi, B., Howard, P.N., & Woolley, S.C. (2016). Bots and automation over twitter during the U.S. election. Oxford, UK: Project on Computational Propaganda. http://geography.oii.ox.ac.uk/wp-content/uploads/sites/89/2016/11/Data-Memo-US-Election.pdf
Levitt, I.M. (1960, Jan 31). Man in space: The next ten years: An astronomer details, step by step, the expansion of man's horizons in prospect. man in space. New York Times (1923-Current File). http://libproxy.clemson.edu/login?url=https://search-proquest-com.libproxy.clemson.edu/docview/115209561?accountid=6167
McDougall, W. A. (2008). The Heavens and the Earth: A Political History of the Space Age. United States: Johns Hopkins University Press.
Nawrat, A. ( 2018, August 7). 3D Printing in the medical field: Four major applications revolutionizing the industry https://www.medicaldevice-network.com/features/3d-printing-in-the-medical-field-applications/
Oreskes, N., & Krige, J. (Eds.). (2014). Science and technology in the global Cold War. MIT Press.
Peng, W., Datta, P., Ayan, B., Ozbolat, V., Sosnoski, D., & Ozbolat, I. T. (2017, May 10). 3D bioprinting for drug discovery and development in pharmaceutics.  https://www.sciencedirect.com/science/article/abs/pii/S1742706117303069
Pogue, D. (2013). Google's Creep Factor. Scientific American,308(6), 38-39. www.jstor.org/stable/26018264
Roco, M. C. (2003). Nanotechnology: Convergence with modern biology and medicine. Current Opinion in Biotechnology, 14(3), 337–346. https://doi.org/10.1016/S0958-1669(03)00068-5
Sahoo, S. K., Labhasetwar, V. (2003). Nanotech approaches to drug delivery and imaging. Drug Discovery Today, 8(24), 1112–1120. https://doi.org/10.1016/S1359-6446(03)02903-9
Sallam, H. N., Sallam, N. H. (2016, March 28). Religious aspects of assisted reproduction. Retreived from
      https://www.ncbi.nlm.nih.gov/pmc/articles/PMC5096425/ 
Smith, T. (2018, September 14). Test tube baby Louise Brown and the birht of IVF https://www.cbsnews.com/news/test-tube-baby-louise-brown-and-the-birth-of-ivf/
Tarantola, A. (2019, August). Social media bots are damaging our democracy. Engadget. https://www.engadget.com/2019/08/15/social-media-bots-are-damaging-our-democracy/
10 Greatest Scientific Discoveries and Inventions of 21st Century | ISB Glasgow. (n.d.).  https://www.isbglasgow.com/10-greatest-scientific-discoveries-and-inventions-of-21st-century/
3D-printed Surgical Tools (n.d.). https://versoteq.com/blog/3d-printed-surgical-tools
Top 5 Applications for 3D Printing Technology. (2019, May 17). https://www.makerbot.com/stories/design/top-5-3d-printing-applications/
20 Inventions We Wouldn't Have Without Space Travel. (n.d.).  https://www.jpl.nasa.gov/infographics/infographic.view.php?id=11358
Vogenberg, F. R., Barash, C. I., & Pursel, M. (2010). Personalized medicine – Part 1: Evolution and development into theranostics. P and T, 35(10). Smith, T. (2018, September 14). Test tube baby Louise Brown and the birht of IVF
Wang, H., Lee, M. K., & Wang, C. (1998). Consumer privacy concerns about Internet marketing. Communications of the ACM, 41(3), 63-70.
Weidner, J. B. (2020, January 29). How & Why Google Glass Failed. https://www.investopedia.com/articles/investing/052115/how-why-google-glass-failed.asp
Young, M. K., Hsu J., Neiman, D., Kou, C., Banktson, L., & Kim, S.Y., . . .Raskutti, G. (2018). The stealth media? Groups and targets behind divisive issue campaigns on Facebook. Political Communication, 35 (4). Retreived from https://www.tandfonline.com/doi/full/10.1080/10584609.2018.1476425?casa_token=JpfzRtMcvW0AAAAA%3AhjAmbOz9d_Dakeq5axjcngquuTucWwewmLV44CKZMaW73Jc7g
Images
"Magnetic Nanoparticles for Clinical Diagnostics and Therapy" by Aihua Fu, Ph.D. and Shan X. Wang, Ph.D. is in the Public Domain, CC0
"3D printer printing: Anycubic I3 Mega 3D Drucker" by Marco Verch is in the Public Domain, CC0
"Google Glass with frame" " by Mikepanhu is in the Public Domain
"SpaceX Facility and Test Center" by PeakPx is in the Public Domain, CC0
"IBM PC 5150" by Boffy B, Wikipedia is in the Public Domain
"Sputnik-1. " by paukrus is licensed under CC BY-SA 4.0
"Launch of Apollo 11" by NASA is licensed under CC BY-SA 2.0
"In vitro fertilization" by Wikipedia is in the Public Domain
"Social Networks" by Tracy Le Blanc is in the Public Domain