Book Title:

Foundations of Learning and Instructional Design Technology

Subtitle: See newest version at https://edtechbooks.org/lidtfoundations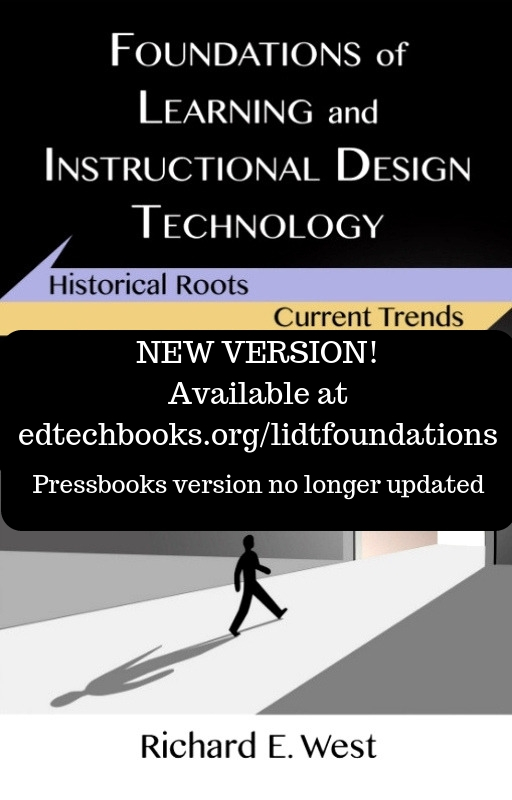 Book Description: "What is this field?" "Where have we come from as a discipline, and where are we going?" "What do I want to study?"These and other questions are typical for new students in the field of Learning and Instructional Design Technology. This textbook is designed to help answer these questions and provide the quickest route to understanding the history and current trends in the field. After surveying classic theories and writings, as well as more recent applications of theory and practice, students will be better prepared to chart their own course and careers within the discipline. This book is designed to support foundations courses common in departments, as well as seminars on current trends and issues.
License:
Creative Commons Attribution
Book Information
Book Description
This book contains both classic articles, republished with permission from their original copyright holders, and original articles written by leading scholars in the field. The book is organized to include chapters on learning and instructional theory, design process, media and technology applications, and professional development (including chapters on various career options, and ideas for networking, publishing, and professional conferences). Updated every five years, this book provides both historical context as well as current discussions for the field of learning and instructional design technology.
License
Foundations of Learning and Instructional Design Technology Copyright © 2018 by Richard E. West is licensed under a Creative Commons Attribution 4.0 International License, except where otherwise noted.