Recognize that scholarly journals differ in their policies, procedures, practices, etc.
Determine the suitability of a scholarly journal for publishing your work by evaluating the journal according to your needs and priorities as an author.
While scholarly journals share some elements in common — such as using peer review and having a narrow, specialized focus — they also differ in important ways. For example:
Some journals use double-blind peer review, while others use another model such as single-blind peer review (in which the authors do not know the identity of the reviewers, but the reviewers know the authors' identities) or open peer review (both authors and reviewers know one another's identities), or some other model.
Some journals are well-established and have been publishing scholarship for decades, while others are less than a year old.
Some journals require authors to transfer their copyright to the publisher, thus limiting or relinquishing their (the authors') right to use/re-use their own work in the future, while others allow authors to retain their copyright and ask them instead to grant the journal the non-exclusive right to publish the work.
Some journals ask authors to pay a fee (an "APC," or article processing charge) if they (the authors) want to make their accepted article available open access, while others offer open access publishing to authors for free.
We will go into more detail about copyright, open access, and publication ethics in subsequent chapters, but the point here is that not all journals are alike. As a potential author, you need to ask yourself which journal is truly the best fit for your work and your needs. For example, if name recognition is the most important factor to you, you will likely want to pursue publication in a journal that has been operating for several years. On the other hand, if you seeking the widest possible dissemination of your article and there's an open access journal in your field, you might choose it instead. Your decisions will depend on your priorities. 
That being said, there is a baseline criterion that should always be met, and that is ensuring that you choose a reputable journal publisher. Unfortunately, there are instances of bogus or "predatory" publishers that defraud authors, typically charging a submission fee but not delivering the standard publication services that journals offer. There are resources that can help you determine whether or not a journal is reputable, such as the Committee on Publication Ethics (COPE), a helpful checklist from Think.Check.Submit, or this infographic created by the Canadian Association of Research Libraries (CARL):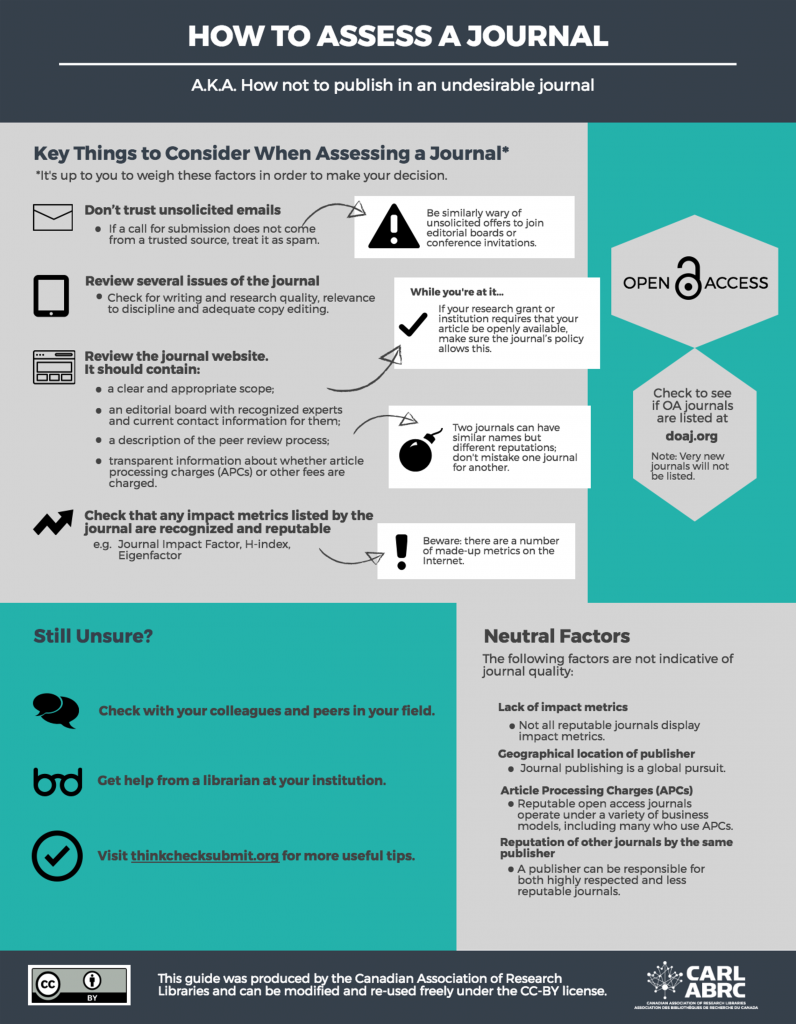 Once you have determined that a journal is indeed reputable, reflect on whether or not it is a good fit for your work specifically. What qualities are important to you as an author, and does the journal meet those needs? Are there other journals that you want to explore before you commit to submitting to this one?
Then, after you read the section on "Some (Problems)," your priorities may change or become clearer to you, and you may wish to revisit this chapter.
Exercise: Selecting a Journal
Consider the following scenarios to determine the most appropriate journal for the faculty or student authors described below. Explain your choice by describing what factors shaped your decision.
#1
Mari is an early-career faculty member in the Spanish department of her university. She would like to submit an article about developing an on-campus Spanish writing center to a journal. Because she is up for review later this year, she is tight on time and wants to publish sooner rather than later (or at least have an article accepted for publication). After researching possible journals, she has chosen 1) the Writing Center Journal, 2) the ADFL Bulletin, and 3) Hispania as potential journals for her work. Which journal do you think Mari should pursue, and why?
#2
Daveed is an undergraduate student majoring in Biology. He has conducted a research study under the supervision of his faculty mentor, Dr. Stine. Daveed is planning to attend graduate school and would like to publish his research findings. Dr. Stine has given her support. But Daveed isn't sure which journal is the best fit for his work. He knows that Dr. Stine has published an article in Current Biology so he'd like to explore it. After some preliminary searching, he also discovered the American Journal of Undergraduate Research (AJUR) and Bios. Of these three journals, which would you advise Daveed to submit to, and why?
#3
Anj is a tenured faculty member who is pursuing promotion to Full Professor. They teach Leadership Studies and possesses expertise on emotional intelligence (also known as "EQ") in higher education settings. They are nearing completion of an empirical qualitative study and have begun thinking about where to publish their findings. They have been invited to contribute an article to Educational Leadership for an upcoming special issue on EQ. They regularly consult Human Resource Development Quarterly and frequently cite articles from the Journal of Leadership Studies in their work. Which of these publications is a good fit to publish their research, and why?