Miruna Virtopeanu, Independent Researcher
Instagram has become one of the fastest growing online social networks in the world, with an estimated 400 million active monthly users (Instagram, February 2016). This has sparked the interest of social media researchers who have focused almost exclusively on Facebook, Twitter and YouTube in the so-called 'Web 2.0' era.
Whilst earlier studies have focused more on understanding this platform and its users, (see Hu et al. (2014) or Ferrara et al. (2014) for example) more recent research has been concerned with aspects such as how DIY celebrification can be achieved via Instagram (Maghfiroh and Hapsari, 2015) or how feminist self-imaging practices are being constructed on this platform (Olszanowski, 2014). These are just a few of the issues that have been recently tackled by researchers interested in studying Instagram, and there's still a lot of room for further research concerning this social media platform.
One area worth exploring is social media activism, as according to Juanita Crider (2015) "Whether it is Facebook, Twitter, Tumblr, Instagram, or Periscope, most 21st century activists will tell you that social media is integral to their work". Hence this blogpost looks at Instagram's potential for becoming a place for online activism, or more precisely how it can be used for connective action, thus proposing a topic for further research to explore in more depth.
Applying the logic of connective action to Instagram
Whilst previous research related to connective action, such as Vromen et al. (2015)'s study of young people's use of social media for political engagement, have focused more on Facebook and Twitter, thus far there has been very little consideration of how Instagram might facilitate new forms of connective action.
According to Bennett and Segerberg (2012: p.750) "connective action networks are typically far more individualized and technologically organized sets of processes that result in action without the requirement of collective identity framing or the levels of organizational resources required to respond effectively to opportunities" that also have at the core of their logic "the recognition of digital media as organizing agents" (ibid : p.752). Therefore, a connective action can be created around a personal frame that resonates with individuals who have no previous affiliation or connection to the actor from which it originated.
Thus, a social media platform such as Instagram, or more precisely an individual Instagram account, could become the basis for a connective action, which can be propagated via network features such as hashtags, or the social interactions taking place on that particular Instagram account. One such example is actress Emma Watson's use of Instagram to promote sustainable fashion.
Emma Watson and Instagram Activism
An internationally recognised advocate of the HeforShe feminist movement, Watson is known for addressing all sorts of issues and movements on her social media profiles. For example, in January 2016, she started a feminist book club using her Twitter account. She has also used her Instagram account to raise awareness about sustainable fashion, leveraging her celebrity status to shine some light on 'designers that are considering local craft and production, artisan skills, the environment, sustainability and the longevity of fashion'.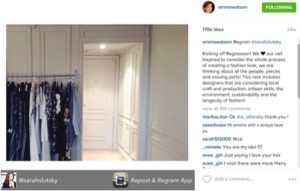 Whilst these messages actually originated from a post by Sarah Slutsky, her stylist, their re-posting brought them to the attention of Watson's 6.6 million followers on Instagram. A quick glance at her account shows that the majority of her recent posts (as of February 2016) feature the actress posing in outfits from her press tours, all of which are produced by ethical designers such as Ralph Lauren or Paul Andrew, which she then promotes via the description of the posts by tagging them.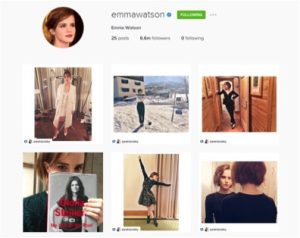 Thus, Instagram becomes a platform for Watson to express her support for the sustainable fashion movement, that recently came to prominence in the documentary The True Cost (Morgan, 2015) which the actress also promoted on Instagram. Whilst her status as a celebrity could be seen as the main cause for her large following on Instagram, it is the social media network itself which gives the actress the means to quickly disseminate this message of support and encouragement for more people to consider sustainable fashion and engage with it. Furthermore, unlike Twitter, which restricts its users to only 140 characters per tweet, Instagram has the ability to offer lengthy descriptions for the images posted. In this way, it is arguably more suited towards the promotion of the sustainable fashion movement than other text-based social media sites such as Twitter.
Moreover, whilst initially the messages and images posted by Watson on her personal account are primarily shared with her followers, they inevitably end up being re-distributed by both citizens and professional journalists on other social media platforms. Her celebrity status also leads to these posts featuring in traditional media such as newspapers and magazines. For example, Vanity Fair and Vogue, two of the most important publications for the fashion industry, have used Watson's Instagram posts in their coverage of the sustainable fashion movement.
Whilst it's true that Watson's status as a celebrity is a factor that needs to be taken into consideration, the fact that she used Instagram as a platform to share her message with others highlights its potential as a platform for promoting connective activism. However, more research is needed in order to analyse the responses to this movement on Instagram, as well as how it is used to raise awareness about other political campaigns. How are Watson's followers engaging with these messages? Do they take them into account, or simply follow and like her Instagram posts because they're fans? Could an individual who does not benefit from a celebrity status have the same success in disseminating messages and gathering support for an activist cause? Such questions can only be answered through further empirical research into Instagram's potential as a tool of social activism.
Miruna Virtopeanu graduated from the University of Leicester with a First Class (Honours) degree in BSc Communication, Media and Society in July 2015. Her research focuses on the intersections between celebrity culture, fan studies and social media activism. Her dissertation project, entitled 'Fangs, Fans and Facebook' explored the ways in which Facebook was used by fans to engage with the producers of the American TV series The Vampire Diaries. Miruna has extensive experience of social media research, working as a Research Assistant on the University of Leicester Teaching Enhancement Fund project 'Screencasts and Media Studies' and the British Academy funded 'YouTube, Sousveillance and the Policing of the Union Flag Protests in Northern Ireland.'