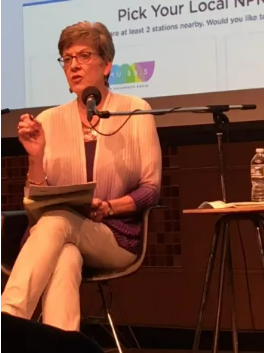 This book is dedicated to my family, the friends who have become family, and the students I've taught over the past 30 years – may you be inspired to go for your goals and live your lives fully.
Thanks to my employer, American University, for being part of a nationwide effort to create free, openly licensed educational materials: or, more simply, free online textbooks. The College Board notes that many students don't buy textbooks because they simply can't afford them. In academia, this resource is called an open educational resource (OER). While I can't control tuition costs in higher education, I can contribute by creating this free digital resource.
Former School of Communication Dean Jeffrey Rutenbeck supported this project from day one, authorizing my semester leave to produce this text and to provide some financial help for the project. Copy editor Rose Ann Robertson, a retired senior associate dean at AU and former Associated Press editor, provided edits and words of support. Instructional designer Kim Pulford Westemeier of the American University Center for Teaching, Research and Learning, took words and images and translated them into a beautiful online resource, assisted by MA Film & Media graduate student Bria Granville.
Special thanks to several American University community members who have supported the annual updates to this book: American University Head Librarian Jeehyun Davis for financial support of the Pressbooks open source content management system that supports the online publishing platform, Scholarly Communications Librarian Rachel Borchardt for help in navigating placement of new content, and student Qudsia Saeed.
Teaching assistant Ethan Smith wrote and edited examples of audio practice exercises and has been a thoughtful sounding-board on content. My wonderful School of Communication faculty and staff colleagues, and in particular, Terry Bryant who reviewed content,  Rob Roberts who advised on technical issues and Jeremiah Patterson who designed a brochure about the e-book to help get the word out. Thanks for the encouragement and support of my colleagues, Journalism Director Amy Eisman and former director Dr. John Watson, who also advised on legal content. Special thanks to Rosemary Reed, president of Double R Productions in Washington, D.C., for providing production space and staff to shoot the demonstration of vocal exercises.
On a personal level, it's a joy to use the talents of some young professionals for this free online resource. Chicago-based graphic designer David Olmsted designed the book cover and Boston-based actress Annie Olmsted demonstrated vocal warm-ups and exercises in a video in Chapter 7. In full disclosure, I'm proud to welcome these contributions by my nephew and niece.
If you have some helpful suggestions for this e-book please get in contact with me by clicking on this link.
To navigate, you can scroll to the very bottom of the page and look on the black bar with white writing on the far right-side to go to the next page. Or, click on the left-side to access more contents and click on the + sign to see chapters.