ACR – Interventional – Radiologic Management of Inferior Vena Cava Filters
Case
Inferior Vena Cava Filter
Clinical:
History – Surgical treatment of an intracranial aneurysm 1 day ago.  CT PE study revealed bilateral pulmonary arterial thromboemboli.
Symptoms – Shortness of breath, pleuritic chest pain, pleural effusions.
Physical – Tachypnea and tachycardia.  Left pleuritic rub detected.
DDx:
Pulmonary Thromboembolism with a contraindication to anticoagulation
ACR – Radiologic Management of Inferior Vena Cava Filters
Imaging Recommendation
Optional (Retrievable), Inferior Vena Cava Filter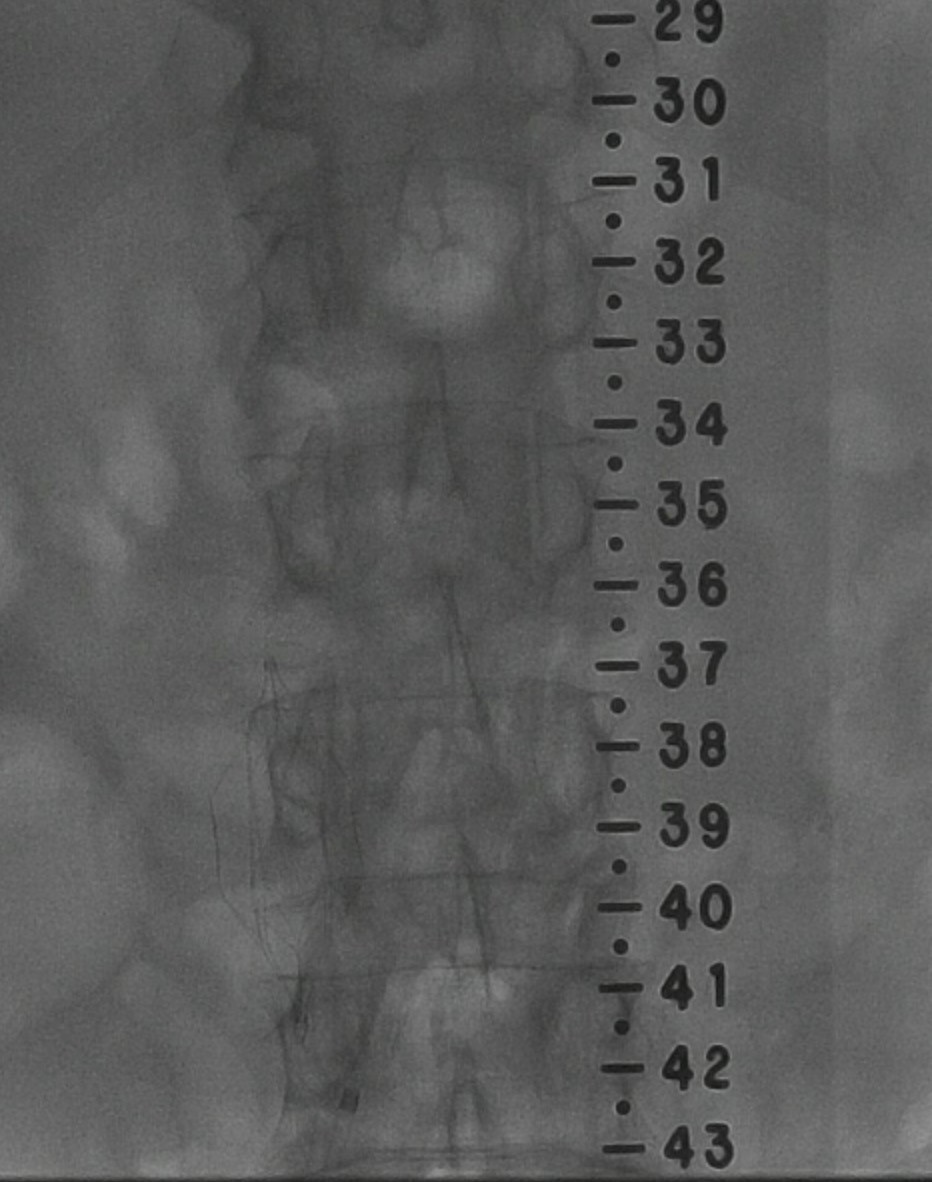 Imaging Assessment
Findings:
A common femoral vein access site was used for catheterization of the venous circulation.  An inferior vena cavagram revealed no evidence of thrombus and an appropriate vena caval diameter for filter insertion.  The renal veins were localized and the Cordis filter was implanted in an infra-renal location in the inferior vena cava.  No complications.
Interpretation:
Successful implantation of a retrievable Cordis IVC filter.
Diagnosis:
Inferior Vena Cava Filter
Discussion:
Pulmonary embolus (PE) and deep venous thrombosis (DVT) represent the clinical spectrum of venous thromboembolism (VTE), which remains a major cause of morbidity and mortality in hospitalized patients. VTE occurs spontaneously or as a common complication during and after hospitalization for an acute medical or surgical illness.
PE accounts for 5%-10% of deaths in hospitalized patients and is the most common preventable cause of in-hospital death. Recent studies have emphasized that a significant number of medicine and surgery patients are not receiving adequate prophylaxis against VTE. More than 50% are at risk of VTE, and only half of those patients are receiving prophylaxis.
The primary prophylaxis and therapy for VTE are pharmacologic, including intravenous (IV) heparin, oral warfarin, subcutaneous low-dose heparin (LDH), or low-molecular-weight heparin (LMWH).
Vena cava filters do not prevent or treat DVT. The sole function of inferior vena cava (IVC) filters is prevention of clinically significant and potentially life-threatening PE by preventing the passage of emboli into the pulmonary arterial circulation by trapping the embolus as it passes from the iliofemoral venous system to the filter.
Hypercoagulable states must be excluded prior to filter placement in order to avoid significant patient morbidity.
The Most Common Indications for Vena Caval Filter Insertion
 1) Pulmonary Embolism with a Contraindication to Anticoagulation
Absolute contraindications to anticoagulation. These include unsecured intracranial aneurysm after subarachnoid hemorrhage, acute intracerebral hemorrhage, current or recent major gastrointestinal hemorrhage or lesions at high risk of bleeding (e.g., esophageal varices).
Relative contraindication to anticoagulation including recent (within two weeks) major surgery; major trauma, including cardiopulmonary resuscitation (CPR) or deep biopsy; uncontrolled hypertension; renal or hepatic disease; current guaiac-positive stools; and known bleeding diatheses.
2) Major Complication of Anticoagulation
Major bleeding is the most significant complication of anticoagulation. It is defined as intracranial or retroperitoneal bleeding or bleeding that requires hospitalization or transfusion while the patient is on therapeutic levels of anticoagulants. When anticoagulation therapy for VTE must be stopped because of major bleeding, placement of an IVC filter may be considered.
Heparin-induced thrombocytopenia – defined as platelet count below 50,000/L, with or without arterial thrombosis – is also considered to be a complication of heparin therapy, and placement of an IVC filter should be considered after heparin therapy is discontinued.
3) Inability to Adequately Anticoagulate
Lack of patient compliance, medication incompatabilities, other medical conditions making anticoagulation more difficult, i.e. liver or renal dysfunction, can result in inadequate anticoagulation.
4) Progression or Recurrence of Venous Thromboembolism despite Adequate Anticoagulation.
Although VTE can progress during adequate anticoagulation, it is unusual and therefore it is critical to fully evaluate whether therapeutic levels have been consistently achieved.
Raising the target INR (international normalized ratio) is preferable to placing a filter in the setting of inadequate anticoagulation.
---
Attributions
Figure 13.8A Cordis IVC Filter by Dr. Brent Burbridge MD, FRCPC, University Medical Imaging Consultants, College of Medicine, University of Saskatchewan is used under a CC-BY-NC-SA 4.0 license.
Figure 13.8B Cordis IVC Filter Placement in situ by Dr. Brent Burbridge MD, FRCPC, University Medical Imaging Consultants, College of Medicine, University of Saskatchewan is used under a CC-BY-NC-SA 4.0 license.