Every book in Pressbooks includes a "Book Dashboard" menu, a set of links and options that will display on the left hand side of your browser when you're logged into your book as an administator, editor, or author.
Dashboard
The book dashboard provides a list of your book content. Clicking on any of your chapters on this page will take you to the editing screen.
Note:
Pressbooks.com users can also view their storage quota from the book dashboard. This widget will display both your book storage limit (depending on your upgrade level), and how much you are currently using for any books where a storage quota is relevant.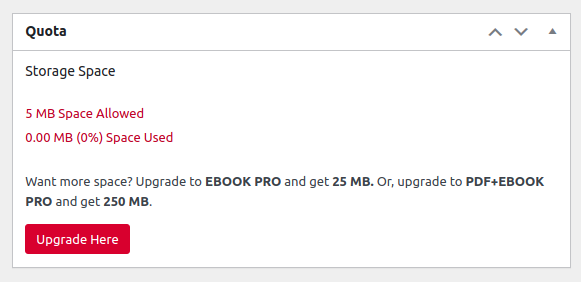 Upgrade
NOTE: This page only exists for Pressbooks.com users and won't be seen on hosted Pressbooks or standalone networks.
The Upgrade page is where you can purchase your PDF + Ebook Pro or Ebook Pro Plan upgrades to access watermark- and ad-free exports files.
Organize
From the Organize menu, you have access to all of your parts and chapters. You can also set your global privacy at the top of the page, select which chapters to show in your web output, and select which chapters to show in your exports. Learn more about the Organize page.
Book Info
This section is where you set the details of your book, including title, author and language and other metadata. You can also create 'contributors' and give them credit for helping to create your book. Learn more about Book Info and Contributors.
Appearance
Appearance allows you to select a book theme and set theme options which control the output of your webbook and various export formats. You can also use the custom styles feature to provide custom CSS to control the display of your book. Learn more about your Appearance options.
Export
This section allows you to produce book exports in a wide variety of file formats and provides an interface for viewing and dowloading previous versions of any export files you've created. Learn more about producing exports.
Publish
The section allows you to add information about where your books will be sold. Learn more about the Publish options.
Media
This is your media library, where you can upload images as a batch, and manage your images. You can also upload images directly when you are editing your chapters. Learn more about managing media in your book.
Users
This option allows you to view and edit the users who have access to your book, and control the permission levels given to each user. Learn more about managing book users.
Tools
This menu provides you with several tools, the most important of which is our "Import" tool, which allows you to import content into Pressbooks from a wide variety of file formats. Learn more about the Tools options.
Settings
These options allow you to configure settings for your book or various activated plugins. Learn more about various book-level settings.