Introduction
Twenty-two million children depend on school lunch programs to eat a complete meal. These children are provided with free or reduced breakfast and lunch due to the fact that they come from a low income household. Coming from a low income family, the meals they get at school are basically the only meals they eat. These feeding programs are funded by the National School Lunch Program. When Coronavirus started to spread over the United States, causing the whole country to go into lockdown, these kids were left without food. Schools were initially closed, and businesses were shutting down, which meant a decrease in income for families as well.
School districts and the United States Department of Agriculture (USDA) decided they had to think of ways to still be able to provide meals to students in a safe and affordable way. These were both challenges facing schools across the country. In order to figure out safe ways to deliver the food, they turned to scientists that were researching the virus so they could fully understand how COVID-19 is spread. After they figured this out, they were able to use existing technology and even implement new ones in order to distribute food. Throughout the whole process, new problems kept arising. These problems include where to find funding to keep these programs open and figuring out how to keep track of the number of meals students are qualified for. Coronavirus has had a huge impact on the way children obtain food outside of a school setting. Due to the virus, funding, distribution, and the new "normal" precautions needed in order to deliver food have been altered.
Connection to STS Theory
The problem of not being able to deliver food safely to students did not develop slowly over time, it happened abruptly. This pandemic caught everyone off guard and schools, businesses, and first responders had no time to prepare. The decisions made by officials followed the path dependence theory of science and technology. The unique circumstances forced an immediate response out of schools in order to be able to feed children. If a wrong decision had been made under any circumstance the lives of children, parents, and volunteers could have been at risk. Thankfully science allowed for new technology to be developed to protect those involved in delivering school meals.
Impact on Low Income Families
The Coronavirus was first introduced to the world in late December of 2019, in Wuhan, China. Essentially, the virus causes respiratory problems (with the lungs and breathing and comes with many other symptoms like fever and loss of taste and smell. China and several surrounding countries went into quarantine right after the number of cases started rising, which meant no one was allowed outside of their house and in contact with the outside world. Although these precautions were put in place, it was not done in time. The virus had already spread to so many people, it was slowly spreading across the world at a very fast rate. By early March it had reached the United States and hundreds of people became infected. So, like the rest of the world, the United States decided to go into a quarantine lockdown. For the United States, this meant the closure of all schools and businesses. Only essential workers, such as first responders, were allowed to leave home for work. This caused chaos because suddenly everything had to become virtual. All schools had to transfer to online learning and businesses had to adjust to functioning online. On top of that, scientists and doctors were trying to figure out ways to contain the virus and if it could be cured.
Children coming from a low income family qualify for free or reduced price lunch by the government. Parents of these children have to apply for the program, and most of the time, these school meals will be the only thing a child gets to eat. Even on the weekends, it is unlikely that they will have access to a full meal. Most school districts have funding and programs in place that will feed students like this during summer too. When the United States was placed under sudden lockdown, the school system had no time to prepare a plan on how they were going to continue feeding children. Parents also lost jobs and pay cuts were being made, because no one could go to work. This meant those already living paycheck to paycheck now had more financial issues to worry about. The number of children needing school lunches actually increased during quarantine (South Carolina Department of Social Services).
Even though the number of free or reduced price lunches increased, the budget given to the schools for this program did not. There were actually rumors of cutting the funds given to schools by the states because no one could attend in person school. The issue became how schools were going to get the money to feed all of these children. Large corporations, such as Pepsico, stepped up to the occasion. They donated millions of dollars and worked directly with the USDA Food and Nutrition branch in order to pay for the meals (United States Department of Agriculture). The money donated by this company alone helped feed over twenty million children (PepsiCo).
Not only was the large company Pepsico making efforts to fund these lunch programs, but others were getting involved too. Charity organizations such as Feeding America, Blessings in a Backpack, Little Free Pantry, and many more were making efforts to raise money to help feed children (Lee). All of these organizations were implementing the use of technology that allowed for people to donate money online. This was a way for all members of the community to give from home, since no one was allowed to leave their house during quarantine. These organizations also relied heavily on technology in order to spread the word about raising money (South Carolina Department of Social Services).
Another way the students were able to still get free or reduced price lunches was through the creation of pandemic-EBT (pandemic Electronic Benefit Transfer). This technology was created similarly to food stamps, in which a student's account allowed for them to get so many meals a week if they qualified. The families of these children did not have to worry about paying back any amount of money like you would for a credit card. Pandemic-EBT was simply a way to keep track of who qualified for free meals, and how much they received. Michigan was the first state to get pandemic-EBT approved. This measure was put into action shortly after quarantine began (Food and Nutrition Service). But, many states were skeptical of this technology. They did not initially trust that it would work, so many did not implement using it in the states. In South Carolina, Governor Henry McMaster did not implement the use of this new credit technology until late June of 2020 (Food and Nutrition Service). By this time school was out for the summer and the program would not be able to be used until August of the 2020-2021 school year. Although it was very controversial among state governments at first, almost all fifty states in the United States use pandemic electronic benefit transfer now.
Pandemic School Lunch Distribution Centers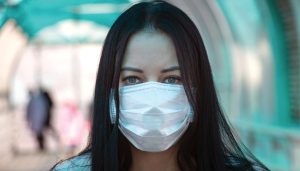 When the programs finally got started, schools used a method similar to drive-throughs for families to come pick up meals for their students. At first, everyone was coming and this proved to be a very effective way to distribute food. However, as the virus began to spread more and more, and social distancing guidelines became more strict, less and less people began to come pick up the packaged meals. This was due to two possible reasons. Either parents found other resources and ways to feed their children, or they thought it was unsafe and too much of a risk to come out. This food was also being prepared and handed out by other individuals (even though these workers were following proper guidelines by wearing masks and gloves), which was also a big risk for families because it was a lot of outside human contact. So, in most cases the pick up lines proved to be ineffective after a period of time (Danielson & Gao).
Pandemic School Food Delivery Programs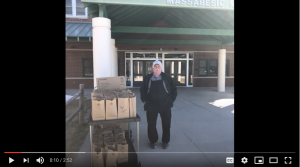 After drive through lines, drones, and robots proved to be unsuccessful in delivering food, schools had to again start over and think of new ways to distribute meals to students who desperately needed it. The next option was to take school buses, and let them drive their normal routes. The food was prepared at the schools (following all social distancing guidelines) and then loaded onto buses. Some of these buses went out and drove to specific neighborhoods; therefore, families hardly had to leave their yards to go get the food supplied for their children. Others drove out away from the school to central locations and distributed food there. This helped to minimize gatherings of people (Goldschmidt). Instead of everyone coming to the school, they were all spread out at different locations. This proved to be the most effective, inexpensive way to distribute meals to those low income families with as little person to person contact as possible. All bus drivers, cafeteria workers, and other volunteers were required to wear masks and gloves during this process, and to stick to the guidelines. Parents and children were required to wear masks to pick up the meals as well (Danielson & Gao).
Conclusion
COVID-19 has had a huge impact on the entire world. To date, it has led to over one million deaths worldwide. It has caused people to lose their jobs, hurt the economy, forced schools to become completely virtual, and taken away the normalcy of society. There is no more going out in public in large groups or without a mask on. People are afraid to go visit loved ones in fear of spreading or getting the virus. COVID-19 has caused everyone to fear close human contact and changed our world forever. Through all of the problems coronavirus has caused, and the disconnect it has brought, it has also brought people together in a way. Through the use of science and technology, school systems were able to recognize the problem that without their feeding programs, millions of children were going to go hungry. So school workers, volunteers and everyone that participated in these programs during the pandemic were willing to put themselves at risk of getting the virus, in order to make sure their students were fed. Without the knowledge of science, how to slow the spread of the COVID-19, or how to treat people that did become infected, no new technology would have been needed. The new technologies have helped to deliver food, give us new ways of funding charities and programs, and over time society has found a new normal way of life. With growing advancements in science and technology, society will continue to change, and new technologies will be created in order to better the world.
References
Abad-Santos, Alex. "How US Schools Are (and Aren't) Providing Meals to Children in the Covid-19 Crisis." Vox, 28 Mar. 2020, www.vox.com/2020/3/28/21197965/coronavirus-school-shutdown-free-meals.
PepsiCo. "COVID-19." PepsiCo, 22  Mar. 2020, www.pepsico.com/news/story/covid-19.
Danielson, Caroline, and Niu Gao. "Feeding Children When Schools Are Closed for COVID-19." Public Policy Institute of California, 26 Mar. 2020, www.ppic.org/blog/feeding-children-when-schools-are-closed-for-covid-19/.
Goldschmidt, Karen. "The COVID-19 Pandemic: Technology use to Support the Wellbeing of Children." Journal of Pediatric Nursing, vol. 53, 2020, pp. 88-90. www.ncbi.nlm.nih.gov/pmc/articles/PMC7161478/.
South Carolina Department of Social Services. "K-12 Students Who Normally Receive Free or Reduced-Price School Meals to Receive Federal Food Assistance." South Carolina Department of Social Services, 30 Jun. 2020, dss.sc.gov/news/k-12-students-who-normally-receive-free-or-reduced-price-school-meals-to-receive-federal-food-assistance/.
 Lee, Lauren. "With Coronavirus Closing Schools, Here's How You Can Help Food Insecure Children." CNN, 7 Apr. 2020, www.cnn.com/2020/03/13/us/iyw-how-to-help-hungry-students-coronavirus-trnd/index.html.
Matthews, Kayla. "4 Ways Technology Is Helping the Food Supply Chain During COVID-19." Innovation & Tech Today, 20 Apr.  2020,innotechtoday.com/technology-food-supply-chain/.
United States Department of Agriculture. "USDA Announces Feeding Program Partnership in Response to COVID-19." United States Department of Agriculture, 17 Mar. 2020, www.usda.gov/media/press-releases/2020/03/17/usda-announces-feeding-program-partnership-response-covid-19.
United States Department of Agriculture Food and Nutrition Service. "State Guidance on Coronavirus Pandemic EBT (P-EBT)." United States Department of Agriculture Food and Nutrition Service, 30 Dec. 2020, https://www.fns.usda.gov/snap/state-guidance-coronavirus-pandemic-ebt-pebt.
Images
"Girl in Mask Fear" by https://www.vperemen.com is licensed under CC BY-SA 4.0
"Maine Thanks School Nutrition Teams Across Maine for Their Efforts Through COVID-19 Pandemic" by MaineDOEComm is licensed under CC BY 4.0