Unit Two – Clean, Aseptic, and Sterile Technique
Learning Outcomes
Identify and apply the clean, aseptic, and sterile technique required for common OMS procedures
Goal
Prevent (nosocomial) healthcare associated infections
Procedure specific use of a clean, aseptic, or sterile technique reduces or eliminates microbes transferred to patients during OMS procedures
• A clean technique is NOT used in a surgical, invasive procedure
ALL SURGICAL PROCEDURES IN OMS ARE INVASIVE PROCEDURES: invasive oral surgery procedures are classified as a clean-contaminated. See table below.
• Oral surgery is a local risk factor for osteomyelitis
• Osteomyelitis is the inflammation and destruction of bone caused by the introduction of pathogens into the surgical site
Definition: Invasive Procedures
•
 Acts done to patients that come in contact with wounds, the blood stream, the inside of the body, or normally sterile parts of the body
•
 Invasive procedures invade the inside of the body
•
Aseptic 
or
Sterile
 techniques are used in invasive procedures
Aseptic Versus Sterile Technique:
The differences are subtle!
•
Aseptic
technique
minimizes
contamination by pathogens (bacteria, virus, or microorganism that can cause disease)
• Sterile technique refers to the absence of all pathogens

 Remember: DO TOUCH ANYTHING EXCEPT STERILE EQUIPMENT OR ITEMS THAT HAVE A BARRIER ONCE YOU'VE DONNED YOUR GLOVES!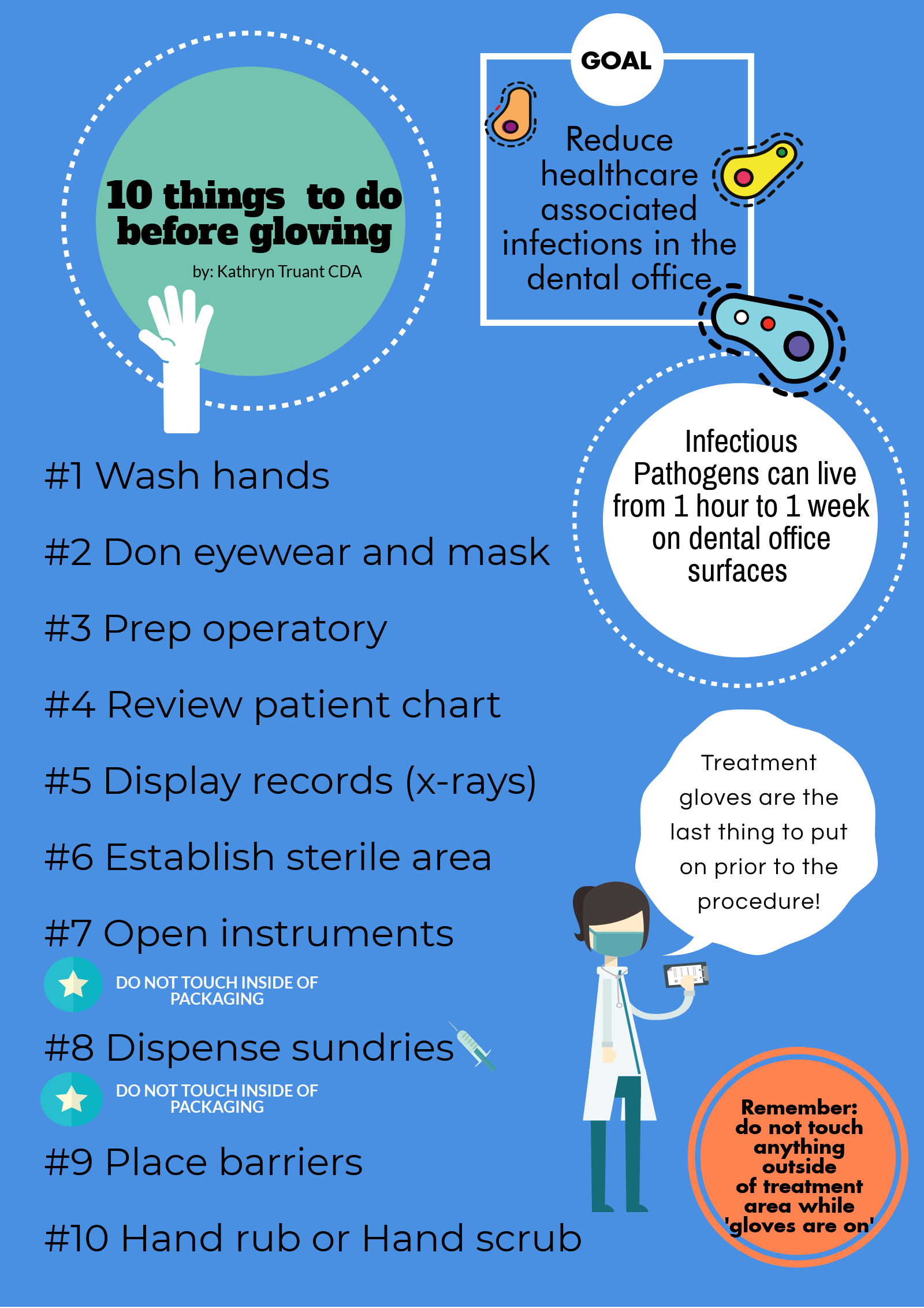 | | |
| --- | --- |
| Pathogen | Survival on Hard Surface |
| Herpes (simplex or zoster) | 1 hour (3 days on hand towel) |
| Hepatitis B/C/D | B: 1 week or more |
| HIV/AIDS | 5-6 days |
| Cold & Flu Viruses | 24 hours |
| Staphylococcus Aureus (MRSA) | days-weeks |
Remember that asepsis is the reduction of pathogens: be aware of all surfaces that can be contaminated.
If you are organized, you can reduce the number of gloves needed to maintain the chain of asepsis.
It's easy to get a false sense of asepsis just because you're wearing gloves.