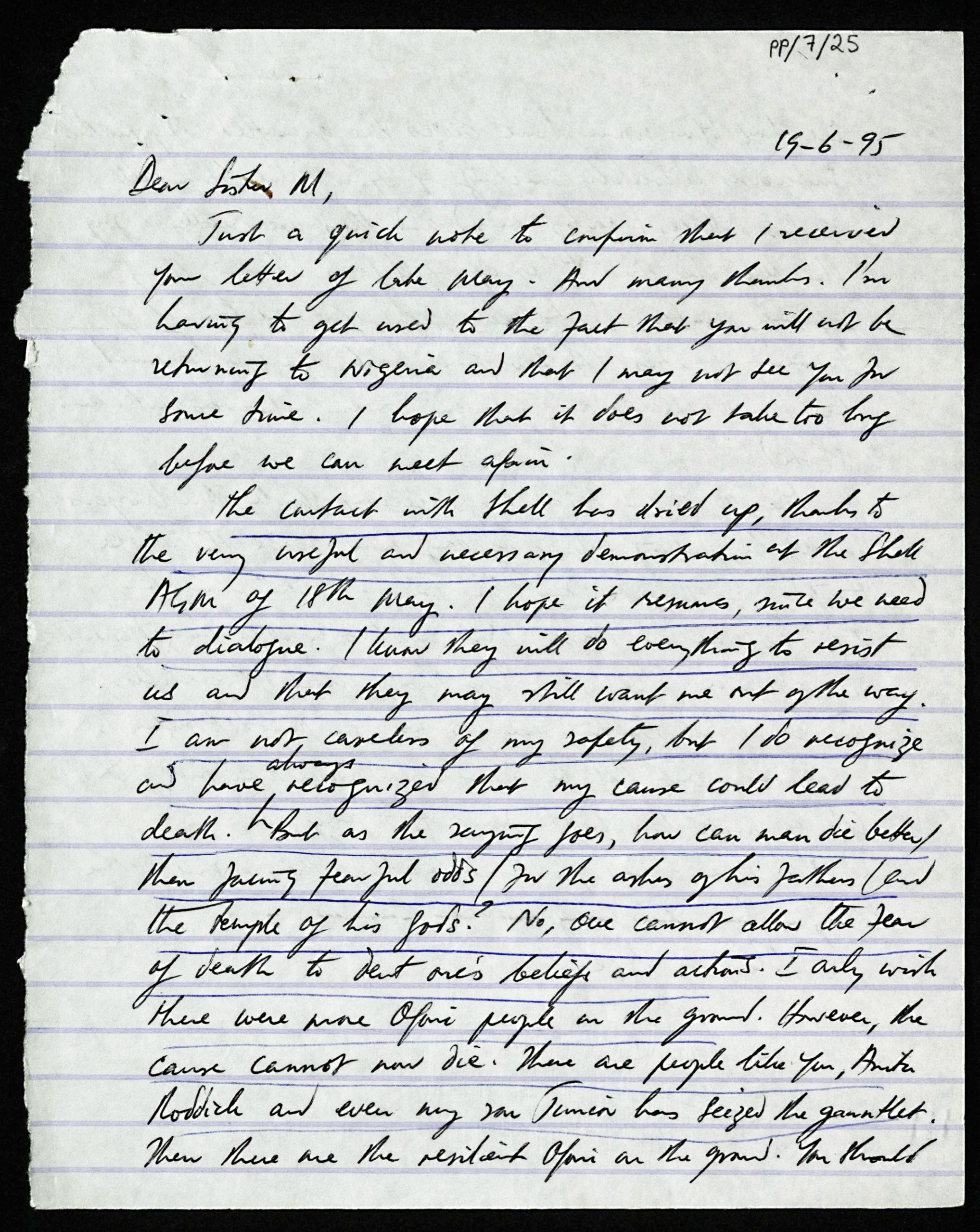 19/6/95
Dear Sr. M,
Just a quick note to confirm that I received your letter of late May. And many thanks. I'm having to get used to the fact that you will not be return­ing to Nigeria and that I may not see you for some time. I hope that it does not take too long before we can meet again.
The contact with Shell has dried up, thanks to the very useful and necessary demonstration at the Shell AGM of 18th May. I hope it resumes, since we need to dialogue. I know they will do everything to resist us and that they may still want me out of the way. I am not careless of my safety, but I do recognize and have always recognized that my cause could lead to death. But as the saying goes, how can man die better/than facing fearful odds/ for the ashes of his fathers/and the temple of his Gods? No, one cannot allow the fear of death to dent one's beliefs and actions. I only wish there were more Ogoni people on the ground. However, the cause cannot now die. There are people like you, Anita Roddick and even my son Junior has seized the gauntlet. Then there are the resilient Ogoni on the ground. You should see how Ogoni women have seized the gauntlet. My mother supervises a weekly meeting of Ogoni women from all of 40 villages (nearby ones) and they are really a joy. She tells me that to escape military attention, they operate under the banner of the National Council of Women's Societies [NCWS]. (A few years back, she was honoured by the NCWS as one of seven women achievers in Rivers State).
The so-called trial is proceeding slowly. Our lawyers should be pull­ing out any day now, since the whole thing is a charade and the Tribunal Chairman has left no one in doubt that he has written the judgement in advance. We'll see how things proceed thereafter. I see them shutting me up for the period Abacha is in power. But I'll be stronger in prison than out of it. It's a price I'm not afraid to pay.
I've done a few poems recently. They're still in the rough but you may savour them.
All my love,
Ken Saro-Wiwa.