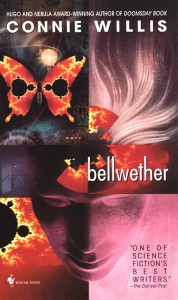 When I was writing about Iain Banks and how he is one of my favorite authors, I started to make a list of who the others were. Long time readers of First Impressions could probably identify them better than I can, but here goes: Jonathan Carroll, P.G. Wodehouse, Tom Holt, Iain Banks, Tim Powers, Philip K. Dick, and Robertson Davies (Davies being the most recent addition). I looked at that list and knew something was wrong, and it did not take me more than a minute to identify the problem–where were the women? A problem? At least somewhat. I've never been one to totally segregate my reading, nor one to feel it a necessity to be the model of diversity in my reading choices, but I knew that I was over-looking someone. My top ten novel and short story lists both contain work by women (A.S. Byatt, Octavia Butler, and James Tiptree, Jr., to be exact), but although I like these individual works, I was not a "fan" of any of them in quite the same way as my male list. At the time I pondered it, and let it drop.
One chapter into Bellwether, as the grin slowly grew on my face, I was reminded of my previous exercise. For I am a fan of Connie Willis–I would donate my time to design a web site for her, to write an article about her, or conduct an interview and transcribe it. Not only is she one of the finest writers that the field has ever had, but her ideas are always interesting and the stories often amusing.
Take the case in point. Sandra Foster is a scientist for HiTek, Inc. studying trends and fads (things like Pet Rocks and Hula Hoops), trying to determine the causal relationship. The fad problem is a stickler, but Sandra's real nemesis is Flip, a true Gen X slacker who, in her role as mail clerk (or interdepartmental assistant) is the foil of the best laid funding plans.
This is comedy writing at its finest. Willis manages to combine wordplay, cynicism, juxtaposition, running gags, ironic detachment, sarcasm, misunderstandings, and physical humor in a short 247 pages (the leading, or space between the lines, and font size are great enough here that I suspect Bellwether to be close in length to novella rather than novel). But what keeps the story interesting is the concept of trends and chaos–the mixture of public obsessions with scientific theory. Bellwether is great science fiction.
[Finished 19 October 1997]