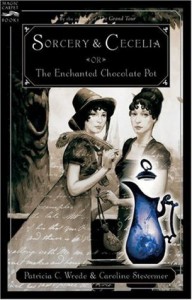 One of the wonderful things about the success of J.K. Rowling's Harry Potter series, aside from those wonderful books themselves, is that it has publishers rushing to their backlogs and slush piles for more magical children's books. That's why this novel, originally published over ten years ago, finally has been reprinted, along with a sequel called The Grand Tour. I had long heard about this novel, having had it recommended to me by the automatic recommendation service at Alexandria Digital Library, and having that recommendation seconded by a number of AlexLit's patrons. Every time I was in a used book store, I would check the shelves for this book and never finding it, so I was overjoyed when I discovered this reprint on a table at a local science fiction convention.
As the longer title indicates, the format of this book is epistolary (i.e., a series of letters between the two main characters). That format can be difficult for readers, as it tends to put a distance between the reader and the action by adding a time-delay, but the two authors (in their major character guises) are excellent at drawing you into each letter and the story. It turns out, from an afterword here, that the two authors wrote this originally as a game, each writing actual letters to the other which the recipient had to use when writing their own. Because these two women were excellent authors to begin with (having previously published books individually), their game turned into a highly enjoyable novel.
The setting is an England in the post-Napoleanic era, made famous in literature by Jane Austen. And Austen is who first comes to mind when you read this, as much of the feel of the book has that comedy of manners and social slights that Austen excelled at. Then you throw in the fact that magic works, from lowly "charm bags" that require excellent needlework to full-scale necromancy that can claim lives. London parties, country dances, and the machinations of mothers and aunts combine with this magic to create a novel where you simply need to read the next letter to find out what happened. I read this in a single day while on vacation, unable to put it down. I then gave it to a twelve-year-old girl at the resort I was at who proceeded to devour it the next day and immediately ask if I had the sequel, which is about the highest recommendation for a book I can make.
[Finished 2 January 2005]