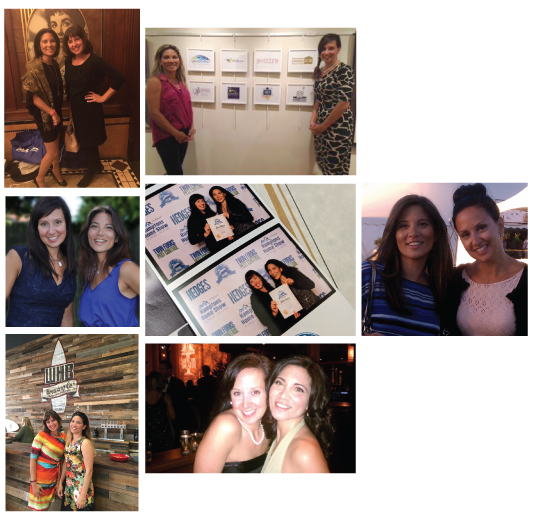 This book is dedicated to my business partner at East End Advertising, Inc. – Joanna Pendzick, who believed in me and has always been supportive in my quest to merge our expertise of higher education, corporate training, and graphic design and expand our capabilities as an agency. I am grateful for her support and feedback on this passion project.
This book is also dedicated to the dozens of amazing clients we have been lucky enough to serve for the past 10 years that we have been in business. Without any of you, this wouldn't have been possible. A list of the clients we have had over the past 10 years is below. Some retired, passed away, changed hands, or had a change in direction since we worked with them but we have valued each and every project and relationship that has come our way. This book has several visual examples of some of the work we have done for these companies and we are excited to show it off. Of course, those instructional design projects protected by an NDA will not be shown but we are equally proud of that work as well. Just like you, we have grown as designers and continue to improve our work and expertise in graphic design and instructional design and have especially improved our chops in improving digital accessibility during recent years. We hope you enjoy this book and find it helpful. Looking forward to seeing what another 10 years brings.
THANK YOU TO THE FOLLOWING PAST AND PRESENT CLIENTS
Aceum Search and Advisors • AJ Sunflower Boutique • American Media Electronics • Author Patrick Keeffe • Author Sharon Shebar • Birth and Beyond Resources • Boardhounds Standup Paddleboard Company • Borghese Vineyard • Brighter Higher Ed • Camp Adventura • Catalina SUP • Catholic Guardian Services – Youth Employment Services Curriculum • Center Moriches Union Free School District • Comfortek • Dedicated Doulas • Delfino Insulation • Diabetes Health and Wellness Academy • Dorset Maple Syrup • DVS Racing • East End Studios and Performing Arts • Elements Writing, LLC • Eye Spy Investigations • FoosFire • Forever Bella Cosmetics • Futures and Options • Glu advertising  Gurneys • Harvard Graduate School of Education • Hausman & Pendzick JobsFirst NYC • Kings Park School District • MBS Institute • MedThink – Celgene • Milissa Resnick Massage Therapy • Minerva Medical Communications – Myriad Genetic Laboratories • Montauk Distilling Company • Moriches Field Brewing Company • Moriches Yacht Club • New York City Youth and Young Adult Career Pathways – Young Adult Literacy Program • ONEHE  Optimal Leadership – Amazon • P&S Publishing • Parent Maple Syrup • Red Dog Distributors • Red Ladder Home Inspection • Sandys Garden Center at Forge River Nursery • Simfit • Simply food • Smithtown Historical Society • Smitty's All American Grille • Stony Brook University Stonybrook General & Cosmetic Dentistry • Strive International, Inc. • Suffolk County Community College • Suffolk County Junior Tennis League • Teese & Associates • The All Star • The Styx Band • United Way of Long Island • UNICEF • Vanderbilt Museum • Victory Wellness • Visiting Nurse Service & Hospice of Suffolk County • The Vegan Realtor • Vitale Building Company • Walrich • Waterfront Academy Montessori • WEST – Advancing Women in the Enterprise of Science and Technology • Westhampton Beach Brewing Company  • White Water Marine Apparel • Words & Numbers • Workforce Professional Training Institute • UNICEF
THANK YOU TO MY FAMILY
Thank you to my husband and children who supported me in my endless nights and weekends writing, editing, designing, and revising this book. Sal DiPeri has been my rock and there to support me when I pursued my Master's and Doctorate and in my business and beyond. I am lucky to have such a stable, unwavering partner that has understood my profound need to create and design meaningful equitable educational experiences. I would like to say I have arrived, but I am just getting started.