Instructional Systems Design (ISD) models focus on the systematic design of instruction and are generally informed by cognitivist and behaviorist learning theories and influenced by Systems Theory.
For a brief video overview of Systems Theory, check out Systems Innovation's Systems Theory Overview video:
The critical point for a systems approach is the careful alignment of objectives, assessment and learning activities. It is helpful to use some sort of visual organizer to show this alignment during the Design phase of an instructional design project. Useful templates are provided later in this book to help begin the process of storyboarding or blueprinting online course modules, lesson plans, and unit plans.
ISD is not without its criticisms. As Clark (2015b) points out, one of the chief criticisms of ISD is that it is not a linear process.
Common ISD Models
Dick and Carey Model
The Dick and Carey model was developed in 1978 to reflect the ISD process commonly employed within educational systems and organizations (Clark, 2015c). Like ADDIE, it follows a systematic flow from defining what is needed, to designing, developing, and implementing instructional interventions. However, the Dick and Carey model shows more complexity to the process than the five stages outlined by ADDIE.

AGILE
The AGILE model of instructional design originates in the software development sector. Like ADDIE, it consists of five key stages:
Align
Get Set
Iterate and Implement
Leverage
Evaluate
Neibert (2013) draws upon Conrad Gottfredson's work with the AGILE model to note that it has found its way into instructional design, especially in the context of workplace skills training development, because it was "founded upon the need of today's organizations to be agile and adaptive."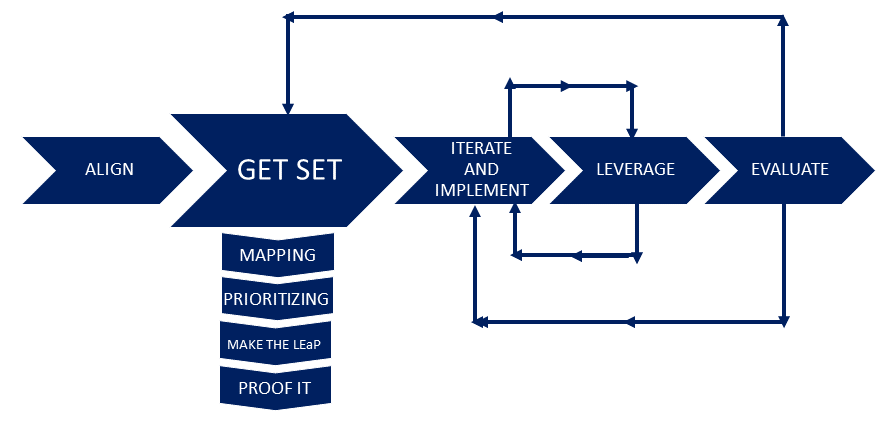 Kemp Model
The Kemp Model of instructional design (also known as the Morrison, Ross, and Kemp Model) was developed in 2010 (Morrison et al., 2010). As noted by Kurt (2016), it "Incorporat[es] a variety of approaches from a multiplicity of disciplines… to [represent] an innovative approach to instructional design by virtue of its non-linear structure, and the interrelated nature of its components." According to Pappas (2017), this "strategy takes a non-traditional approach to eLearning development, as it follows a cyclical structure. Every aspect of the eLearning course design and learning process is taken into consideration."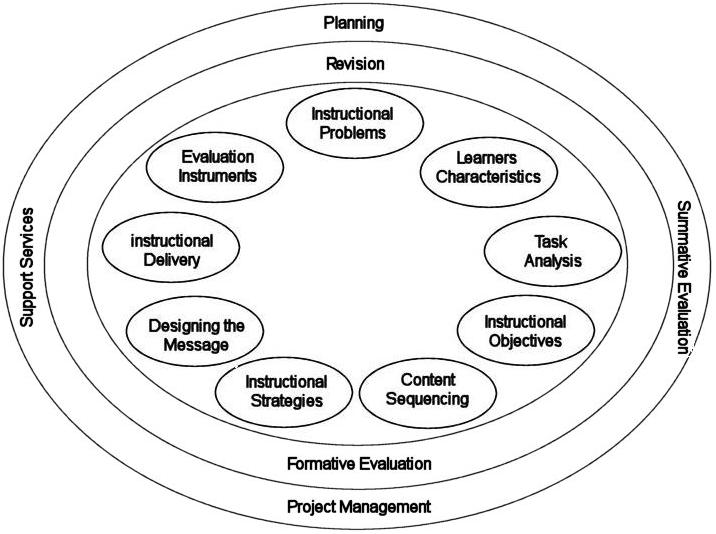 Instructional Design in Online Learning
ISD is a process model to facilitate the analysis, design, development, implementation, and evaluation of learning activities in any medium of instruction. The same phases can be followed for face-to-face (F2F) classrooms, instruction in the development of film or video programs, or for online "e-learning." The problem is that e-learning itself can have a variety of implementation models – in part determined by the beliefs and technical abilities of the institution as to "what e-learning is", and in part determined by the audience's needs.
For example, educational institutions that run on a traditional term model tend to see e-learning as an extension of their classroom learning model. Classes tend to be offered in term-length cohorts facilitated by an instructor. Usually, there will be some sort of online discussion activities to provide social engagement among the learners, and there will be traditional assessment activities of quizzes, tests, papers, and projects.
Educational institutions that provide self-paced or individualized instruction tend to move away from the cohort model and let learners start and end within a "window of time." This model is more flexible for learners who need a course when they need the course and do not want to wait for the next term. Since the start date is variable, there usually is no cohort, and forum discussions are impractical as learning activities. A tutor is usually assigned to assist learners with questions, and they converse via email. Expect traditional assessment activities.
Training organizations tend to use more self-paced or computer-assisted learning methods of e-learning. For example, a construction company may need to document that every employee has received safety training, so on their first day of work, every new employee has to sit in front of a computer and view a safety training program consisting of short passages to read and videos to watch. After each chunk of information, there will be some short questions to help focus the learner and clarify the content. At the end of each module, there will be a test, and the results are recorded on the employee's personnel record.
To summarize, the phases of ADDIE will be similar, but the specifics will vary with the type of e-learning to be developed and delivered.
Further Reading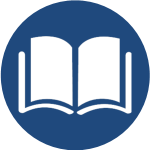 Read the following resources to learn more about some of the other popular ISD models:
References
Clark, D. (2015a). Bela Banathy – Instructional Systems – 1968. Instructional System Design: The ADDIE Model: A Handbook for Learning Designers. http://knowledgejump.com/history_isd/banathy.html
Clark, D. (2015b). Critiquing instructional system design. [Web page]. Instructional System Design: The ADDIE Model: A Handbook for Learning Designers. http://knowledgejump.com/hrd/isd/critique.html
Clark, D. (2015c). The Dick and Carey Model – 1978. Instructional System Design: The ADDIE Model: A Handbook for Learning Designers. http://knowledgejump.com/history_isd/carey.html
Culatta, R. (2023). Instructional Design Models. http://www.instructionaldesign.org/models/
Herridge Group (2014). The Use of Traditional Instructional Systems Design Models for eLearning. http://herridge.ca/pdfs/The%20use%20of%20Traditional%20ISD%20for%20eLearning.pdf
InstructionalDesign.org (2023)'s Instructional Design Models page.
Kurt, S. (2016, February 14). Kemp Design Model. Educational Technology. https://educationaltechnology.net/kemp-design-model/
Morrison, G. R., Ross, S. M., Kemp, J. E., & Kalman, H. (2010). Designing effective instruction. John Wiley & Sons.
Neibert, J. (2013, October 2). Agile Instructional Design: The Big Questions. eLearning Guild. https://www.learningguild.com/articles/1262/agile-instructional-design-the-big-questions/?rd=1
Pappas, C. (2015, April 19). The power of AGILE instructional design approach. [Web log post]. eLearning Industry. https://elearningindustry.com/the-power-of-agile-instructional-design-approach
Pappas, C. (2017, May 20). Applying The Kemp Design Model In eLearning: A Guide For eLearning Professionals. eLearning Industry. https://elearningindustry.com/applying-kemp-design-model-elearning-guide-elearning-professionals
Red River College (2015, March 9). "Agile" Instructional Design. Teaching Learning Technology Centre. https://www.rrc.ca/tltc/2015/03/09/agile-instructional-design/
Systems Innovation (2014, May 4). Systems Theory Overview. https://youtu.be/GRnkggRSIDY
Wikimedia Commons (2020, September 12). Dick Carey.png. [image file]. https://commons.wikimedia.org/wiki/File:Dick_Carey.png