Buenos Ayres 1890
15th June.
My dear Mother,
My last letter went by "Britannia", a week ago.
Y'day., after a somewhat long interval, we had a mail from England, bringing your welcome letters of 8th & 12th May, also one dated 27th Apl. from Annie[1].
Em. seems to have exhausted herself baking so many delightful cakes & tarts, & puddings, during the visit of the Weinbergs. I depend upon you all, but I particularly rely on Jim, to persuade her not to tax her strength by making any more goodies for the present, but to reserve all her energies till I come home.[2]
I was very glad to get Harry Fuhr's long & interesting letter & to hear he is doing so well.[3]
He has a first-rate chance. The place he is working at is some 200 miles, I think, South of Buenos Ayres & altogether out of my way so I shall not see him, but I intend writing him a line this afternoon.
What you write about Miss Higginbotham is very sad, but perhaps it may turn out not to be really the case.[4]
I finished y'day a long letter to Addie[5], but I don't know anything about the mails to New York & he may not have it for a month or six weeks. The letter may have to go via England.
You will have heard from Dundee that I sent them a telegram last week informing them that I intended leaving for Montevideo in a week. I mean to push on quickly now.
Y'day. evg. I went with a young fellow called Ferguson, a fellow passenger by the "Coleridge" & now employed as engineer on the drainage works, to his lodgings; he has a room in a comfortable house owned by a Scotch family. We were asked by the Paterfamilias to join the family circle in the drawing-room which we gladly did, the circle consisting of the Father, Mother, three grown-up daughters & a number of small fry; – there were also three or four friends. The piano was put into the corner, the room cleared & we had a lively little dance. Towards the end of the evg. I found out that one of the young ladies present, a Miss Petulla, was a Dundee girl, & of course knew a lot of Dundee people. She was with her sister-in-law Mrs Petulla, & has come out to the Plate for a two months' holiday. I think I shall call at their house & cultivate their acquaintance a little, as they seem very pleasant people. Only as I purpose leaving in a week, I shall not see much of them here, but I may possibly meet Miss Petulla again in Dundee.[6]
15th June, afternoon. Have just received a further batch of letters, among which yours of 19th May, & one from Em., cheeky as usual.
Geo.Y. says he was appealed to by Uncle Addie & Father to say which was the better-looking, & found the position awkward.[7] It was a young man called Paris was it not?  who was once upon a time called upon to decide a similar question for three professional beauties.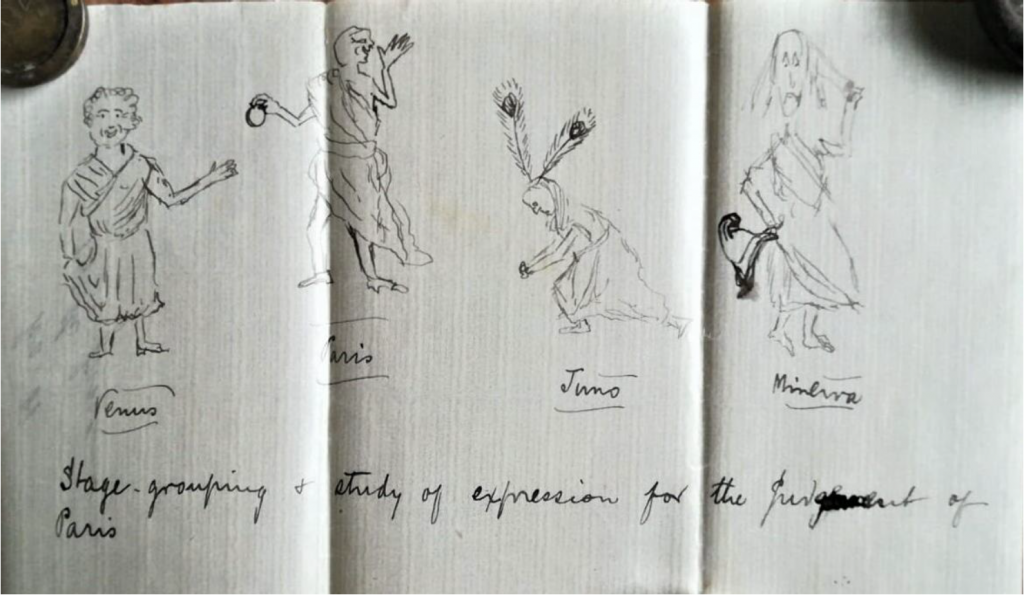 I offer a valuable suggestion for the next tableaux in the Ulster Hall, Geo.Y. & say, the three Miss (Whitey) Browns, as Paris, Venus, Minerva, & Juno (were these the claimants?) respectively, all in the orthodox costume of heathen gods & goddesses. Sketch herewith. The drapery is not quite right, but that is a detail. And if it wasn't Venus, Juno, & Minerva, why it must have been other three attractive but vain young women.
I hope your fears of being turned out of the house are unfounded. When I have realized part of the half million sterling coming to me from a silver & lead mine, of which I am part-proprietor, I may make Musgrave an offer for the house myself[8]: – please ask him to wait! My mine is in the Cordillera, & my share cost me £20.
How is it you are not keeping the tennis-court in order? Are the youngsters becoming too lazy to play? And the exercise of lawn-mowing in the afternoons is first-rate for you!
I have nothing of special interest to tell you this week. The alarm caused by the change of ministry has subsided; they have borrowed more money in London, five millions meanwhile, which ought to help them to pay their way for a little while, but unless they radically mend their ways, turn honest & economize, they will only sink deeper into the mire.
Last week their paper currency depreciated, & recoiled again, 15%, these fluctuations make legitimate business impossible.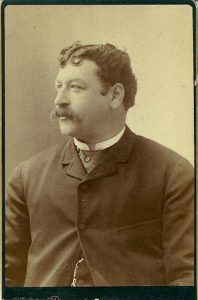 One evg. I went to the Opera, with (comparative) economy taking a ticket for the 4th balcony, or "gods". The Opera was "The Huguenottes" & the principal singers Tamagno, Gabbi, Dalty, Stahl, & Kaschmann. Tamagno's tremendous voice over powered all others, but the whole performance was magnificent.[9]
The last mail brought me also a letter from G.Y.K. I am glad to hear he is busy. He has a large sum to pay me for commission on those West Indian collar orders.
There is no immediate prospect of an unoccupied wet Sunday so tell him not to expect a letter from me for some time & meanwhile give him my fondest love.
By the way this Sunday is particularly wet & uncomfortable (but not unoccupied) – unfortunately there is no fireplace in my room or I should treat myself to a snug fire, as Messrs Moore  & Weinberg's minister plenipotentiary is expected to take care of himself, & will not disappoint expectations formed of him.
Such an entertainment would be, as our German friend said y'day at dinner "very instructious", & at the same time delightful.
But just now I must think of something else than "instructious" tableaus; & by the way of entertainment I have half a dozen letters from Dundee to digest.
So bye-bye.
Best love
Jack
---