Pernambuco.          18 Feb. 1893
My dear Mother,
Here beginneth the letter for "Sorata" promised in my last by "Trent".
To my disgust my baggage was sent to the Custom-house instead of being passed immediately on arrival. It was the last day of Carnival & a half-holiday.[1] At half past nine the Inspector had not put in an appearance so I said I wd return later on. I asked the man if the Custom-house wd be open in the afternoon. "Certainly it will", he said "We don't go out masquerading". At five minutes past twelve I returned & the whole place was shut up until next day. I had not a stich with me but what I was wearing, &, to rile me more, Tuckniss,[2] a friend of Keiller's[3], gave me a card for a ball at the Club that evening. I said I cd not possibly go & told him of my fix. He said to leave the matter to him, – I shd go to the dance.      Through Mr Guimara͂es[4] I have been lucky enough to secure a room in an exceedingly nice English boarding-house owned by a Mrs Latham.[5]   There are several English fellows living here & one of them said to me during dinner "That's all arranged". I asked him what was all arranged. "About this evening – I have had a telephone from Tuckniss". So after dinner this man, whose name is Shaw, introduced me to another fellow called Wilson, who again produced the keys of the private boxes of a third man, yclept Kanthack, to whose room, in the proprietor's absence but with his permission, we repaired, & there I was rigged out.[6] Shirt, collar, tie, gloves, underclothing, & dress-suit, were subscribed by one or other. Fortunately all the garments fitted pretty well. The only difficulty was pumps, – no one had a pair big enough, so I went to the ball & danced in my laced boots! At first I felt rather uncomfortable – the unwhisperables were tight in the legs & I had no place to put my thumbs for the pockets ran across, the tie was not clean, & I thought my boots must be remarkable. But afterwards I forgot about all these things & enjoyed myself thoroughly. I danced with Mrs Williams,[7] who asked about "my sister" – I suppose it was Annie she met – , also with her sister Miss Boxwell, a very pretty girl, just out from England for a short visit,[8] with a Miss Rawlinson, "the best dancer in Pernambuco", & a very lively young lady, etc.[9]  We drove home about three in the morning after a jolly night.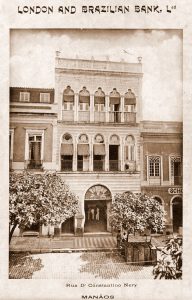 Mrs Latham is a kind motherly woman, & a lady. Her husband had formerly considerable means but he came to grief. He is in Ceara͂ on business just now. They have one daughter & three sons.     Mrs Latham supplied me with comb & brush etc. & instructed the servant to leave pyjamas in my room – my things being still in the Custom-house. It was very thoughtful. And when I mentioned that my eyes were a little sore after the ball, she gave me some spirit of rum to bathe them with. The house is exceedingly comfortable. We have English breakfast in the morning, afternoon-tea for those who are home, & dinner at half past six. Mr Bilton, manager of the London & Brazilian Bank, is living here now, & there are in all eight boarders, – all gentlemen.[10] The tone of the house is excellent.
There is a grass tennis court in the garden. I have had one or two good games already.
I am glad to be so far north already. Rio is still healthy, according to the accounts, but here is now some fever in Santos & several vessels from there had cases on board & were quarantined at Bahia. It is surprising that the fever did not show itself sooner. The hot season will be over in another two months. But this hot season has been phenomenally healthy in Rio & Santos.
Keiller is very well & doing splendidly.[11] Two contracts he signed with Wilsons have been broken by the firm to sign others more favorable to him. He was a short time ago of some use to the new Cable Coy.[12] & the head office wrote to the directors of Wilsons asking permission to forward to Keiller a check for £200.[13] He has been appointed Danish Consul & altogether things have been going well with him. Miss Anderson made a mistake.
I have been getting your letters somewhat irregularly of late. 16th Jan. arrived after 23rd Jan. & several others in the same way.
The Rio Allens are nothing to the Allens you mention – so far as I know – I fancy they are a very different style of people.[14]
Am glad to hear the private news in your last letter, re finances. Hope next year will be better again.
Best love to all.
Jack
---