White Star Shipping Line Letterhead: R.M.S."GERMANIC"
Wed.    14th Jan    1891
My dear Mother
You will have had particulars of the great leave-taking at the Northern Counties Railway, when Geo Y. & Mr Wise turned up, & Emma felt so melancholy that she made puns.[1]
We ran down to Larne in ¾ of an hour; meanwhile the wind had risen & the boat danced about in a lively fashion, but she was fast & crossed in little over two hours. I had a comfortable carriage all to myself, & foot-warmers, as far as Wigan where I had to change. I slept very well – had just one wink from Carlisle to Preston, thanks probably to a sausage roll fearlessly eaten at former place, – before that I had tried the plumcake (just to see if it would keep!) & found it excellent.
Owing to delay at Stranraer it was 4.30 when I arrived at Liverpool. There is fortunately a fine hotel at the terminus. I turned in & slept soundly till 9. Had breakfast of am hand heggs & a cup of kawfee, & strolled down to take ticket at White Star Co's office. After that I called on young Boxwell, fellow-passenger from Pernambuco by the "Magdalena" & had a chat with him.[2]
I then drove down to the Germanic which was lying in the Alexandra dock, about 5 miles from Hotel, & once safe on board with all luggage I wired you.[3]
There are abt. 100 passengers on board; no other Belfast people than Weir & young Russell.[4] I am in a cabin amid ships with a Canadian, a decent fellow, but I think I shall get a cabin to myself after leaving Queenstown.[5]
We left the dock punctually at noon, & we have had a fine clear afternoon for our run down channel, & very little sea.
My address by next White Star boat, Tuesday next, or, via Queenstown, Wednesday morning, is c/o J.D. Smyth, after that Barranquilla, Colombia S.A. c/o Messrs. Aepli, Eberbach & Co. until further advice.[6]
Tell Julie to keep at the Spanish, & to write me in Spanish, he can do a little at a letter every evening or so, & when he does not know how to say anything to jot it down in English.[7]
Lights being put out – 11 o'clock.              Best love
Jack
over
____
In pencil
Queenstown
Friday 9 a.m.
Beautiful morning bright & clear, the tender with mails not due till one o'clock.
If we have only weather like this all way across.
Goodbye
Jack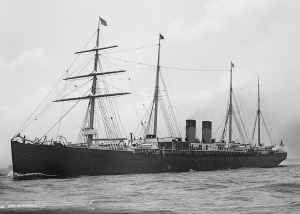 ---