On headed notepaper:
SHIFFMANN & MEYER
RIO DE JANEIRO                                                     Por……………………………………………..
E
HAMBURGO                                                         Rio de Janeiro,..27th de August..de 1890
ENDEREÇO TELEGRAPHICO                                             Caixa 117
"SCHIFMAST"
My dear Mother,
I wrote you by the "Iberia" which sailed two days ago. I am now sitting in the office waiting for a customer who said he would come at 11 & as he is not likely to turn up before 12, if at all, I may as well employ the time in inking a sheet of Messrs. Schiffmann & Meyer's letter paper.[1]
I expect the Pater will by this time be about starting for his Russian trip, & wishing he could stay at home. I hope things will go well with him & that his trip will be a short one. I would rather he could make a yearly holiday tour than a business one.[2]
The rain is falling steadily & rather dismally today; still the plants & trees in the public squares look fresher, & the hills cooler, & one can do without grumbling with one wet day in a fortnight.
Telegrams announce great want in Ireland owing to the drought, the wet spring seems to have been followed by a dry summer.
Mr Ree is now quite well again & no longer takes his meals in the sitting-room, but comes to the dining room, where we have a small table for ourselves. He often asks if I have news from you, & the other evg. drank to the good health of you & the Pater in a glass of Burgundy. He tells me he frequently goes to Leeds or Manchester. I told him he might very well come across the channel & pay us a visit.
Last week I was out almost every evg. On Wed. a Mr Salomon, stockbroker, to whom I had been introduced, took me to see his pictures & afterwards gave me a very good dinner. On Thursday I dined again at Gottos & went with them to the theatre to see Coquelin. On Friday I dined with a Mr Lucius, an American German & a very nice fellow, at a boarding house where he lives with half a dozen young Englishmen, he being President at the dinner table etc. & after dinner we took a long walk over the hills.[3] It was a bright moonlight night & the way wound far above the town, beyond the pretty suburb of Larangeiras & Santa Theresa (I think Larangeiras means "orange grove").[4] The bright lights of Rio at our feet, & the Bay with the distant hills in the "moonbeams misty light" formed a lovely scene.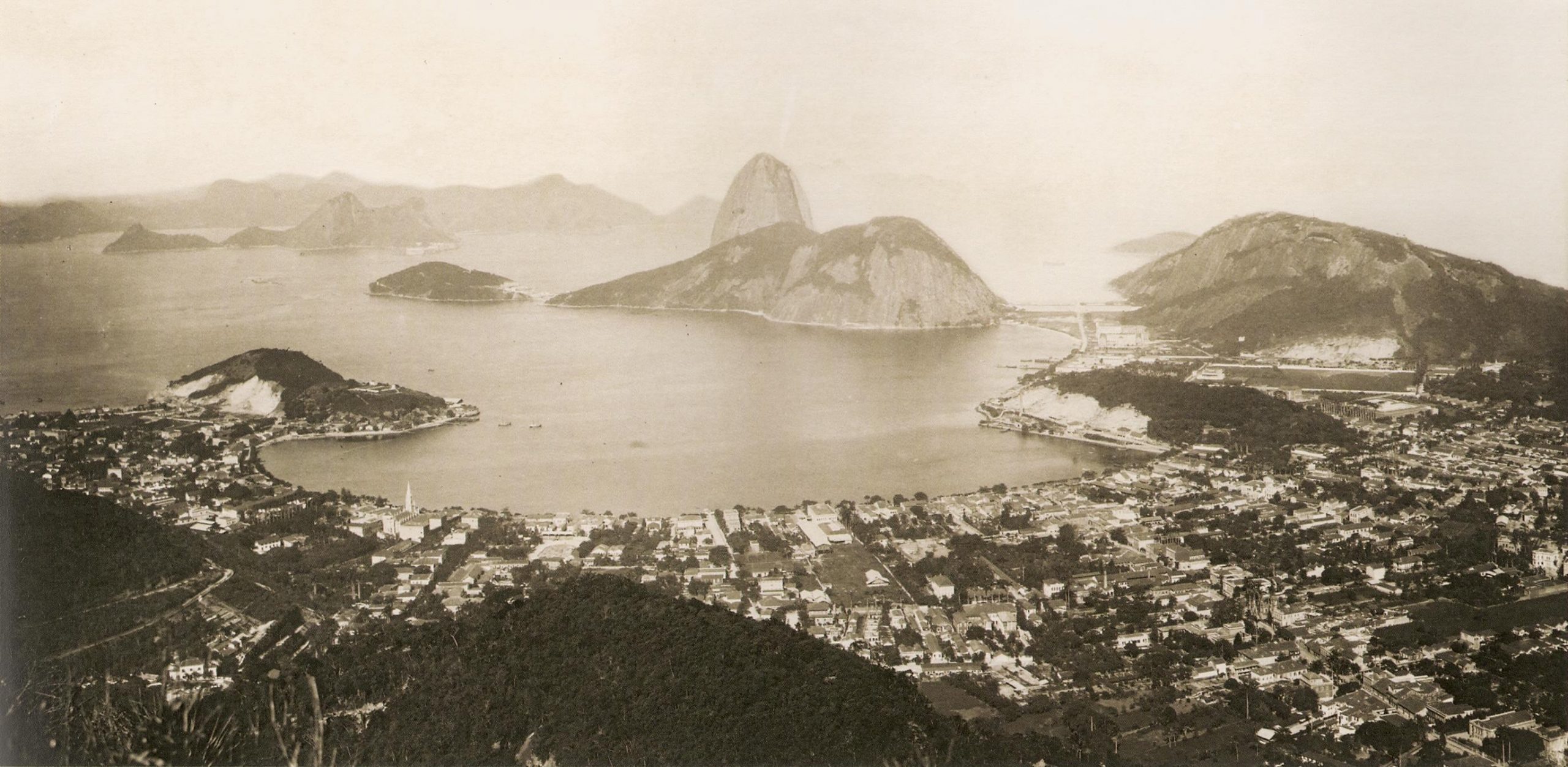 On Saturday evg. I was at a ball given by the English Cricket Club, a very successful affair; – string band between the two dancing rooms, a "full house" with many pretty dresses & dressed.[5]
On Sunday I wrote letters all day. I have contributed generously to the Postal Revenue of Rio, but I don't want to send many more letters from here. In a few days I hope to be off to Bahia; – thence Pernambuco & home.
Best love to all.
Jack
---