Headed notepaper
Coquille II. 9 Kos.                               en 4 Nr. 645
vélin, réglé bâtonné.                          en 8 Nr. 690
Pernambuco     8th Feby.     1894
My dear Mother,
Mr Just[1] owes me thanks for the obliging readiness with which I use up his old samples. The other day I appropriated an ingenious & elegant machine for making cocktails, which formed part of a sample collection of glass-ware thoughtfully sent out by a French firm. To-day, having noticed a block-book with various qualities of writing-paper it struck me that I might spend a leisure half-hour usefully & inexpensively in beginning a letter to you.
Last night I dined with the Tucknisses, a quiet family dinner. They have a small dinner-party to-night & had invited me, but my steamer was posted for to-day so I refused & they asked me to go last night instead. I am sorry now, for the sailing has been postponed a day. I declined another dinner invitation for to-night as well.
I am very sorry to leave this place. Business has been fairly good with me, though others complain very much, & I have had a good time. I have lived in a civilized English house, where my washing was properly looked after, where there was a decent bath, meals served in order & cleanliness, & educated people to talk to. Pará will be different. Dirty hotel, impossible food, insects, no ice, no English ladies & scarcely half a dozen respectable Englishmen. However, as I said before, one must take it as it comes.
As the state of siege still prevails here I must have a permit from the Chief of Police to leave the town. Without that they would not let me go out of the harbour. While I am getting the permit I shall also get some tinned food to eat on the six days' voyage to Maranhão.
Mrs Tuckniss is a very estimable lady & nothing could exceed her affability to me personally, but "Mr Tuckniss's family" is the one engrossing subject of conversation. I have a commission from her to look up connexions & find out relationships in Barbados. Her children try to change the conversation or gently to make fun of her but you might as well try to stop Niagara.[2]
"And so, Mr Loewenthal, as I was saying, Mr Tuckniss is second cousin; – no third, – let me see, yes, third cousin to Lord Aberdare. Mr Tuckniss's grandfather, Hugh Austin, & so on ————- A daughter of Paul Wentworth must have been married in Barbados; if you wd find out for me I shd be so much obliged. Wentworth is the family name, – the Straffords you know, – Jane Seymour was of the family, – it makes it so interesting, you know, Mr Loewenthal, to read English history, – don't you think certain features & expressions are hereditary in families – the overhanging brow so marked in Mr Tuckniss's face – the same as Earl Strafford they say – the great Earl, he was called  – Richard Austin, first bishop of Demerara, was first cousin, the Austins of Barbados, whom you know, must have been the elder branch, Mr Tuckniss's family came from Barbados"  _______________________there is no end to it.[3]
Keiller leaves abt. the 18th inst. so he will be in England about the time this arrives or soon after.[4]
This morning an English lady Miss Peyton, was married to a Mr Hood, at the British Consulate.[5] The Vice-consul, who performed the ceremony, is about my age. Three days hence the couple will be married again at the Intendencia, where the civil contract, obligatory under Brazilian law, will be signed. After that they will be married in the English Church. When this is all over the knot will surely be so tightly tied that there will be no undoing it.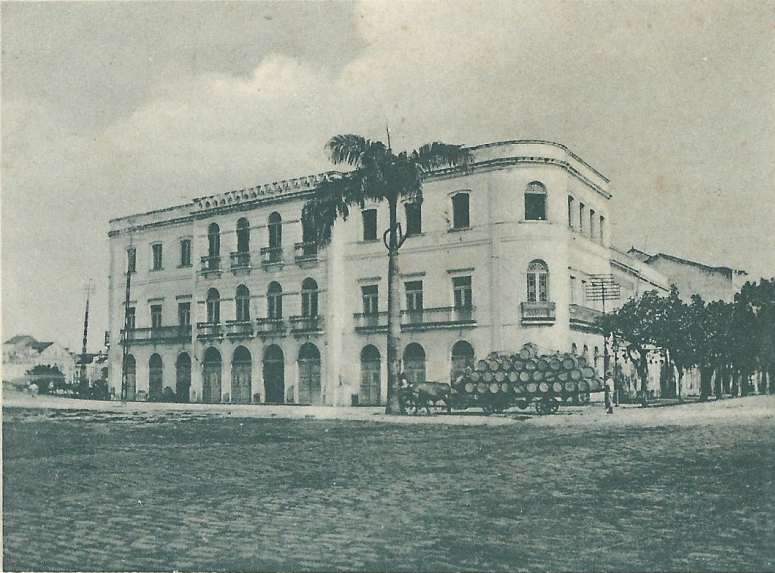 It is still very warm here. While writing this letter I sit mopping myself. Now I must go & have a lemon-squash & continue my preparations for to-morrow.
Best love.
Jack
---