Pernambuco        30th Sept.   1890
My dear Mother,
This is the last of my letters on this journey, I am glad to say, & it will arrive only some ten days before myself.
I need scarcely say that I was tolerably cheerful at find myself at last in Pernambuco, the end of my visiting-list, & also at having there all your home news, which had been accumulating for some time.
I recvd. here four of your welcome weekly letters, from 14th July (very long ago) till 4th Aug. (from Oban). Then there is a blank till your P.C. of 2nd Sept. – I am afraid some Aug. letters must have gone astray or else they are coming by this next Royal Mail & have been delayed by the Southampton strikes.[1]
The meeting at the Perth station must have been very funny. The letter-paper of the Station Hotel, with the view, took me back to Oban again.
I am very glad Jim did so well at the Interm.[2] It was hard lines his not getting an exhibition though coming so near it. The Board seems to be running short of money. You say Jim took honours in everything, so he must have done better in Latin than you had thought. His marks are first rate.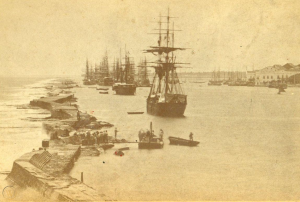 Anyone coming to Pernambuco must be very much struck by the curious natural harbour. It is formed by a coral reef, like a submarine wall, running parallel with the coast, & leaving a channel of about 20 yards wide of deep smooth water inside. Outside, the sea is generally very rough, & landing by small boats from such steamers as do not come inside the reef – The Royal Mail for instance, which has little or no cargo to take from this place, – is no pleasant matter, nor cheap either, the usual charge being about £2.
Fortunately I was able to come up from Bahia by a national steamer which entered the harbour; & now sailing under the Brazilian flag one has the further advantage of being allowed to take one's luggage to the hotel without examination by the Brazilian customhouse officers, the most troublesome & inquisitive of all such officials in the world. The steamer was, of course, horribly dirty, (the tablecloth was "a caution to snakes"!), but as the voyage is only 36 hours it did not matter very much.
Pernambuco is perhaps the most European-looking of Brazilian towns; – though, correctly speaking, Recife is the name of the town, & Pernambuco of the province. A broad river winds, like an S, through Recife, & four or five fine iron & stone bridges cross it. The streets are well paved & clean, & though there is nothing remarkable about the houses, still the place has a general air of prosperity.
The staple product of this part of Brazil is cane-sugar, but coffee, cotton, tobacco, & hides are also exported, which information will be found very interesting & instructive by anyone with a mind properly trained on the lines of "Sullivan's Generalized for Beginners".
There is a fairly large English colony & I have made already a number of very pleasant acquaintances. The telegraph house, where the men of the Cable Company live, is one of the jolliest & best houses in Pernambuco.[3] They have a fine ball-room, a billiard-room, a tennis-court, & a nice garden. I had some tennis there the other day & a game of whist one evening.
Last night I dined with a fellow called Smethurst, manager of a large English firm here, at a pleasant English boarding house where he lives, & after dinner we had a rubber in which the English parson took a hand, – & a very good player he is. The English clergyman abroad is always called "the parson". This Rev. gentleman is of the muscular kind, & though he weighs fifteen stone, if an ounce, you should see him play tennis, sending the balls over like a sportsman.
I am sorry I must cut my letter short for I could spin it out to some length, but the "Trent" is there already & the mail will close soon, so I shall tell you the rest viva voce.
Best love,
Jack
---