Curaçao,     29th April   1894.
My dear Mother,
On my arrival here y'day I recvd a whole batch of letters, among them yours of 31st March, by way of New York, & an old one of 26th Feby. which had followed me from Brazil. There is still one short – 19th Feb – which will perhaps follow me round to Belfast. Though the one letter is two months old it is quite interesting reading as it contains quite a lot of chat about festivities & people. Glad to hear the pines were so good. Do you remember the previous ones I brought home, which had been packed in a salt-fish barrel & had little bits of dried cod sticking all over them?
I say, if you will open letters that come to me in ladies' handwriting, to save postage when forwarding, some day you will get a shock perhaps, & be sorry you did not leave them closed!
It is good news to hear that the "Craigside" is earning good dividends again. On the other hand "Ensenadas", I see, are quoted at abt. £ 35.[1] By the way, did you see Mr Pearce Edgcumbe in "Punch"?[2] You seem to have enjoyed the visit to Ballycastle. I did not know there was fishing in the neighbourhood.
Business reports from Venezuela & Colombia are so very bad that I am seriously thinking of returning home from here in about a fortnight. A good many travellers have turned back & all agree in the most dismal accounts.
The steamer "Yucatan" by which I came here from Trinidad was two days in La Guaira,[3] so I had time to go up to Caracas, & see what people had to say. Business is at an absolute standstill. Pardo tells me he has decided, if this state of things continues for two months more, to give up his agencies & take to travelling again, for he is not paying expenses & has about gone through what money he had put to the good.[4]
I saw all his family & many other old acquaintances. I am so well known round here now that almost daily someone says to me "Oh, I met somebody in Colombia – or Brazil – or on board such a steamer – who was asking for you." And when I arrive at a place after an absence of three years or so, it is not easy to remember just at once who everybody is who comes up, shakes me cordially by the hand, & welcomes me with gratifying smiles. It is exceedingly pleasant to be kindly remembered by people. At Puerto Cabello, where our steamer also called, I went to see a Mrs Rodriguez with her son & daughter, who were very kind to me before[5]. When I went away last time they gave me a basket of their own grapes & that tin of preserved bananas which, by the way, no one appreciated at home. This time they gave me the only bunch of grapes that had ripened, & said they had often spoken of me – only a short time before this bunch of grapes had brought my previous visit to their minds so that it seemed quite a proper coincidence my turning up to eat it.
I had written to Mr van Kleunen here to say I was coming though I did not say by what steamer.[6] But I was recognized by somebody as the "Yucatan" came into port & before I had put foot ashore my name was down in the Strangers' Book of the Club.
Changes take place in three years though. I found that my old boatman was dead. Two men I used to know pretty well in Puerto Cabello had also died meanwhile. I am always afraid to ask people about their friends & relatives I used to know for someone is certain to have dropped out. I spent y'day evg. with the van Kleunens at whose house I have had many a jolly time, but now they are in mourning for Mrs van K's mother. They tell me there are some people here "anxious" to make my acquaintance – Dr & Mrs Cole (?). Mrs Cole – née Greer – is from Belfast & "knows my family", so I am to be taken there to be presented.
This little place would be a paradise for the water-colour sketcher. The little harbour is like a long narrow split in the reef, leading to the lagoon which opens out behind the town. The town is built on the two sides of this "split", the houses are of Dutch style with unexpected gables, built of limestone & stucco painted yellow with red tiles, & steps leading from left & right up to the odd little porches. It always reminds me a box of German toys.
The harbour – or "split" – is about 220/300 yards across, of deep blue water, – at the entrance are the two old-fashioned forts; – a little further in is the pontoon bridge, opened, with important puffs, by the tiny engine in the end pontoon on the approach of a steamer.[7]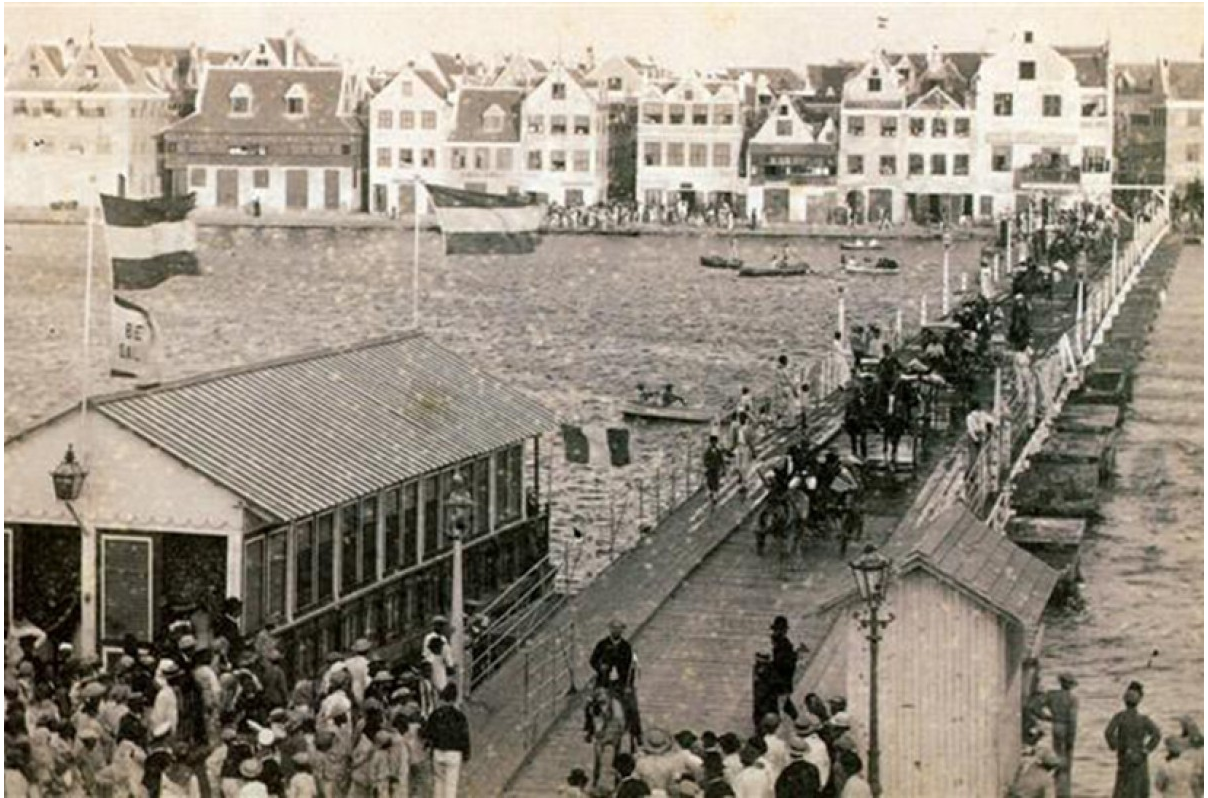 All is clean, even glaring. There is no mud, & no room or spare rain to make it, only a good deal of dust when the wind is strong from the white coral or limestone roads. My "hotel" (save the mark) is on the wharf, & I can lean out of the window & distinguish the people on the decks of the steamers as they come slowly past, turn round cautiously & warp alongside.
To pass over the pontoon bridge I put down a Venezuelan "real" – about 4 ¾ – & received in change twenty three copper coins, – cents of a "florin" – the toll being two cents. Had I taken off my boots & carried them across I should have had to pay one cent.
The inhabitants of this side of the town are mostly Jews, – of the other side Christians.[8] Yesterday being Saturday most of the shops & stores were closed, & to-day, Sunday, all of them are.
If I return from here it may be by New York, or it may be by Royal Mail, the cost is about the same. In any case if you hear positively I am coming you might write on spec to New York. I don't know if Walter Portheim[9] is there now, so better address c/o Boulton, Bliss & Dallet.[10]   Mr J.L. passenger from Curaçao.
Best love,
Jack
---
"Craigside" and "Ensenadas" likely to represent investment shares. No information found on "Craigside". Ensenadas could refer to investments in the English Mexican Land and Colonization Company which attempted to develop the area of Ensenada, one of the first settlements founded in the Californias, when i

t was designated the capital of Baja California

 

in 1882. It is

 now

a coastal city in Mexico.

↵
Sir (Edward) Robert Pearce Edgcumbe (b 1851, d 1929) was a pioneer of the smallholdings movement and author. His portrait is in the National Portrait Gallery: https://www.npg.org.uk/collections/search/portrait/mw166472/Sir-Edward-Robert-Pearce-Edgcumbe ↵
La Guaira is the capital city of the Venezuelan state of Vargas and the country's main port. It was founded in 1577 as an outlet for Caracas, 30 kilometres to the southeast. ↵
Not clear who Pardo was. ↵
She was previoulsy mentioned in letter of 17th May 1891. ↵
Probably Jacob van Kleunen, "Merchant", a Dutch citizen who lived his whole life in Curaçao (b 27th November 1859, m Margaretha Louisa Moors 31st August 1881, d 25th October 1912). ↵
The Queen Emma Bridge (Koningin Emmbrug) is called the "Swinging Old Lady" and was built in 1888 as a pontoon pedestrian bridge which opens laterally for passing ships. ↵
The Mikvé Israel-Emanuel Synagogue, in Willemstad, Curaçao, is the oldest surviving synagogue in the Americas. ↵
Walter Portheim was previously mentioned in a letter from New York in Jan. 1891, when JMcC and Addie paid him a visit. Possibly an American merchant b~1862. ↵
This refers to the Red D Line, which was the main transportation link between the United States and Venezuela from 1820 to 1936. The line took its trade name from the red D on its white flag, which stood for the line's founder, John Dallett, a Philadelphia merchant. Dallett travelled to Venezuela in 1823, where he went into business with the influential Venezuelan merchant, John Boulton. The first Bliss to be involved in the Red D Line was William Bliss who was born in Chipping Norton, England on July 4th, 1833. Many generations of Bliss, Boulton and Dallett family members were involved in the Red D Line and the long-standing history and their ties were of great importance in the strength and longevity of the company. The Red D Line is considered to be the oldest and longest-running merchant shipping line in American maritime history. ↵